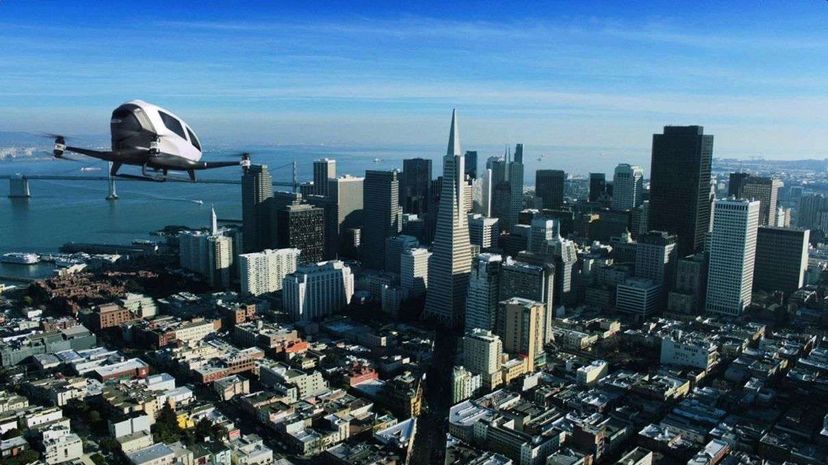 At a recent conference, Uber chief product officer Jeff Holden generated a real buzz when he revealed that the ride-providing service is looking into a new way of transporting its customers — flying cars that would have the ability to hover and land or take off vertically thanks to helicopter-like rotors.
Holden told Recode.net that such vertical take off and landing (VTOL) vehicles would initially be piloted by humans, but that in time — like the driverless cars that the company is testing in the Pittsburgh market — they might zoom around autonomously. Uber's press department didn't respond to requests from HowStuffWorks for more information.
You've seen this vision before, actually — in the 1982 sci-fi movie "Blade Runner," for instance, where the skies of a dystopian future Los Angeles hum with flying cars capable of landing in and taking off from the teeming streets:
But while flying cars might seem like a science fiction-fantasy, they're anything but. The Federal Aviation Administration (FAA) recently gave flying car maker Terrafugia an exemption from some regulations so that its Transition flying vehicle could be certified as a light sport aircraft. Major European aircraft maker Airbus has revealed plans to develop the CityAirbus vehicle, an aerial taxi with VTOL capabilities that eventually would operate autonomously. NASA is working to develop advanced VTOL technology that's quieter and more energy efficient than today's helicopters or small aircraft, and the company Ehang introduced its Ehang 184, an autonomous flying-taxi VTOL drone, at this year's Consumer Electronics Show:
The FAA actually is working with several aircraft manufacturers who are trying to develop human-piloted flying cars — and eventually hope to convert them to robotic control.
"Several areas still need further research and development," the agency press office says via email, "particularly the operational aspects of making sure the automation that will 'fly' the autonomous aircraft is safe, and how the automation will interact with the air traffic control system. We believe automation technology already being prototyped in low risk UAS missions, when fully mature, could have a positive impact on general aviation safety."
The safety issue is a big one, of course. People worry about driverless cars being allowed on the crowded streets of cities, where their crash-avoidance technology might not be enough to avoid meandering jaywalkers and careless human drivers' mistakes. Robotic flying cars would face even more daunting risks. They'd not only have to dodge each other, but also avoid crashing into tall buildings. And with sidewalks full of pedestrians and schools and playgrounds under them, there's little margin for malfunction.