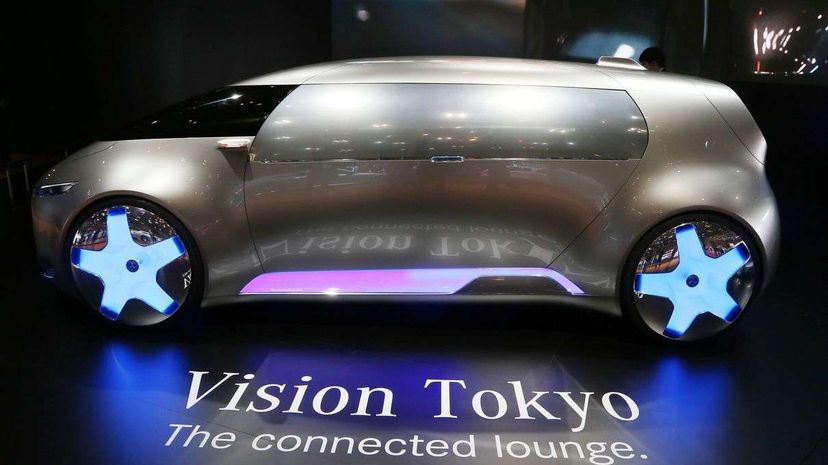 It looks like the future vehicle of choice for bachelorette parties and prom kids everywhere, doesn't it?
HaruyoshiYamaguchi/Corbis
The Tokyo Motor Show has been the home of the most avant-garde concept cars for decades. Engineers and designers let their imaginations loose on cars that are never intended to hit showrooms, let alone a paved road instead of a carpeted display stand. Nothing is safe from extreme redesign, from steering mechanisms inspired by joysticks to bubbly rounded corners and airbags on the outside.
Now self-driving, autonomous cars are on the near horizon for regular folks, which means the concept cars at the 44th annual Tokyo Motor Show can get even weirder — and cooler. If you don't have to keep your eyes on the road and your hands upon the wheel because the car will do it for you, why have a windshield or wheel at all? Check out these self-driving concepts from this year's show for a glimpse into our non-driving future.
Nissan IDS 
When the driver of Nissan's all-electric autonomous concept car chooses to use the Piloted Drive setting, the steering mechanism (it's not a concept car if it has plain old steering wheel) folds away and a screen the size of a tablet computer replaces it. Any in-car controls can be done with gestures and voice, and the seats turn slightly to face each other. Not that anyone would know you were holding a meeting in your car; the computer knows how you drive, and it maintains your typical performance parameters, like acceleration and cornering.
Mercedes-Benz Vision Tokyo
If you kept an eye on CES 2015 in January, you might remember that Mercedes unveiled a self-driving concept sedan. It seems that concept spent the off-season bulking up for the Tokyo Motor Show. This concept is maybe the self-driving party bus of the future we've all dreamed of. It uses machine learning to adapt to its occupants' preferences — occupants who are lounging on the sofa rather than bucket seats, by the way. Apps and maps are displayed as holograms inside the vehicle.
Honda Wander Stand
In the future as imagined by Honda, you might not even need a proper car. You could just use your autonomous personal transport, like the Wander Stand concept. There's room inside the pod for two good friends, and again, in classic concept style, there's a joystick in the middle of the console. The seats even have seatbelts, so it must go fast enough that those are necessary. The Wander Stand uses Honda's Omni Traction Drive System, so it can move forward and back, like any old car, but also sideways and diagonally for maximum maneuverability in city traffic.
Yamaha Motobot 
Or maybe the future won't need you at all, puny human. Yamaha upped the autonomous game by bringing Motobot, a humanoid robot that rides a Yamaha YZF-R1M race bike, to the Tokyo show. And Motobot is not tooling around town on this bike; it's being developed to race on tracks at 124 mph (200 kph). Yamaha says it's using what they learn from Motobot to improve human rider safety and support, but it seems like it might be designing the coolest robot overlord ever.