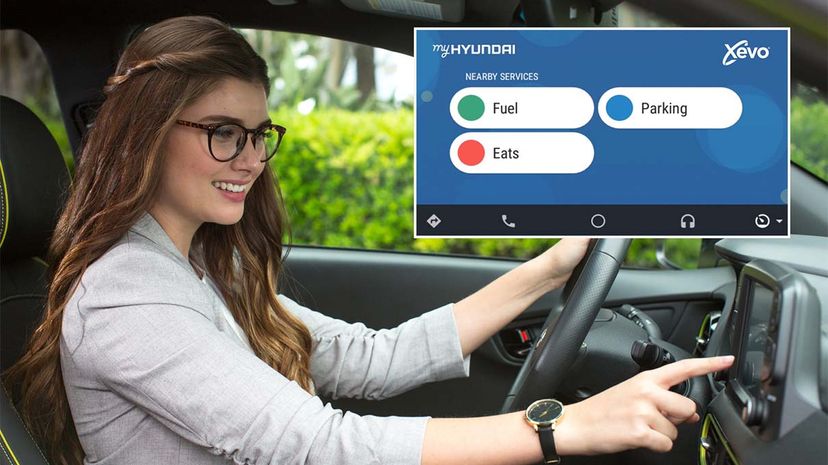 Hyundai doesn't have a formal timeline for rollout of its in-car payment system yet, but the technology will be available soon, joining Jaguar and General Motors.
Hyundai Motor America
Tired of whipping out your wallet to buy coffee or pay for gas? It looks more and more like swiping a card will be a thing of the past. Hyundai is the latest auto manufacturer to introduce an in-car payment system. Right now, Hyundai's system is at the concept stage, which means that it is still being evaluated for production potential.
Hyundai's current system is a "projection" system, which means it is actually based in the user's smartphone and simply projected onto the car's screen, Cason Grover, senior group manager of Vehicle Technology Planning at Hyundai, explains via email.
"The proof of concept is built to potentially use CarPlay and/or Android Auto to deliver the experience to vehicles," Grover says. "We are considering launching this in production through Apple and Google's processes and are also studying a 'built-in' solution utilizing in-vehicle software and Blue Link [telematics] connectivity."
Grover describes the system's features as "extensions of navigation." Vehicle navigation systems have, for some time, been able to direct users to gas stations, restaurants and public parking. With Hyundai's system, users will be able to order food in advance based on favorite previous orders, be directed to gas stations that offer in-car payment and be routed to parking lots with available parking and a pre-pay option.
"The ultimate idea is to offer a Hyundai wallet that stores payment methods for use at various businesses," says Grover.
The benefits of this system may help Hyundai capture the interest of new car shoppers. There is also potential for Hyundai to profit directly off the use of the systems, since Grover says some of Hyundai's partner brands do offer revenue-sharing models.
How Safe Will It Be?
Security of such a system is an obvious concern, but Hyundai says as long as you have your smartphone, you don't need to worry about, say, a friend who's borrowing your car, a valet, or a car thief running up huge bills at the drive-thru.
"The proof of concept we developed with Xevo uses a smartphone app projected onto the vehicle's screen," says Grover. "So, there is nothing to disable in the car if the phone is not present. For potential production application using in-vehicle software, we're considering a PIN or other authentication."
Grover also acknowledges that some consumers might be wary of the car storing purchase data. However, the risk factor would be similar to a phone or computer storing data.
"The customer always owns his or her data and we have specific terms and conditions around the use of these data," says Grover. "Hyundai intends to have a payment processor partner store payment methods for our wallet. That partner will have to meet industry standards for privacy and security."
Safety is also a concern any time the driver's attention is directed away from the road. Hyundai says that is why its system's features are limited. For example, users can see recent restaurant orders at a glance but cannot browse the full menu. Users also must input payment information beforehand, not while on the go.
Not all systems are tied to a car brand. In 2015, Shell introduced a mobile payment system so customers can pay for gas using PayPal, Apple Pay and Android Pay. In 2017, Shell announced a partnership with Jaguar for an app-based payment system for Jaguar's XE, XF and F-PACE. Customers use the vehicle's touch screen (not the phone's) to select the amount of fuel they want to buy and complete payment.
Shell also teamed up with General Motors for a similar mobile payment system announced in April of 2018. It is part of GM's Marketplace suite (which also ties into the navigation function for features such as restaurant reservations) and is available in select current and upcoming Chevrolet, Buick and other GM vehicles. So far, the Marketplace system, which requires users to receive and input PINs and authorization codes in the car and at the pump, has been criticized by some early users as being more complicated than simply pumping gas. Unlike Hyundai's "projection" system, GM's is "embedded" in the car.
Hyundai doesn't have a formal timeline for rollout yet, but it's looking more and more likely that this technology will be available soon, joining Jaguar and the General Motors brands. If Hyundai goes forward with the smartphone-based plan, the brand says it will probably be compatible with the infotainment systems in older Hyundai vehicles. Even if your Hyundai isn't brand new, you can spend from your car without spending more to first get a new car.