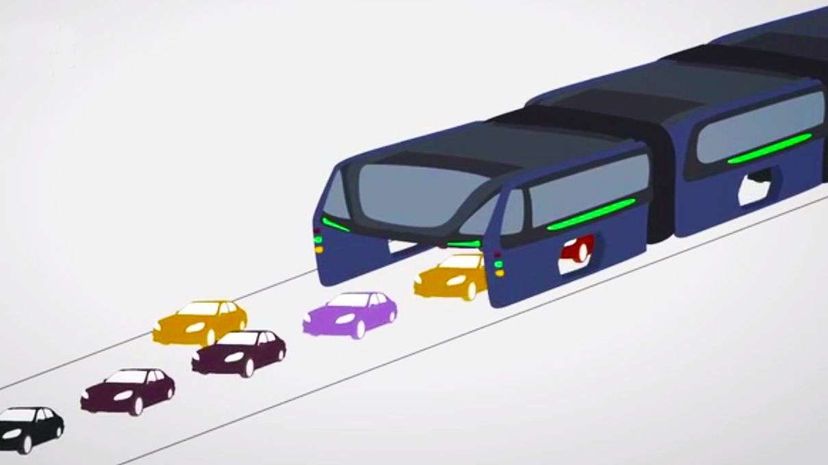 If you can't go around a traffic jam, and you certainly can't go through one, the best bet may be to simply glide over it. That's what the developers of what's being called a "straddling bus" think, anyway, and they see it as one key element in the battle against China's notoriously gridlocked traffic.
Introduced at the Beijing International High-Tech Expo this week, the elevated bus — called a Transit Elevated Bus (TEB) — would travel along tracks built along the side of roadways. Cars would pass through a gap beneath the bus, making for a roadway scene a little like Pac-Man chomping up cars instead of pellets. There were 126 million private vehicles in China in 2015, an increase of 15.5 percent over 2014, according to China's National Bureau of Statistics.
The idea for a bus like this was actually Introduced at same expo in 2010, and similar ideas go back to the 1960s. But the current 2010 iteration was deemed unfeasible for real-world testing. Fast forward six years and technical kinks have been ironed out, apparently, and five cities in China have expressed interest in testing the vehicle. 
"In 2010, the bus was only a dream, but now it is in a mature stage," Wang Peng, director of the Shenyang chamber of commerce, told The New York Times. "The elevated bus merges existing, mature technology found in railroads, subways and buses. The only question is now how it will interact with other traffic once implemented."
The aptly named Chinese company TEB Technology Development Company the developed the current TEB technology. The bus can travel at 37 miles per hour (60 kilometers per hour) and carry more than 1200 commuters in multiple sections, and will be partially powered by solar energy. The height clearance for cars to drive under the bus will be 6 feet 6 inches (1.7 meters).
Each TEB will cost $4.5 million, which the company estimates to be about 16 percent the cost of a subway train, especially as building them will require using existing roadways rather than digging tunnels.
Bus stations would be platforms elevated above street level, and the company says cities may have to install "dips" in roadways so that the TEB can pass underneath existing bridges.
Testing is expected to begin later this summer, when a prototype will be deployed in July or August to Qinhuangdao, a coastal city about 185 miles (300 kilometers) east of Beijing.
For an even more in-depth look at the TEB and its design, check out this  video on the Chinese-language social media site Miaopai.