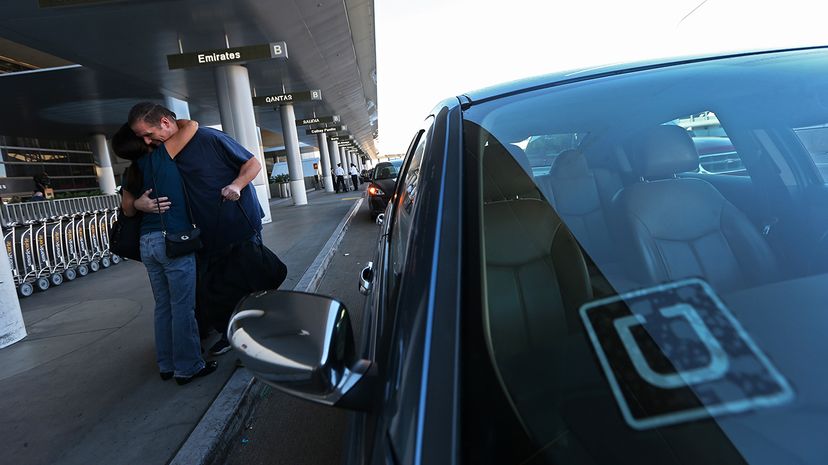 Ride-sharing companies like Lyft and Uber are changing the way people get around their cities.
Robert Gauthier/Los Angeles Times/Getty Images
In recent years Innisfil, Ontario, has been growing rapidly. The town of 36,000 people is about an hour outside Toronto, and has seen clusters of new homes rising amid the farm fields. But the community's growth created a dilemma for local government. While there's a commuter rail line to Toronto and a provincial bus line that runs through town, many Innisfil residents live far from those stops, and there was no public transit for getting around inside the sprawling community itself. The expense of providing a local bus service to all the places where people live seemed daunting. According to a feasibility study, to set up a bus system, the town would have spent $605,000 in Canadian dollars ($495,000 USD) in the first year to establish a two-bus line at a cost of $17 per passenger transported.
So instead, Innisfil came up with another solution. The town government outsourced its public transit needs to on-demand ride service Uber, forging a deal in which it subsidizes a portion of users' rides within the town's borders.
"We're the first in the world to go exclusively in this direction," says Johnny Keogh, Innisfil's public affairs officer, "instead of setting up a traditional transit service."
Transit Only When Needed
Using the town's new public-private transit program isn't that much different from ordering a ride on Uber anywhere else. When Innisfil residents open the Uber app on their phones and type in their destination, an icon offers them an opportunity to access special government-subsidized rates. There are fixed prices of $3 to $5 for rides to and from certain heavily used spots, such as the train station and the town's recreation center. For trips between other points inside the town, riders receive a $5 discount. (The Innisfil government breaks down all the details on its town website.)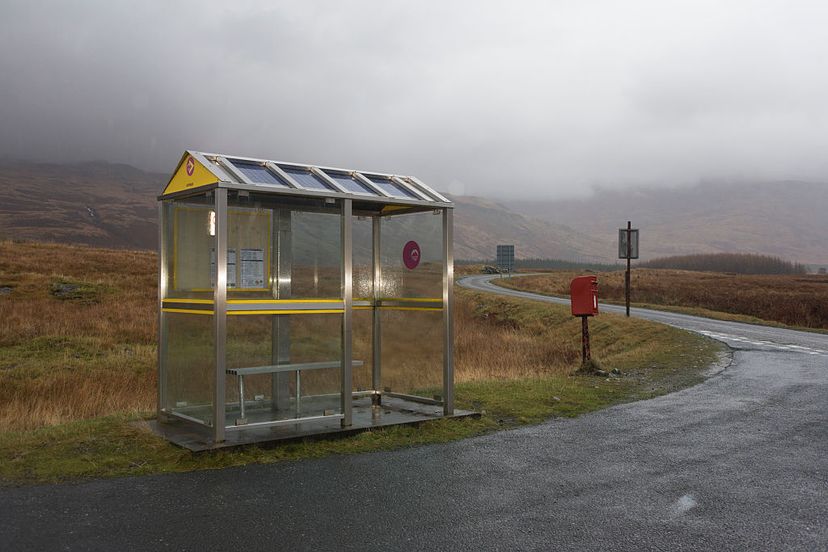 OK, so this remote bus stop on Isle of Mull, Scotland, is a little extreme. But it shows just how tough it can be for those living in rural areas to access public transit systems, even when they exist.
Richard Baker/In Pictures Ltd./Getty Images
For people who don't have smartphones, the town is providing access via iPads located at the recreation center, library and other public spaces. The program began offering rides on May 15, and in its first week, it provided 300 total trips to 141 unique riders, Keogh says.
The new arrangement with Uber has big advantages for Innisfil, because the town avoids a big up-front capital investment in buses and other infrastructure needed to support a local transit system, as well as the ongoing expense of fuel and bus drivers' salaries. And although the community has set aside $100,000 to cover subsidies, it only has to pay for rides that people actually take.
In addition, Uber, which didn't respond to an email request for comment, is sharing data with the town's government, Keogh says. That will enable officials to get a more detailed picture of residents' transportation needs and how they evolve as the community grows.
Keogh says the arrangement with Uber is "stage one" of the town's transit planning. If growth continues, officials may eventually decide to create a traditional public transit service. "But that's the future," he says. "For now, this is something that we think is working so far."
Public-Private Partnerships
While Innisfil is the first town to completely outsource its public transit, some U.S. cities are looking for ways to use on-demand ride services to augment their public transit systems. In particular, ride services are seen as a possible solution for what transit planners call the "first-last mile" problem of getting commuters from their homes and workplaces to train stations and bus stops in suburban or even less densely populated areas. In Pinellas County, Florida, for example, the Pinellas Suncoast Transit Authority pays half of Uber fares, up to $3, for people in one underserved area who need to get a ride to or from a transit stop. And in Boston, both Uber and its ride-sharing service competitor Lyft now provide government-subsidized rides to disabled passengers.
Uber also recently announced that it is integrating its service with the Android Transit app, which provides local public transit information in nearly 50 U.S. cities. "When riders are in an Uber and their destination is near or a block away from a transit stop, we'll begin showing them upcoming departure times in the Uber feed," the company explained in a news release on its website.
Sharon Feigon, executive director of the Shared-Use Mobility Center, a Chicago-based nonprofit organization that fosters collaboration between the sharing economy and transit agencies, says that she expects to see continued efforts to use services such as Uber to augment public transit systems and give them flexibility to meet needs. But she doesn't envision private on-demand ride services wholly taking the place of public transit systems in U.S. cities.
"There's nothing that beats public transit for moving large groups of people quickly, if it's a fixed route," she says.