When the automobile sputtered to life in the late 1880s, the sports car wasn't far behind. Briggs Cunningham, the storied American sports-car builder of the 1950s, once declared that "in the beginning every car was a sports car, because they weren't practical or particularly useful on a day-to-day basis."
Then, starting in 1913, one Henry Ford made the motorcar itself universal by using a moving assembly line to crank out his simple Model T with unheard-of speed in unheard-of numbers. Competition and free enterprise did the rest. Soon, most anyone who wanted a car could afford one.
It was in this heady, fast-paced era of technical innovation and industrial growth that the sports car began to emerge as something beyond mere transportation. As pioneer American auto journalist Ken Purdy explained it: "The automobile had tremendous appeal for the sportsman of the [early 1900s]: It was the fastest vehicle at man's bidding, it was new, much about it was unknown. It offered a great challenge."

To the manufacturers, turning out perhaps a few score automobiles a year, racing was the best kind of advertising. Because it was a brand-new sport, the newspapers gave it extensive news coverage, and the manufacturer whose car won an important race on Saturday could be sure of a full order book the following Monday evening." In short, the first racing cars were also the first sports cars. They've been close cousins ever since.
Good or bad, the sports car evolved up to World War II as a creature mainly of Europe and England, not the U.S. Though motorsports remained very popular on both sides of the Atlantic, the topography and economic conditions "over there" tended to breed sportier cars with the defining attributes of quick acceleration, agile handling, and strong brakes. It seemed, that sports cars were thriving.

Then the Depression hit. Smaller companies perished, and the larger U.S. automakers adopted emergency survival measures -- none of which included sports cars. With the start of a terrible new world war, some thought the sports car as good as dead.
But the pundits were wrong again. Liberated by unpredecented prosperity in the early postwar years, some Americans began rejecting homegrown automotive values for cars that looked good and were actually fun to drive. Though no one knew it at the time, a revolution was underway. The sports car was about to captivate America as never before.
In the following pages, you will be able to trace the exciting history of sports cars, from their postwar boom to the present day. Along the way you will also find links to individual sports car profiles that offer history, specs, and photos. In addition, you can also read sports car reviews and browse through our sports cars by year and manufacturer.
We'll get started on the next page by learning about the sports cars of the 1940s.

Sports Cars of the 1940s
The sports cars of the 1940s started innocently enough: just a few score GIs returning from World War II Europe with a foreign sports car in tow. The cars were mostly British and mostly ended up in the ritzier enclaves of the East Coast and California. Not much as invasions go but enough. The sports car had landed, and America would never be the same.
Featured Sports Cars of the 1940s

The following are links to profiles of some of the greatest sports cars produced in the 1940s:
For most Americans in 1945, sports cars seemed as foreign as the people who drove them. Though Detroit had long offered jaunty rumble-seat models and even some snazzy two-seaters, only a small group of Yanks knew much -- or cared -- about the genuine sports cars available from England and Europe.
Not surprisingly, the cognoscenti tended to be well off, well educated, well traveled. They also tended to affect manners that made them "a race apart," as Ken Purdy described them. Purdy first met other U.S. sports-car devotees in the mid-1930s. To him they were a strange, secret society. "They spoke only to each other and in their native tongue," he wrote. " 'I shouldn't turn that much over five-thou, old boy; the big ends simply won't stand up to it.' They treated their mounts like newborn children."
Purdy relates being dumbfounded when he saw one worried owner heat "a gallon and a half of pure castor oil on a portable electric burner. He had a candy thermometer in the reeking stuff and he peered steadily at it. Just as it rose to the temperature he wanted…he snatched the instrument out, grabbed the kettle, and turned to me to say, 'Do stand aside, please; the oil mustn't cool before I get it into the engine.' "
Long enshrined as "the sports car America loved first," the MG seemed an unlikely object of desire in the land of Buck Rogers. Even MG's new TC roadster, introduced in late 1945, was just a mild evolution of the TA/TB design, which dated from 1936 but was conceptually rooted in the Twenties.

Love is one thing, commitment quite another. Although the TC and its cohorts won many American hearts, they didn't attract many U.S. sales. And they never would. Most Americans preferred the cars they already had and were primed for futuristic new models, which had been breathlessly forecast during wartime. Why, they wondered, would any sane person waste money on an old-fashioned thing like an MG?
Why, to make a statement, of course. As David E. Davis opined in 1970, sports-car enthusiasm in late-Forties America was an "easily defined protest movement…[P]eople were sufficiently fed up with the dumb cars coming out of Detroit to express their disgust by buying dumb imported cars…They were a hopelessly outgunned minority in the beginning, but they were a tough breed…driving cars that flew in the face of everything that Detroit, and thus America, stood for."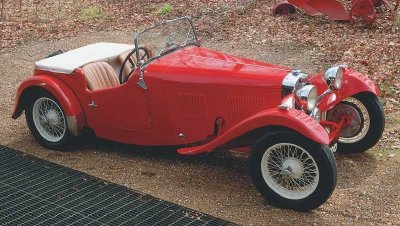 Little by little, sports cars became more common on U.S. roads and public interest grew. Of course, most any new car was of interest right after World War II, because Americans hadn't had any to buy for nearly four years. Domestic automakers mostly satisfied the huge pent-up demand with warmed-over versions of prewar fare, which was enough until about 1950. But most foreign automakers had been ravaged by war and desperately needed to export for dollars.
They, too, resumed production as quickly as possible, but began to realize that sports cars were making an impression in affluent America. Britain's Jaguar was among the first to capitalize on America's burgeoning sports-car "fad." It happened with the 1948 introduction of the all-new XK120, rightly hailed as the state of the sports-car art with its advanced twincam six-cylinder engine and sleek, modern styling.
Meantime, more and more U.S. dealers were starting to take up the sports-car cause. One was Max Hoffman, who bravely opened a toney New York showroom in 1946 to sell pricey French Delahayes, though he soon added more affordable cars, including Jaguars and MGs. Over the next 25 years, Hoffman introduced the U.S. to dozens of other foreign marques and models, notably the VW Beetle and the first Porsches.
In fact, Hoffman did more to grow the U.S. foreign-car market than anyone else except Kjell Qvale, who served the West Coast market from his San Francisco-based British Motor Car Distributors starting in 1947. That same year saw the first issue of a national magazine called Road & Track. Born of the "protest movement" Davis described, R&T also stimulated U.S. interest in foreign cars generally and sports cars in particular.
By the end of the 1940s, sports cars were definitely on the American scene, if not in many Americans' garages. Even Detroit could see something new and maybe important was going on. One can almost hear the boardroom debate: "Hey, maybe we ought to build our own sports car." "Heck, we can't make money with one of those." "Yeah, but it would sure bring in the customers, and that will make money."
The beachhead had been secured for a full-scale assault. Come the Fifties, a battalion of new models would charge into a booming U.S. economy and spread sports-car excitement from sea to shining sea.
Sports Cars of the 1950s
The aftermath of World War II was a fertile breeding ground for the sports cars of the 1950s. Everyone needs money, and Americans had plenty to spend after World War II. That in a nutshell explains the parade of new sports cars that charmed Americans in the 1950s. Jaguar, MG, and other British makes had begun the procession. Now European companies and even some U.S. automakers fell in step.
Despite problems at home and abroad, America in the 1950s was generally prosperous, upbeat, and eager to meet the future. A booming economy and relatively high employment and wages created a burgeoning, more affluent middle class that began fleeing crowded cities for spacious new suburban communities, where a family might own two cars instead of one.
With all this, Americans could afford to indulge themselves for the first time since the Roaring Twenties, and they indulged in sports cars to the tune of $30,000-$60,000 a year. Though small-potatoes by Detroit standards, that volume was well worth going after for a tiny outfit like Morgan or Aston Martin, where the added income from U.S. sales could spell the difference between life and death. For larger companies, having a sporty model in the line could be a valuable, even necessary, showroom lure.
Below are links to profiles to some of the choicest sports cars produced during the 1950s:
The sports cars available to Americans in the 1960s spanned a dazzling array of types and prices. At the high end were the thoroughbred likes of Ferrari, Jaguar, and Porsche. Mercedes-Benz joined the ranks in 1954 with the fabulous 300SL Gullwing coupe, a racer-turned-road car costing more than a Cadillac limousine -- a towering $7000. Two years later, BMW launched the 507, its first sporting car since the prewar 328, priced at an astronomical $9000.
Moderately priced sports cars also blossomed, mirroring the growth of America's middle class. Among the most popular were 1953 British newcomers, the Austin-Healey 100 and Triumph TR2. Though both were designed around existing components from mass-market models, each had a character all its own, and they fast won devoted U.S. followings.
Nineteen fifty-three also introduced the one showroom sports car ventured by Detroit's Big Three. A mix of traditional British roadster and period American "dream car," the Chevrolet Corvette cost as much as a Jaguar XK but lacked its performance and handling. Purists scoffed, and limited availability greatly hampered initial sales. Had Ford not introduced the Thunderbird, the Corvette would have died after 1955. Happily, General Motors answered its crosstown rival by transforming the 'Vette into a genuine sports car.
The Thunderbird was of one of the more successful semi-sportsters on the Fifties scene. Though it resembled a true sports car and had more power than most, the rakish two-seat convertible was slanted toward comfortable cruising, not slicing up twisty roads. It could be made to race, and did. But though this "personal car" immediately outsold the Corvette by no less than 16-1, Ford was after even bigger profits, and found them by blowing up the Bird into a luxury four-seater after just three years.
The 1951-54 Nash-Healey sold respectably, but was a far more credible sports car, thanks to co-father Donald Healey. Like the smaller Austin-Healey that followed it, the N-H clothed a humble powertrain in cool two-seater duds, yet was surprisingly raceworthy and could go the distance. Over its short career, the Nash-Healey made impressive high finishes in several international events, including Le Mans. Until the Corvette came along, it was the one real sports car sold under a major U.S. nameplate.
But there were plenty of minor-leaguers. Indeed, the early postwar years were filled with dreamers who figured to make untold riches by putting a sporty body on a borrowed chassis. Most of these efforts were poorly financed lash-ups that died aborning and are little remembered today. Many were sold as mere kits, leaving assembly to the owner. But not all were so unprofessional.
Famed Indy-car engineer Frank Kurtis built thoroughly modern sports cars, though not many, starting in 1948. A few years later, Chicago dealer S.H. "Wacky" Arnolt brokered beautiful Italian bodywork for MG and British Bristol chassis. At about the same time, sportsman Briggs Cunningham bankrolled a handful of Chrysler-powered sports cars that could match most anything from Europe. In 1957, Californian Bill Devin turned from selling bolt-on fiberglass bodies to building complete sports cars that could pace with a Ferrari (just 4.8 seconds 0-60 mph) and cost half as much ($5950).
No doubt about it: Americans were treated to a sports-car smorgasbord in the 1950s, with something for most every taste and budget. Of course, new versions of established favorites were also on the table. The Jaguar XK, for example, was updated twice during the decade. And there were some tasty surprises like 1955's new MGA, a comparatively shocking advance on the classic T-Series it replaced.
As the years passed, it became increasingly clear that import cars in general and sports cars in particular were influencing the American public out of all proportion to their sales. This undoubtedly accelerated the shift in buyer attitudes that hit home in 1958, when a sharp recession caused many consumers to reject Detroit's overstyled, outsized gas-swillers for thrifty European compacts and minicars.
But whether cheap and cheerful or exotic and expensive, sports cars were a permanent part of the American scene by decade's end, no small achievement considering their higher cost and less practical nature versus mainstream machinery. Moreover, the ranks of sports-car fans were still growing. For them, the Fifties had been a great ride. The Sixties would be something else.

Sports Cars of the 1960s
The sports cars of the 1960s arrived during a turbulent time. American scholars have been dissecting the 1960s almost since the decade ended, and they still debate what happened then and why. But though the analysts may differ in their conclusions, all could agree on one point: The 1960s was an extraordinarily eventful era that profoundly transformed American life.
And the same was true for America's automotive scene. Perhaps the most significant change there was the sharp market growth that occurred once all those "boomers" started buying cars. From a decade low of 5.8 million units in 1961, total U.S. car sales reached an all-time high of nearly 9.4 million in 1969 -- a near 31-percent increase over previous-best 1955. This and changing public tastes prompted U.S. automakers to branch out from traditional "standard" models, first with European-inspired "compacts" for 1960, then somewhat larger "intermediates."
Here are links to individual profiles of the some of the greatest sports cars produced in the 1960s:
By 1962, the richer competitive field had sprouted all manner of specialty models with some of the features and flair of European sports cars. Chevrolet had uncovered the "youth market" car with the bucket-seat Monza version of its rear-engine Corvair compact, but Ford would have the decade's single biggest automotive success. Though the Mustang was basically a humble compact Falcon with a snazzy body, its combination of high style, low price, and numerous options started a buyer stampede to what became known as the "ponycar."
In its first 16 months, starting in April 1964, the Mustang attracted nearly 691,000 enthusiastic customers. Once more, rivals rushed to copy a "better idea." By decade's end, some ponycars could also be "muscle cars," the big-engine high-performance breed born at mid-decade with the midsize Pontiac GTO, which quickly inspired its own herd of imitators. U.S. automakers had resumed their Fifties "horsepower war" after a brief ceasefire in the early Sixties, and performance again reigned supreme -- appropriate for the "go-go" era.
Performance also loomed large among genuine sports cars, but so did a greater emphasis on comfort, convenience, and style, a necessity for manufacturers given the U.S. market's ever-growing economic clout. Even at decade's dawn, Americans had rejected a number of small-time 1950s sports cars as well as Detroit decadence.
The import ranks would dwindle further after 1967, when new federal safety and emissions standards began virtually mandating special "U.S. versions" that only the more able, well-financed companies could manage. "Fed regs" also instantly killed off old favorites like the classic Austin-Healey that couldn't meet the new rules without ruinous expense and effort, if then.
Despite that ominous turn, Americans still had plenty of exciting sports cars to choose from, many now coveted collector's items. Jaguar kicked things off in 1961 with the E-Type, as sensational as the XK120 was in its day, maybe more so. The only thing familiar about it was the respected XK twincam six-cylinder engine, and that was improved.
As if in reply, Chevrolet unveiled its own stunner for 1963. Like the E-Type, the Corvette Sting Ray boasted independent rear suspension, reflecting a period sports-car trend, plus styling that rivaled the Jaguar's for pure sex appeal. The replacement 1968 "Shark" was dismissed as just a rebodied Sting Ray with more gadgets but had its own appeal and would prove exceptionally long-lived.
Meanwhile, a wily former racing driver named Carroll Shelby was stuffing potent Ford V8s into British A.C. Ace roadsters to create some of the hairiest production sports cars ever. Shelby loved stark, elemental machines, and his Cobras were precisely that. Engines quickly progressed from 260 to 289 V8s and finally a monster 427 big-block. Acceleration thus ranged from fierce to incredible, but the Cobra also had the stamina to be a world championship racer. Only very expert drivers could tame it, which was the whole point.
Having established itself in the 1950s on both road and track, Ferrari continued offering thoroughbred sports cars in the 1960s, issuing new models most every year. A few quickly became marque icons, particularly the all-conquering 250 GTO and later 365/GTB4 Daytona. Ferrari also explored new territory with the smaller, more affordable V6 Dino, one of the first road cars with the midengine layout that had recently revolutionized open-wheel racing car design.
Maserati hit its stride with a series of conventional but fast and handsome V8-powered grand tourers. And Italian tractor baron Ferruccio Lamborghini began building high-performance sports and GT cars designed by some of the best talent around. His aim was to outdo Ferrari, and in some ways he did. Among the volume Italian marques, Alfa Romeo's successful Giuliettas carried into the Sixties as improved Giulia models. The roadster and a nifty new coupe became perennial America favorites. Even mass-market Fiat, never known for sports cars, entered the fray.
The costly, racing-inspired Mercedes-Benz 300 SL was dropped after 1962 for a smaller sedan-based two-seater that was more tourer than pure sports car, capable though it was. This left Porsche as Germany's premier sports-car builder, and it went from strength to strength. After honing the original 356-series to near-perfection, Porsche introduced the stronger, faster six-cylinder 911, which ultimately proved a car for the ages.
Not surprisingly, Britain still delivered more popularly priced sports cars than any other country, and Americans liked most every one. In this era, British Motor Corporation alone offered the aforementioned "big" Healey, a restyled Austin-Healey Sprite, a new MG Midget companion, even an MGB with -- gasp! -- roll-up windows.
A resurgent Triumph initially countered with its small Spitfire and TR4 roadsters, then followed up a few years on with interesting variations of each. Britain's Rootes Group weighed in with the Alpine, which later got a Ford V8 transplant to become a Tiger. Newcomer Lotus sent over the tiny Elan roadster and a quirky but capable midengine coupe called Europa.
With all this and more, the 1960s were great sports-car years in the U.S., despite the many problems the nation endured. Of course, the fun and excitement wouldn't end when 1970 rolled in, but a new decade would bring historic problems of its own, and the automotive world would never be the same.
Sports Cars of the 1970s
The 1970s were not an easy time for sports cars. The halt in U.S. oil shipments by the Organization of Petroleum Exporting Countries was brief, lasting from October 1973 to the spring of '74, but its effects were immediate and profound. All over the land, drivers were forced to wait in long lines to pay record prices for gasoline -- when they could get it -- and public attitudes toward Detroit and the automobile itself began to shift.
Buyers rushed from traditional gas-guzzlers to smaller, more economical cars like domestic Ford Pintos and Chevy Vegas, but also a rising tide of well made, well equipped, increasingly appealing Japanese-made Toyotas, Datsuns, and Hondas. But the entire U.S. car market suffered, and the U.S. economy with it. After climbing to 11.2 million units in calendar 1973, sales plunged over 20 percent to near 8.6 million in '74 and 8.5 million in '75. The market then rallied, but never surpassed its '73 high.
In response to the gas crunch, Congress mandated higher "corporate average fuel economy" (CAFE) for all automakers doing business in the U.S., starting with model-year 1978. But more government mandates were hardly what manaufacturers needed. Even Detroit was still struggling to reduce tailpipe emissions specified by the Clean Air Act of 1970. And there were more safety standards to meet, including bumpers able to survive 5-mph shunts without damage, required for 1973 (front) and '74 (rear).
Such sobering new realities took their toll on many fun-loving sports cars. To be sure, some great new models appeared in the 1970s. Here are profiles of some of the greatest:
­­
The Italians were also confounded by the new federal regulations, and the French didn't bother at all with genuine sports cars for the U.S. Even the invincible Germans and fast-rising Japanese had problems. But not all Seventies sports cars were unmitigated disasters. The Chevrolet Corvette, for example, never lost its style. Some performance was lost to clean-air necessity, but also because insurance companies had raised hot-car premiums to impossible heights early in the decade. Chevy was thus correct to morph the 'Vette from fiery muscle car to a more efficient, tight-handling gran turismo, especially once the energy crisis left behind permanently higher gas prices.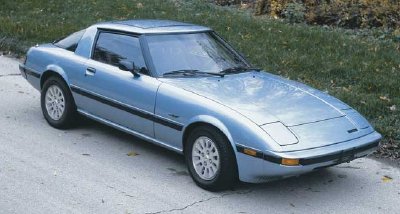 The Porsche 911 also adapted to changing times without losing its essential character, and became even more exciting when the high-power Turbo version came along. Porsche's midengine 914 and later front-engine 924 might not have been everything people expected of the marque, but at least they were affordable and surprisingly practical new choices. The rotary-powered Mazda RX-7 was hailed on its 1978 debut as a "new 240Z" and thus a hopeful sign that sports cars did have a future after all.
That symbolism was put to the test when a second energy crisis hit in early 1979, triggered in part by the ouster of the Shah of Iran. It hit hard, especially in Detroit, which was soon hitting the brakes in the face of another market downturn, aggravated by increasing sales losses to "Japan, Inc." Thus ended one of the most turbulent decades for the U.S. economy since the Depression.
The Seventies might not have led to the American life we know in the early 21st century, but the events of those years definitely left the automotive world forever changed. Happily for our story, one thing could not be changed: Sports cars are forever too.
Sports Cars of the 1980s
At first, the 1980s did not seem much better for sports cars than the 1970s. Once again, the economy was slumping due to another energy crisis. But while U.S. calendar-year car sales bottomed out in 1982 at just over 7.9 million, they rebounded back above 10.3 million in '84 -- the best since pre-recession 1979. The total was 11.4 million in 1986, the best year ever.
But Motown struggled against another trend: the steady, seemingly unstoppable sales growth of Japanese-made cars, which only accelerated once North American "transplant" factories began turning out Honda Accords, Toyota Camrys, and other popular models.
Ironically, these plants hired many workers that had been laid off by the Big Three in do-or-die cutbacks prompted as much by the sour early-1980s market as Japanese competition. By 1989, Japanese-brand models accounted for a third of total U.S. car sales -- and each of the Big Three was selling cars produced by a Japanese "affiliate." Well, if you can't beat 'em, join 'em.
The U.S. sports-car scene mirrored the general fall and rise of the nation's economy and new-vehicle market. The decade began on a sad note when the MGB and Triumph TRs followed the Midget and Spitfire to the heavenly parking lot. For the first time since World War II, Americans had no new British-built roadsters to buy. It hardly seemed possible. However, it wasn't all gloom and doom for sports cars in the 1980s. Here are profiles of some of the greatest sports cars produced during this decade:
The Alfa Romeo Spider rolled on against all odds but increasingly looked a relic of another age -- which, of course it was. So, too, the Fiat X1/9 and 124 Spider, only they wouldn't last the decade, running through 1988 and 1985, respectively. Before the end, Fiat handed over marketing and some design functions to the coachbuilders, who applied their own names -- and little else -- for the upgraded but short-lived Bertone X1/9 and Pininfarina Spider 2000.
Among Italian exotics, DeTomaso was still frozen out by its inability to meet U.S. regulations, while grim economic realities forced Maserati to abandon its high-power GTs for lower-priced sporty sedans blatantly patterned on the popular BMW 3-Series. Ferrari, by happy contrast, pushed excitement to new heights with the burly flat-12 Testarossa, the racy 288 GTO with mid-mounted V8, and, to celebrate the marque's 40th birthday, the super-rare competition-inspired F40.
To no one's surprise, the Porsche 911 and related Turbo sailed through the Eighties with thoughtful yearly improvements that kept the now-classic rear-engine sports car forever young. The posh 928 grand tourer steered a similar course. What did surprise was the 944, a faster, more agile, and much better-built "entry-level" Porsche based on the 924. Almost a brand-new car, the 944 was a revelation right out of the box, and became even more so when higher-performance S and Turbo models came along.
Chevrolet provided more good news with the 1983 release of the first clean-sheet Corvette in 20 years. Its only link with the past was a hallowed small-block V8, and even that was fully updated. Though less flamboyant than the "shark" it replaced, the "C4" was a more practical, sophisticated Corvette just right for its time. The same could be said for the popular Datsun/Nissan Z and Mazda RX-7, which also began new design generations that emphasized comfort and conve-nience without spoiling the sports-car fun.
The 1980s also produced its share of interesting newcomers, some from unexpected quarters. The Pontiac Fiero and Toyota MR2 followed earlier "parts bin" models by using high-volume drivetrains in a unique two-seat package with mid-engine mystique. Each had its own distinct character, but both were fun, affordable, and easy to live with. Cadillac raised eyebrows with the swank Allante convertible for 1987, and Buick did likewise the following year with its own two-seater, the Reatta. As spinoffs of larger front-drive models, neither could be serious driver's cars, though they were enjoyable luxury tourers.
Another sporty image-builder, the 1989 Chrysler's TC by Maserati, suffered from much more humble roots, though it, too, seemed a good idea at the time. And then there's the DeLorean DMC-12, which embodied so many not-so-good ideas as to strain belief. History has long since recorded the rear-engine coupe with the stainless-steel body panels and gullwing doors as an exercise in personal hubris. It was thus almost fated to fail, which it did in spectacular, headline-grabbing fashion. Today, the DeLorean is thought of as either a campy prop from the Back to the Future movies or a symbol of most everything wrong with the 1980s.
Of course, every era has its contradictions. And for all the ups and downs, the 1980s not only left us some very capable, rewarding sports cars, it paved the way for even better things. Though the Acura/Honda NSX, Dodge Viper, Mazda Miata, and others would await the Nineties, they were conceived in the tough, winner-take-all environment of the 1980s. Considering how good they would be, maybe greed wasn't so bad, after all.
Sports Cars of the 1990s
The 1990s ushered in a "A New World Order" for sports cars beset by intractable old problems. Ominously, the decade began with war. In August 1990, Iraqi forces occupied neighboring Kuwait, gateway to the oil fields of Saudi Arabia so vital to Western economies. President George Bush led formation of an international military coalition to liberate tiny Kuwait, accomplished in early 1991 with a 100-hour blitzkrieg, "Operation Desert Storm." It was an impressive show of military might and political cooperation, but it left Iraqi dictator Saddam Hussein to fight another day.
Featured Sports Cars of the 1990s

Here are some of the greatest sports cars produced at the end of the 20th century:
By mid-decade, though, America was into a record-long run of prosperity in a "service economy" fueled by new technology and a huge upsurge of investment in the stock market and promising "start-up" ventures. Consumer spending, corporate profits, and the Dow Jones Average rose in lockstep, and to unheard-of heights. Millions of people were soon earning trillions of dollars -- at least on paper. With all this, car and truck sales grew steadily except for dips in 1991 and '98. To the delight of manufacturers, high-margin luxury models outstripped other segments in sales growth.
Another key 1990s trend was the strong public shift from passenger cars to light trucks -- minivans, traditional pickups, and especially sport-utility vehicles. Big or small, pricey or cheap, SUVs sold like crazy, and manufacturers raced to get them onto dealer lots. By 1999, light trucks as a whole were pulling in almost as many sales as passenger cars -- 8.2 million to 8.75 million -- and were poised to take the lead.
So sports cars were history, right? Far from it. Rising affluence stoked demand for sporty rides, and manufacturers were learning how to produce "niche" models that could make money with relatively modest sales. As a result, the Nineties produced an unusual number of new sports cars, most every one an enthusiast's delight.
The most commercially important -- arguably the most charming -- was the Mazda Miata. A 1990 debut, it picked up where the British had left off as a small, affordable roadster of the beloved traditional stripe. The Miata reminded some of the early Lotus Elan. Collectible Automobile® magazine more aptly termed it "a Triumph Spitfire that works." And in fact, Mazda used a Spitfire to help gauge the market. Pert, agile, and fast enough, the Miata offered workmanship and reliability no British two-seater ever knew and was priced right. Though filling such an obvious market gap might seem a no-brainer now, the Miata was a brave decision at the time, because no one knew for sure whether it would sell. But sell it did, year after year, helped by steady technical improvements and a stream of "limited edition" specials.
At the opposite end the 1990 market was another Japanese newcomer, the NSX. Sleek and low, this midengine coupe was a technological showcase for Honda and a flagship for the company's new upscale U.S. Acura line. A pioneering lightweight aluminum structure and a high-tech twincam V6 made for vivid acceleration and decent fuel economy. The NSX could sound like a Formula One car and almost handled like one, yet could easily double as a daily driver -- a truly "practical exotic." Though always rare and very costly, the NSX carved out a solid niche to last over 10 years without basic change.
After a decade of drift and bloat, the Nissan Z returned to its spiritual roots for 1990 with a new 300ZX. It was all business from striking exterior to taut chassis to strong V6, and the high-power Turbo version delivered Corvette-like go. Sun-worshippers cheered the '93 addition of the first factory-built Z convertible. Unfortunately, a weakening dollar/yen exchange would price the Z out of its market by 1996, and Nissan ended U.S. exports to ponder next steps. The same fate awaited two other Japanese gems, the Toyota MR2 and Mazda RX-7. And more's the pity. A 1991 redesign made "Mister Two" look like a sort of baby Ferrari, while the rotary-powered RX-7 became a turbocharged canyon-carver in a 1993 makeover with the same "back to basics" emphasis as the latest Nissan Z.
"Basic" certainly described the Dodge Viper RT/10. So did "fearsome." New for '92, the Viper was conceived as a modern Shelby Cobra, and Chrysler wisely called on 'Ol Shel to make sure it was done right. It was. Raw and visceral, the Viper was short on comforts but long on thrills, packing a massive V10 that could wrinkle asphalt. A coupe version added for '97 quickly proved a winner in international racing. Interestingly, Shelby went off to do his own "new Cobra," but the car business had changed a lot since the Sixties, and his Olds V8-powered Series I was dogged by problems on its 1999 launch.
Old reliable Porsche suffered a near-death experience in the early Nineties as sales plunged along with world economies. But it came back strong late in the decade after shedding front-engine models and betting the farm on a new mid-engine roadster, the Boxster, which proved an immediate success. Soon afterward came another new 911. This one was completely redesigned from road to roof, yet had all the expected character intact. Ferrari twice updated its smaller cars in the Nineties but revived the grand spirit of the front-V12 Daytona for rapid, rakish new senior models, the 456GT and 550 Maranello. Lamborghini returned to the U.S. market with the Diablo, an even more wicked Countach that would run the full 10 years.
Last but not least, the Chevrolet Corvette. Bracketed by the high-power "King of the Hill" ZR-1 and an all-new "C5" generation, the 1990s were vintage 'Vette years. Other sports cars might be faster down the road or through a curve, but none could match the Corvette's enduring charisma and all-American persona. To quote an old ad for a very different car, the 'Vette was still "unique in all the world," and rightly so.
All in all, sports-car life was livelier in 1990s America than it had been in quite some time. And the party was just beginning.
Sports Cars of the 2000s
It was really just the last year of the twentieth century, but the world rushed to welcome 2000 as the start of a new decade, a new century, a new millennium. The celebrations were large and lavish, spirits and hopes high. Hangovers clouded many a morning after, but most computers woke up just fine, their calendars clicking over to "Y2K" without the widespread digital calamities that had been feared. The parties over, life went on.
But on September 11, 2001, life shattered amid the death and destruction of the World Trade Center in New York City and a large portion of the Pentagon in Washington, D.C. The events of that day and the events still flowing from them require no comment here. Suffice it to say, as many already have, that America and the world have been changed in ways profound and fateful.
The automotive world had seen many changes already. Globalization, heralded as the new millennium's Big Thing in most industries, was old news here. But competition was now rougher than ever, the stakes enormous. Failures were not an option. Even the largest manufacturers could no longer afford to do an Edsel. Excess production capacity didn't help. Though India and China were emerging as huge new markets, the rest of the world found itself with too many factories able to make more cars than there were people to buy.
Manufacturers had been hedging bets by teaming up in various ways. Daimler-Benz made business history by "merging" with Chrysler Corporation in 1998 to form German-dominated DaimlerChrysler. Ford Motor Company had bought Jaguar and Aston Martin in the Eighties, then added Volvo and a controlling stake in Mazda, and finally Land Rover. General Motors, meanwhile, completed its purchase of Saab and forged partnerships with Subaru and Fiat to complement its holdings in Suzuki and Isuzu.
Volkswagen/Audi rescued Lamborghini, snatched Bentley from Rolls-Royce, and retrieved the remains of a short-lived 1990s Bugatti revival. Even BMW got the urge to merge, acquiring Rolls and the Mini brand, the latter from its brief stewardship of Rover Group. Ferrari, which came under Fiat's wing in the late 1960s, had lately become a semi-autonomous enterprise that had prospered enough to take over Maserati. Thus, among major sports car powers, only Porsche remained independent, defiantly so despite its small size.
Happily, consolidation and globalization did not mean fewer or less-interesting sports cars in the new century. On the contrary, choices multiplied, and power and performance reached levels that would have seemed impossible even 10 years before. In addition, smaller producers like Aston and Lamborghini were making vast strides in engineering and quality, thanks to the financial might and greater production discipline of their big new owners. Because this book is being prepared in late 2003, we can only survey the field up to that point, but we already know that more great sports cars are just around the bend.
Let's start with the fantasy ranks, where an all-out war got underway. Ferrari, as usual, fired early salvos. The 360 Modena arrived in 2001 as a lovelier, faster, better-handling evolution of the midengine F355. A hotter front-V12 GT, the 575M, cruised in during '03. But even these paled next to the Enzo, a 2003 celebration of the legendary Il Commendetore and heir to the great tradition of the F40 and F50. Though no less a barely tamed Formula 1 car, the mid-V12 Enzo took everything to the next level -- the fastest, most powerful roadgoing cavallino yet. It cost an Olympian $700,000, and only 399 would ever be built, but it deposed the 1994-98 McLaren F1 as the history's ultimate sports car. Nothing else around looked to come close.
Except, perhaps, the extraordinary Bugatti EB 16.4 Veyron. Though not quite reality at this writing, it's an all-wheel-drive wundercar backed by the very real engineering expertise and deep pockets of VW/Audi. An improbable W16 engine mounted amidships should deliver a mind-boggling 987 horsepower and a top speed of over 252 mph. Yet unlike the Enzo, the Veyron is furnished and equipped like a luxury sedan. Price? A mere $1.2 million. But get your order in fast. Only 50 or so will be built each year -- in France, appropriately, just as Ettore did.
As noted, Lamborghini is also in the VW/Audi stable now. As such, it's enjoying a happy renaissance after limping through the Eighties and Nineties under three different masters. It began in 2002 with the mid-V12 Murcielago, as thrilling and charismatic as the Diablo it replaced, but infinitely more civilized and better built. Joining it in 2003 was the long-awaited "baby Lambo," the mid-V10 Gallardo, a 360 Modena/Porsche 911 Turbo rival that promises to further secure the marque's future.
Porsche's latest weapon for the supercar war is a sort of Boxster on steroids, with some 600 horses from the company's first production V10. As expected of Porsche, the Carrera GT is shot full of high technology, much of it lifted directly from the racetrack. It doesn't have a turbocharger, but no one would be surprised if Porsche bolted one on to get closer to the Enzo and Veyron.
Crosstown rival Mercedes-Benz fires back with the SLR McLaren, a cooperative effort with the same British specialist that built the aforementioned BMW-powered F1. In name and character, the new supercharged V8 coupe recalls the seminal SLR racers of the early 1950s. It departs from other new-century überwagens with a traditional front-engine layout, but follows them with costly aluminum/carbon fiber construction. The Mac SLR is close to the Carrera GT in wallop and wallet-shrinking ability -- to the tune of some $400,000 -- so the fight for bragging rights and sales supremacy should be fierce.
There was plenty of action in the popular-price ranks as well. The success of Mazda's Miata touched off a late-Nineties "retro roadster" craze that produced not only the Boxster but BMW's American-built Z3. The latter was redesigned for '03 to become the Z4, which earned plaudits for most everything except its postmodern styling. Audi, meantime, had weighed in with the TT, a cut-down VW Golf with shapely Bauhaus bodywork and available all-wheel drive. Honda joined in for 2000 with the ragtop S2000, a rear-drive cornering fool with a 9000-rpm redline. That same year, Toyota resurrected its MR2, this time as a convertible.But it was Nissan's all-new 350Z for 2003 that really got people talking. Here at last was the long-sought spiritual heir to the 1970 original. And it was a great drive besides.
Detroit was far from idle. Chevy delivered a "pure performance" Corvette, the Z06, for 2001, then gave it more power and stickier handling. Chrysler Corporation unleashed a slick new 500-bhp Dodge Viper for 2003, followed by the stylish Mercedes-based Chrysler Crossfire hatchback. And in a grand gesture to its historic 2003 centennial, Ford announced a fully road-legal replica of its fabled LeMans-winning GT40 racer, complete with a 500-bhp supercharged V8.
With these and other great new sports cars on the scene -- and more on the way -- we can't think of a happier ending for this article. Whatever the future may hold, we can be sure that sports cars will be a part of it. In many ways, we need them more than ever.
Sports Cars by Manufacturer
Now that you have learned the history of the sports car, feel free to browse through our many profiles, arranged by manufacturer:
New Sports Car Reviews
After reading about all these great sports cars there's only one thing left to do -- buy one of your own and join the legacy. Here are reviews of some of Consumers Guide's favorite new sports cars:
| | |
| --- | --- |
| Make/Model | MSRP |
| 2006 Acura RSX | $20,325-23,845 |
| 2008 Audi TT | $34,800-45,900 |
| 2007 BMW 6-Series | $74,700-104,900 |
| 2007 BMW Z4 | $36,400-52,100 |
| 2007 Cadillac XLR | $78,335-97,460 |
| 2007 Chevrolet Corvette | $44,250-69,175 |
| 2007 Ford Mustang | $19,250-45,755 |
| 2007 Honda S2000 | $34,250-34,250 |
| 2007 Jaguar XK | $74,835-91,835 |
| 2007 Lexus SC 430 | $65,455-65,455 |
| 2007 Mazda MX5 | $20,435-27,460 |
| 2007 Mercedes-Benz SL-Class | $94,800-186,000 |
| 2006 Nissan 350Z | $27,650-41,000 |
| 2007 Porsche 911 | $72,400-122,900 |
| 2007 Porsche Boxster | $45,600-55,500 |
| 2007 Volvo C70 | $39,090-39,090 |
Used Sports Car Reviews
Used cars can be a great way to save money, and sports cars are no exception. However, before you hit the dealership, you should know which models hold up the best over time. Below you will find reviews and profiles to many Consumer-Guide-tested sports cars.
| | | | |
| --- | --- | --- | --- |
| 1991-2005 Acura NSX | 2002-2006 Acura RSX | 2000-2006 Audi TT | 2004-2008 BMW 6 Series |
| 1991-1997 BMW 8-Series | 1996-2002 BMW Z3 | 2003-2008 BMW Z4 | 1993-2002 Chevrolet Camaro |
| 2005-2008 Chevrolet Corvette | 1995-2000 Dodge Avenger | 2003-2006 Dodge Viper | 2005-2008 Ford Mustang |
| 2002-2005 Ford Thunderbird | 2000-2008 Honda S2000 | 1997-2006 Jaguar XK8/XK | 2002-2008 Lexus SC 430 |
| 1999-2005 Mazda Miata | 2003-2008 Mercedes-Benz CLK | 2003-2008 Mercedes-Benz SL-Class | 1998-2004 Mercedes-Benz SLK |
| 2004-2008 Mazda RX-8 | 1999-2008 Porsche 911 | 2005-2008 Porsche Boxster | 2003-2008 Nissan 350Z |
| 1997-2002 Plymouth Prowler | 2004-2006 Pontiac GTO | 2005-2008 Scion tC | 2000-2005 Toyota MR2 Spyder |