2006, 2007 Porsche Cayman and Cayman S Reviews
The Porsche Cayman gets great handling from its rigid structure and fine balance.
The Porsche Cayman has plenty enough power to satisfy any public-road need, and in the finest Porsche tradition, sacrifices little of it to unnecessary vehicle mass.
According to Porsche itself, the Cayman's 0-60 mph times for manual coupes are 5.8 seconds for the 2.7-liter base car and 5.1 for the Cayman S. Automatic adds just under a second.
But these are Porsche's usual modest figures.
Road & Track
clocked a manual S at 4.9 seconds, a dead heat with BMW's rival Z4 M Coupe.
Car and Driver
got 5.2 with a similar car, but also an excellent 6.7 seconds from 50 to 70 mph, quicker than the Lotus Exige, a much smaller, lighter midengine two-seater.
The Porsche Cayman, despite more-than-adequate acceleration, is mostly about handling, and in that respect it has few peers, judging by first-year S-model road tests.
"It's a car you can push to the limits with supreme confidence," said
AutoWeek
's Greg Kable. "Lift-off mid-corner and it tucks back into line with no theatrics. It's not only adroitness that makes the handling so agreeable, but the superb traction out of corners. There is enough power to provoke naughty power slides, once an initial penchant to run wide is overcome. Backing it all up is brilliant steering...that is enhanced by the more rigid chassis...[I]t responds faithfully, with wonderful weight at turn-in. Kickback doesn't corrupt it when the surface turns nasty, and it self-centers with enthusiasm."
And even with the normal iron brakes, Kable found, "stopping power ability is astonishing. When you stand on the Cayman S's middle pedal, the effect is like landing in a jet plane when the pilot engages its reverse thrusters."
The Porsche Cayman has a two-seat cabin that mirrors the Porsche Boxster's.
Other testers were a bit more critical. As Georg Kacher reported after a track outing for Britain's CAR magazine, "Only when you start to overdrive it -- brake too late, miss the turn-in point, step on the gas too early -- a ragged edge appears in the shape of early understeer, impromptu oversteer and dramatically increased tire wear. As long as you don't mess up your inputs, however, the Cayman S will reward you with an intuitive blend of actions and reactions."

So, it seems Porsche did exactly what it set out to do: create a more-capable, more "hardcore" mid-engine sports car.

R&T's Joe Rusz thought his test S was "wonderful...Fast, nicely balanced and a pleasure to drive..." But Porsche is protective of its signature rear-engine sports car, so the Cayman will likely never be allowed to threaten the 911. "That's why the engineers have deliberately designed the Cayman S's performance envelope just below that of the Carrera," Rusz noted. Even so, "there is so much potential in the Cayman S. With an engine of the same output, it could easily outpace the Carrera. I'd bet a few potential owners are already thinking about this."

Owners choosing the Cayman found the close car cost more than equivalent Boxsters, even though coupes usually cost less to build than convertibles. The base 2007 Cayman starts at $49,400, a $3800 premium, while the S runs $3,400 higher than a Boxster S at $58,900. About Porsche's pricing, Car and Driver theorized "they do it because they can. On the other hand," said the magazine, "having spent more time with this seductively complete [car], we wonder how many first-time Porsche coupe prospects will want to pony up the additional $12,400 required for a base 911 Carrera. If this describes you, save your money. We can practically guarantee that the Cayman S will make you happy."
Summing up, England's Autocar picked the Cayman by a nose over the BMW 335i coupe as its top 2007 sporting-coupe choice, allowing that if you need rear seat space, the terrifically satisfying BMW would nudge ahead.

"Whisper it," Autocar said of the Cayman, "but this is probably the best-handling car Porsche makes -- for the road, at least. It has smaller, higher-profile tyres [sic] than you'd usually find on a Porsche and they lend it a wonderful blend of ride and handling. The five-speed gearbox shifts even better than the six-speed does and the engine produces just enough power to enjoy the chassis." The Cayman, Autocar concluded, delivered the "undiluted Porsche driving experience at an attainable price."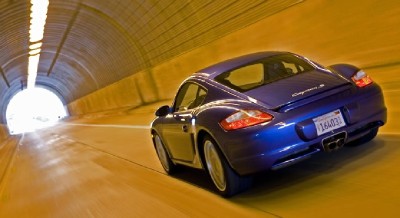 Porsche's tunnel-like focus on sports car precision is evident in the Cayman.
Check out the complete story of
Porsche cars
, including these fabulous models:
For prices, reviews, and more on Porsche from the Auto Editors of Consumer Guide, see:

Porsche new cars
Porsche used cars
2007 Porsche Cayman and Cayman S

2006 Porsche Cayman S
Advertisement