The Porsche Cayman may look like a hatchback coupe version of the midengine Porsche Boxster convertible, but Porsche's newest car is more than that -- or so the company insists.
Actually, the Porsche Cayman exists to bridge what had been a fairly big price gap between the Porsche Boxster and 997-series Porsche 911 Carrera that was introduced for 2005.
It's also intended to outpoint the Boxster as a driver's car, but not to outshine the 911 for speed and status. Which makes the Porsche Cayman another of those "niche market" exercises so beloved by automakers nowadays. All the same, the Cayman is an impressive Porsche in its own right. In fact, some think it a better ride than the 911 Carrera, especially as it's more affordable.
Designated 987 C7S, the Cayman was developed alongside the Type 987 Boxster, which went on sale for model year 2005. Cayman followed that second-generation Boxster to market by about a year. The veil came off at the September 2005 Frankfurt Show. U.S. deliveries began the following March, also for the 2006 model year.
Porsche says the Cayman shares about 40 percent of its components with the 987 Boxsters, which share some 55 percent of their parts with 997 Carreras. Critics often deride such "family planning," but not here. And it contributed to the Cayman's speedy 36-month gestation.
Reversing longtime policy, Porsche introduced the Cayman in upmarket S trim, delaying a lower-power base version to the 2007 lineup. The name refers not to the Caribbean islands favored as a corporate tax haven, but to that species of Latin American alligator, which means the badge should read "Caiman." Oh, well, this isn't the first time a carmaker has taken such liberties.
The Porsche Cayman coupe, as appearances suggest, is much like the Porsche Boxster roadster below the windows. Both use a 95.1-inch wheelbase and spread 70.9 inches wide. The coupe, however, is about a half-inch taller and longer than the roadster at 54.1 and 172.1 inches, respectively.
In addition, Cayman's rear haunches are subtly raised to harmonize with the new roofline, which slopes rakishly down from a 911-style "peak" over the two seats. Porsche Caymans also get their own front fascia with a larger central air slot and outboard intakes fronted by a body-color horizontal bar carrying a round foglamp. (Boxsters carry those in oblongs.)
Providing more visual snap to the Porsche Cayman is a body side crease line above the sills that kicks up at the rear-fender intakes, which have vertical instead of the Boxster's horizontal strakes, and are shaped to match the angle of the roof's fixed rear-quarter windows.
Taillights are common, but the Porsche Cayman has a specific rear fascia and an exclusive two-piece rear spoiler. As on the Boxster, the wing automatically rises above 75 mph to stand about 3.5 inches tall; it powers down when speed falls below 50 mph.
Lifting the Cayman's large hatch reveals a bi-level cargo bay divided by an aluminum-trimmed brace linking the rear strut towers. The shallower forward space caters to small-item storage with twin cubbies and a cargo net. A thoughtful "luggage retention bar" between the seatbacks keeps stuff from flying forward in a hard stop.
With 9.2 cubic feet here and another 5.3 in the front trunk, the Cayman's cargo volume totals 14.5 cubic feet versus the Boxster's 9.5. Aside from this, a restyled instrument binnacle and minor trim, the Cayman cockpit is virtually identical with the Boxster's.
The Cayman's rear luggage area is both atop and behind its mid-mounted engine.
Check out the complete story of Porsche cars, including these fabulous models:

For prices, reviews, and more on Porsche from the Auto Editors of Consumer Guide, see:

Porsche new cars
Porsche used cars
2007 Porsche Cayman and Cayman S

2006 Porsche Cayman S

2006, 2007 Porsche Cayman and Cayman S Engines and Chassis
The Porsche Cayman surrounds its midengine chassis with a rigid hardtop structure.
The Porsche Cayman encapsulates its engine in the fashion of the Porsche Boxster. In neither car is the flat-six fully accessible to anyone but a Porsche technician working with the proper equipment. However, the Porsche Cayman, upon its launch as a 2006 model, introduced several improvements that also benefited 2007-model Boxsters.
The base Cayman's 2.7-liter flat-six is updated with Porsche's VarioCam Plus, the variable-timing and lift system for intake valves adopted for 997-series 911s. This combines with detail cylinder-head changes and a higher 11.3:1 compression ratio for 245 horsepower at 6500 rpm (up five from the 2006 rating) and 201 pound-feet of torque at 4600-6000 revs (a nominal 2 pound-feet gain).
The Porsche Cayman S and 2007 Boxster S carry a new 3.4-liter engine, basically the familiar 3.2 with a 2mm larger bore (at 96mm/3.78 inches), plus 3.6-liter Carrera cylinder heads and 3.8-liter Carrera S cam profiles. Porsche also specifies larger main bearing journals to support the crankshaft and a stronger aluminum crankcase similar to the 911's. All this plus 11.0:1 compression nets 295 horsepower at 6250 rpm and 251 pound-feet at 4400-6250 rpm.
Of course, not all these cards were on the table in 2006, which somewhat negates early road-test comments about the Cayman S being so precisely slotted between that year's Boxster S and 911 Carrera in power, performance and price.
With the 2007 engine realignment, Porsche seems to be treating the Cayman and Boxster as a four-model group, not two separate cars, public posturing to the contrary.
Nevertheless, driving the Cayman provides a very different "Porsche Experience" than either the Boxster or 911.
Fixed-top cars are naturally stiffer than counterpart convertibles. The Porsche Cayman is no exception. Helped by that rear strut-tower brace, it exceeds the Boxster by 150 percent for tensional rigidity and 100 percent for bending resistance.
The Porsche Cayman line grew for 2007, adding this 245-horsepower base model.
Why is this important? Because, in general, the stiffer the structure, the better the suspension works. That, in turn, allows more-precise suspension tuning, whether the goal is handling, ride comfort, or some combination.
Not surprisingly, the Cayman's Boxster-sourced suspension was calibrated for sharper handling, with higher-rate springs and shock absorbers, thicker antiroll bars, and the addition of strut "stop springs" to control body sway in hard transient maneuvers like S-bends.
Like Boxsters, Caymans boast variable-ratio rack-and-pinion steering and standard Porsche Stability Management antiskid/traction control. Likewise, they can be ordered with Porsche Active Suspension Management, the "adaptive" shock absorbers that change firmness to suit speed and road conditions within driver-selected normal and sport modes.
Brakes are the usual four-wheel discs with antilock control (ABS). Rotors on the base Cayman are 11.73 inches front, 11.78 rear. Cayman S gets 12.5-inch-diameter front brakes. Porsche Ceramic Composite Brakes are available, priced at $8150. Tire sizes are also per Boxster. The base Cayman uses 205/55ZR17s up front and 235/50ZR17s in back. The S gets 235/40ZR18s and 265/40ZR18s, respectively. A 19-inch wheel/tire package is available for both.
Transmissions are no surprise, either. A five-speed manual for the base Cayman, a six-speed with fortified internals as standard for the S and available for the base car. Optional for both is Porsche's five-speed Tiptronic S automatic with steering-wheel buttons for manual shifting.
Cayman also follows Boxster and Carrera with an optional Sport Chrono Package ($920 for 2007). Pushing a button "remaps" electronic controls for the engine, ABS, antiskid system, and, where equipped, the PASM adjustable shocks and Tiptronic transmission. It's all for "greater freedom when driving at the limit," Porsche says. Translation: the various digital nannies don't interfere so soon, so drivers can more easily indulge in power-on tail slides and similar antics.
As in other Porsches, the Sport Chrono option is aimed mainly at weekend "club racers," though it's just as handy for hard-chargers on encountering a deserted twisty road. Other Cayman equipment also parallels the Boxster lists: standard trip computer, power windows and mirrors, keyless-entry power door locks; optional power seats with memory, adaptive sport seats, navigation system, bi-xenon headlamps.
Despite the steel roof and big glass backlight, Caymans weigh about 10 pounds less than equivalent Boxsters, so performance is virtually identical.
The base-model Porsche Cayman has the same attractive shape as the S model.
Check out the complete story of
Porsche cars
, including these fabulous models:
For prices, reviews, and more on Porsche from the Auto Editors of Consumer Guide, see:

Porsche new cars
Porsche used cars
2007 Porsche Cayman and Cayman S

2006 Porsche Cayman S
2006, 2007 Porsche Cayman and Cayman S Reviews
The Porsche Cayman gets great handling from its rigid structure and fine balance.
The Porsche Cayman has plenty enough power to satisfy any public-road need, and in the finest Porsche tradition, sacrifices little of it to unnecessary vehicle mass.
According to Porsche itself, the Cayman's 0-60 mph times for manual coupes are 5.8 seconds for the 2.7-liter base car and 5.1 for the Cayman S. Automatic adds just under a second.
But these are Porsche's usual modest figures.
Road & Track
clocked a manual S at 4.9 seconds, a dead heat with BMW's rival Z4 M Coupe.
Car and Driver
got 5.2 with a similar car, but also an excellent 6.7 seconds from 50 to 70 mph, quicker than the Lotus Exige, a much smaller, lighter midengine two-seater.
The Porsche Cayman, despite more-than-adequate acceleration, is mostly about handling, and in that respect it has few peers, judging by first-year S-model road tests.
"It's a car you can push to the limits with supreme confidence," said
AutoWeek
's Greg Kable. "Lift-off mid-corner and it tucks back into line with no theatrics. It's not only adroitness that makes the handling so agreeable, but the superb traction out of corners. There is enough power to provoke naughty power slides, once an initial penchant to run wide is overcome. Backing it all up is brilliant steering...that is enhanced by the more rigid chassis...[I]t responds faithfully, with wonderful weight at turn-in. Kickback doesn't corrupt it when the surface turns nasty, and it self-centers with enthusiasm."
And even with the normal iron brakes, Kable found, "stopping power ability is astonishing. When you stand on the Cayman S's middle pedal, the effect is like landing in a jet plane when the pilot engages its reverse thrusters."
The Porsche Cayman has a two-seat cabin that mirrors the Porsche Boxster's.
Other testers were a bit more critical. As Georg Kacher reported after a track outing for Britain's CAR magazine, "Only when you start to overdrive it -- brake too late, miss the turn-in point, step on the gas too early -- a ragged edge appears in the shape of early understeer, impromptu oversteer and dramatically increased tire wear. As long as you don't mess up your inputs, however, the Cayman S will reward you with an intuitive blend of actions and reactions."

So, it seems Porsche did exactly what it set out to do: create a more-capable, more "hardcore" mid-engine sports car.

R&T's Joe Rusz thought his test S was "wonderful...Fast, nicely balanced and a pleasure to drive..." But Porsche is protective of its signature rear-engine sports car, so the Cayman will likely never be allowed to threaten the 911. "That's why the engineers have deliberately designed the Cayman S's performance envelope just below that of the Carrera," Rusz noted. Even so, "there is so much potential in the Cayman S. With an engine of the same output, it could easily outpace the Carrera. I'd bet a few potential owners are already thinking about this."

Owners choosing the Cayman found the close car cost more than equivalent Boxsters, even though coupes usually cost less to build than convertibles. The base 2007 Cayman starts at $49,400, a $3800 premium, while the S runs $3,400 higher than a Boxster S at $58,900. About Porsche's pricing, Car and Driver theorized "they do it because they can. On the other hand," said the magazine, "having spent more time with this seductively complete [car], we wonder how many first-time Porsche coupe prospects will want to pony up the additional $12,400 required for a base 911 Carrera. If this describes you, save your money. We can practically guarantee that the Cayman S will make you happy."
Summing up, England's Autocar picked the Cayman by a nose over the BMW 335i coupe as its top 2007 sporting-coupe choice, allowing that if you need rear seat space, the terrifically satisfying BMW would nudge ahead.

"Whisper it," Autocar said of the Cayman, "but this is probably the best-handling car Porsche makes -- for the road, at least. It has smaller, higher-profile tyres [sic] than you'd usually find on a Porsche and they lend it a wonderful blend of ride and handling. The five-speed gearbox shifts even better than the six-speed does and the engine produces just enough power to enjoy the chassis." The Cayman, Autocar concluded, delivered the "undiluted Porsche driving experience at an attainable price."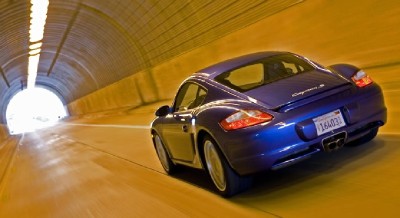 Porsche's tunnel-like focus on sports car precision is evident in the Cayman.
Check out the complete story of
Porsche cars
, including these fabulous models:
For prices, reviews, and more on Porsche from the Auto Editors of Consumer Guide, see:

Porsche new cars
Porsche used cars
2007 Porsche Cayman and Cayman S

2006 Porsche Cayman S