Exterior Design and Safety
The Carrera GT owes many of its design cues to the Le Mans-winning 911 GTI racecar. It was built to combine racetrack performance and nimble handling. The car is immediately recognizable as a Porsche: The front headlights are a tribute to the 917, the first Porsche to win at Le Mans. The signature rear wing, which provides down force at top speeds, also falls within the distinctive Porsche design.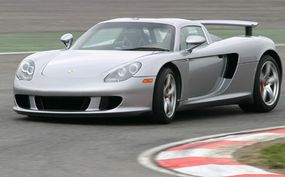 To keep the car as safe as possible when traveling at top speeds, Porsche designers have outfitted it with front- and side-impact air bags, anti-lock braking and traction control, high-powered Xenon headlights and steel-surrounded driver and passenger seats. The windshield and windows are designed for maximum visibility from all angles.