Engine
The powerful 5.7-liter, V10, 605-horsepower engine can take the Carrera GT from 0 to 124 mph (200 kph) in under 10 seconds. The Carrera's top speed is about 205 mph (330 kph). Engine specifications include:
10 cylinders

5.7-liter displacement

605 hp @ 8,000 rpm

435 lb-ft torque @ 5,750 rpm

8,400-rpm maximum engine speed

12.0:1 compression ratio
As with most high-performance cars, the Carrera's designers chose a mid-engine design, placing the engine behind the cockpit to achieve a weight distribution that makes the car extremely aerodynamic. Its location gives the car a low center of gravity, which enables the Carrera to handle even the steepest curves with the utmost agility.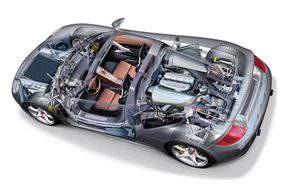 Beneath the frame: the Carrera GT
The engine design was derived from a racing V10 engineered for Le Mans. It's both lightweight (at 452 pounds / 205 kg) and environmentally-friendly -- it has an emissions control system and an on-board diagnostics setup that continually monitors exhaust. The cylinders are coated with a combination of nickel and silicon to reduce wear. Each of the two banks of cylinders has its own exhaust system with primary and main catalytic converters. A cross-flow system cools each cylinder individually to keep the engine temperature constant. The crankshaft assembly at the base of the engine accommodates an engine speed of up to 8,400 rpm.