1990 Porsche 928S and 1991 Porsche 928S 4 and GT
The Porsche 928S name was revived for 1990, taking over from the 928S 4 designation, but there was no backsliding on the sleek coupe's contents or performance.

Among advancements, the 1990 Porsche 928S got standard dual air bags as well as two features pioneered by Porsche's recently deceased 959 supercar. One was a variable-ratio limited-slip differential, comprised of a multidisc hydraulic clutch with electronic controls linked to the ABS wheel-speed sensors. Based on sensor input, the diff could vary its lock-up from 0 to 100 percent to compensate for traction loss as well as variations in cornering and braking loads.
Porsche shortened it flagship coupe's name to 928S, from 928S 4, for 1990.
The other improvement was a tire-pressure monitoring system. This used a separate set of sensors, housed within the wheels, to warn when pressure in any tire fell below a set level, as signaled by a light in the central array.

Yet even with these pluses, the 928S cost not one extra penny in the United States, Porsche holding the price line on all its 1990 models in hopes that the dollar would soon firm up. Unfortunately, the greenback wouldn't strengthen for awhile because America was entering a sharp new recession, making Porsche's decision to forgo another price hike all the more laudable.

Extra power packed into manual-shift 928Ss was achieved in the time-tested Porsche way of revised cam profiles and altered intake system. The result was a boost in horsepower -- to 326 at 6,200 rpm -- and some 200 extra revs to work with. Torque, however, was unchanged and still the same as the automatic version's 317 pounds/feet. With that, Porsche's official performance claims proved optimistic for once. Where the factory said 5.6 seconds 0-60, Road & Track replied 6.1 -- a 0.6-second deficit from the magazine's previous S4 result. The self-shift version was claimed to need 6.0 seconds flat, but R&T clocked a comparatively disappointing 6.3.

Despite the 928's undeniable abilities, Porsche was worried by a growing perception of the V-8 Porsche as a dinosaur in the automotive world of 1990 -- a too-heavy, too-thirsty, and never-too-practical tourer that had been allowed to live too long with too few meaningful changes.

Perhaps that's why Garrat Lai felt compelled to defend it in Road & Track's 1990 Sports & GT Cars issue. "The 928 set the standard for its class," he argued, "embodying the very definition of the luxurious sports car. Moreover, it heralded a number of changes in automobiles. Rounded, aerodynamic shapes are now the norm, and the entire genre of luxury-sport automobiles came into being shortly after the 928. Many cars...now incorporate rear suspension geometry designed to emulate Porsche's Weissach axle. Furthermore, the large engine is making a comeback, borne witness by BMW's V-12 [and] a crop of V-8s from Japan. It's true [the 928] has undergone little more than cosmetic changes over its lifetime. But it may hardly be called a dinosaur. Just think of it as a little ahead of its time."

Car and Driver found the 1991 edition needed no defense, even though nomenclature was about the only thing that had changed. "GT" now denoted the manual model, and a revived "S4" tag identified the automatic version. Granted, editor Art St. Antoine took note of the 928's "reputation as something of a poseur's Porsche -- a car seen less often carving up mountain roads than being proudly handed over to the country-club valet." But he then promptly declared the GT "a deadly serious driver's car. In its quest for pure performance, Porsche has chiseled off most of the 928's remaining soft edges." He almost sounded surprised, but then with the 928's slower development pace, C/D (and some other "buff books") hadn't visited the car in a while.

No matter. As usual with Porsches, the numbers spoke volumes. Despite absolutely carryover specifications -- and R&T's 1990 numbers -- C/D's GT rocketed "from 0 to 60 mph in just 5.2 seconds and through the quarter-mile in 13.7 seconds at 104 mph -- improvements of 0.1 and 0.2 second, respectively, over . . . the five-speed 928S4 we tested in May 1987. (Not a bad showing for a 3,603-pound 'luxury' GT, eh?) Top speed is up a full 10 mph to 169 mph at the engine's 6600-rpm redline."

And road manners were better than ever. The GT "shines when you give it the spurs," St. Antoine reported. "The control efforts are finely honed for speeds above 80 mph; the steering arcs with reassuring heft, the shifter chunks solidly through its racing-pattern H, and the clutch takeup is smooth and positive. Spin the speedo to autobahn speeds and the GT really comes into its own. Suddenly, the beefy body feels not chubby but secure [and the car] is far more agile in curvy-road dicing and slicing than you'd expect. . . . Porsche has tamed the old 928's tail-happiness; the GT understeers resolutely through hard bends, tucking in neatly even if you suddenly snap off the throttle."

Yet for all that, St. Antoine judged the 928GT too potent and pricey for all but "the serious" and "the solvent." Then again, "Porsche plans to sell only about 100...in the U.S. this year. That should tell you plenty about this car's mass-market appeal."

However limited the supply, the 928's appeal was still on the wane. Porsche Cars North America (PCNA) moved just 620 of the 1990 models and a mere 262 of the '91s (including, one presumes, those 100 GTs). Though total production took an uptick to 5,238 for calendar-year 1991, it dropped back to 3,389 in '92, when U.S. sales were a minuscule 181.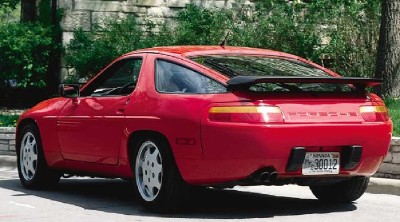 V-8 Porsches had 326 horsepower with manual transmission, 316 with automatic.
Check out the complete story of Porsche cars, including these fabulous models:
For Porsche prices and reviews from the auto editors of Consumer Guide, see:
Porsche new cars

Porsche used cars

2007 Porsche 911

1999-2006 Porsche 911

1995-1998 Porsche 911
Advertisement