1981 Porsche 924 and the Porsche 944
Despite the 944, the 924 was far from finished. Indeed, an even more special Turbo appeared in 1981 to carry Porsche's flag among production sports cars in that year's running of the famed 24 Hours of LeMans. Called Carrera GT, but also known as the 924 Turbo Carrera, it sported an inter-cooler and other engine modifications that lifted horsepower to 210, 33 above that in the roadgoing European model.

The Porsche 924 Turbo Carerra brought new style to the 924 line for 1981.
A more prominent hood scoop was provided to feed air, and larger spoilers appeared at each end for better "airflow management." A lower and stiffened suspension with 911 Turbo wheels and tires nestled within bulging add-on fender flares. Performance was formidable: Motor in England got 6.5 seconds 0-60 and 150 mph tops. To many, the 924 now had the performance it should have had all along. Not surprisingly, perhaps, price was equally formidable at about $30,000, some $7,000 above the standard issue. Today, though, it's a prized collectible, as only 400 production cars were built to complement a handful of racing versions.

Meantime, rumors were spreading of yet another "budget" Porsche, the so-called 918. A decade of inflation and falling dollar/DMark exchange rates had pushed the 924 far upmarket by 1980, and the betting was that Porsche would counter with a new lower-priced 914/924-style "cocktail" model. Most reports mentioned a Targaroof two-seater bearing 924 styling hallmarks but based on the VW Scirocco chassis. Power would allegedly be supplied by the 1.8-liter VW four from the European Golf GTI (and the new-for-'83 U.S. Rabbit GTI), while the body would mix aluminum and steel panels with polyurethane bumpers.

In the end, Porsche resisted the "918." True, the mass exodus of British sports cars had left a tempting market gap at the $12,000-$15,000 level, but Zuffenhausen concluded that there was no point in competing there again. Undoubtedly influenced by American-born Peter Schutz, who succeeded Ernst Fuhrmann as company chairman in late 1981, the decision to avoid this particular niche was a logical one given the market of the day. Porsche was selling every car it could build, even at inflated prices growing more so every year. It had no need for anything new, let alone a cheaper car on which it would be tougher to turn a profit. As ever, future success seemed to depend on the time-tested Porsche formula of steady improvements to cars that were already superb.

But superb was not perfection, which helps explain Porsche's motivation for the 944. The 924 may have been a commercial success, but its credentials as a "real" Porsche were still widely doubted. Even the Turbo couldn't shake the VW/Audi heritage of its basic design -- especially the engine, which still left something to be desired. And somehow, the fact that the Turbo was built by Porsche, not Audi, never got through to enthusiasts and critics.

Pride is a strong motivator, and Porsche has always been very motivated. Since the image problem seemed to rest with the engine, the obvious answer was to give the 924 a new one -- a genuine Porsche engine. Then there'd be no question that it was Zuffenhausen's car, even if most everyone had forgotten that it had been designed there in the first place.

Almost as obvious was the new engine's source. The 924 had a slant four. The big 928 had an all-aluminum Porsche-designed 4.5-liter V-8. A V-8 is basically two slant fours put together, so why not slice the 928 engine in half for an all-Porsche four? Which, of course, is just what they did.

The result was an altogether superior car that lived up to its badge in a way the 924 couldn't. More important, the 944 reassured Porsche partisans that Zuffenhausen was still on course. Don Vorderman, a critic not known for ready praise, called it "the best small sports car ever made."

It was certainly a much-improved four-cylinder Porsche -- starting with muscled-up styling in the image of the short-lived Carrera GT. Fenders were aggressively flared to enclose broader 15 ´7 alloy wheels and 215/60VR15 tires, a deep airdam was integrated with the lower front sheetmetal, and there was a smooth new polyurethane nose. The 924's under-bumper air intake was retained, and a pair of standard foglamps was flush-mounted in the airdam. A 924 Turbo-style rear spoiler continued. Unlike the Carrera GT, whose fender flares and other panels were plastic, the 944 body was made entirely of steel. Despite Porsche's claim of extensive wind-tunnel work, the 944's "aero" touches lowered Cd to only 0.35, barely better than the 924's.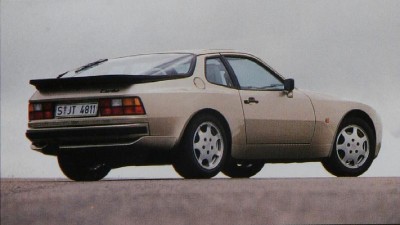 The Porsche 944 had a broad-shouldered stance that set apart from the 924.
Check out the complete story of
Porsche cars,
including these fabulous models:
For Porsche prices and reviews from the auto editors of Consumer Guide, see:

Porsche new cars
Porsche used cars
2007 Porsche 911
1999-2006 Porsche 911
1995-1998 Porsche 911