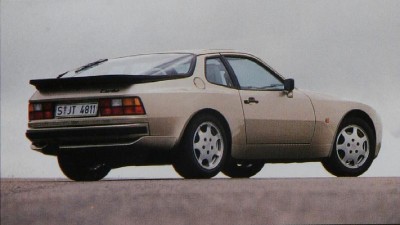 The Porsche 944 Turbo was last sold in the U.S. as a 1989 model.
Even before the dark days of the late 80s -- arguably the most difficult since Ferry set up shop in Gmund -- Porsche had decided to reduce production of its four-cylinder models to match the decreasing demand. An immediate casualty was the 924S, dropped in late 1988 as too old and too costly to sell well against newer Japanese sporty cars and especially, Porsche thought, Volkswagen's forth-coming Corrado.
As for the 944s, the plan was simple: Do everything possible to make them better while doing everything possible to keep prices down -- which seemed virtually impossible. Even so, the '89 models evidenced a return to Porsche's original "giant killer" role as a producer of premium sports cars that delivered far more performance than their looks implied.
First up was a base 944 improved with a new 2.7-liter engine. This was basically the eight-valve 2.5 with a bigger bore (up from 100 mm to 104), larger intake valves, higher compression (10.9:1), and, at last, Bosch DME ignition/injection. With all this, horsepower jumped by 15 to 162, and torque swelled to 166 pounds/feet, though the peak was now 1,200 rpm higher at 4,200.

Road & Track opined that these changes transformed "the [basic] 944's character to that of a more muscular and extroverted car." Indeed, the magazine's quarter-mile time was down to 15.7 seconds at 87.5 mph, and the 0-60 sprint was 1.2 seconds faster at 7.5. "Now [the 944] hustles with greater alacrity, in any gear, at any time, while requiring a lot less advance notice with the gearshift and accelerator. It simply has more flexibility and is more fun to drive."

The latest 944 was also more civilized, thanks to added standards like central locking, power heated door mirrors, power windows, an anti-theft alarm, and an electric tilt/take-out sunroof. Of course, the additions lifted sticker price -- to $36,360 in the United States -- but Porsche Cars North America (PCNA) took pains to point out that that was only 1.1 percent higher than an '88 model with comparable options.

Even so, R&T's staff remained split on the value question, especially as interior appointments were still "not outstanding" for the class. "But both camps agree that the 944 is still a sensational machine and a worthy target for any manufacturer who aspires to build a real driver's car."

Porsche moved the target higher in early 1989 with release of the 944S2 and a more potent 944 Turbo. The latter was essentially the previous S-model with a nicer price: $47,600 -- a decrease, crowed PCNA, of 4.7 percent on an "equipment adjusted" basis. Rear rolling stock was back to eight inches, but all tires were now Z-rated.
Check out the complete story of Porsche cars, including these fabulous models:
For Porsche prices and reviews from the auto editors of Consumer Guide, see:

Porsche new cars
Porsche used cars
2007 Porsche 911
1999-2006 Porsche 911
1995-1998 Porsche 911
Advertisement