1990-1996 Porsche 911 Carrera 2 Pictures and Specifications
The C4's new 964-series architecture, all-coil suspension, and upsized 3.6-liter engine transformed the "ordinary" Porsche 911 into 1990's much-improved Carrera 2. The Carrera 2 was stouter of structure and far more forgiving in hard cornering than previous 911s, yet retained the classic 911 looks.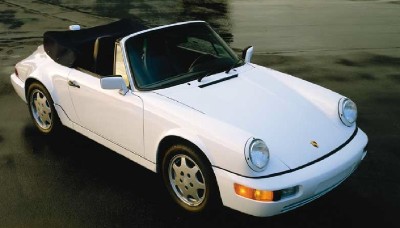 The Porsche 911 C2 boasted dual airbags, power steering, and antilock brakes.
The Porsche 911 C2's engine lid doubled as a spoiler, rising at above 50 mph.
1990-1996 Porsche 911 Carrera 2 Specifications
Prices New:
$58,500 for 1990 coupe

$59,900 for 1990 Targa

$69,580 for 1990 Cabriolet with Tiptronic transmission

$63,750 for 1996 coupe

$70,750 for 1996 Targa

$76,265 for 1996 Cabriolet with Tiptronic transmission
Dimensions:
| | | |
| --- | --- | --- |
| Length (inches) | Wheelbase (inches) | Weight (pounds) |
| 167.3 | 89.5 | 3,031-3,150 |
Engines:
| | | | |
| --- | --- | --- | --- |
| Size (cc) | Type | Horsepower | Years |
| 3600 | sohc flat 6 | 247 | 1990-1996 |
Check out the complete story of Porsche cars, including these fabulous models:
For Porsche prices and reviews from the auto editors of Consumer Guide, see:
Porsche new cars
Porsche used cars
2007 Porsche 911
1999-2006 Porsche 911
1995-1998 Porsche 911
Advertisement