1999-2001 Porsche 911 Carrera and 911 Carrera 4 Design
With the 996-series, as Car and Driver put it, "The wizards of Weissach press the 911's reset button." They had to. Despite its remarkable success in evolving the Porsche 911 over 34 eventful years, Porsche knew by the early 1990s that the original basic design could not go on into the 21st century. The rules were against it. Upcoming limits on exhaust emissions, the tightest yet, demanded an engine cooled by water, not air. So did new regulations for "drive-by" noise levels.

Soft-top Porsche 911 Carrera cabriolets like this one went on sale in early 1999.
Safety standards would be much tougher, too, necessitating a new architecture with more built-in "crush space" to protect occupants in front, rear, and even side impacts. As if all this weren't daunting enough, customers were asking for even more performance as well as more cabin space and creature comforts, all without compromising the Porsche 911's distinctive appearance and driving feel.
It was a very tall order, yet Porsche managed to reconcile these conflicting needs in a thoroughly modern way that was still unmistakably 911. As Autocar's Peter Robinson summed up: "At the end of one momentous day, I stood staring at 911s old and new, and understood [that the 996-series] was superior in virtually every way...a brilliant replacement capable of playing sports car and grand tourer at a level matched only by the [Ferrari 550 Maranello] -- and that car is more than twice the price."
The 996 was birthed under the leadership of product development head Horst Marchart, veteran design director Harm Lagaay, and new CEO Wendelin Wiedeking. Thanks to co-development, a remarkable 42 percent of its components were shared with the Boxster: the entire front "clip," a basic new water-cooled flat-six, dashboard, seat frames, automatic climate control system, and much more.
This, plus the more-efficient, lower-cost production methods recently adopted, allowed base prices to be virtually unchanged from the last air-cooled 993s. The 996 thus arrived in the United States for model-year 1999 with Carrera and Carrera 4 coupes and Cabriolets ranging from $65,030 to $79,920 with manual transmission; Tiptronic automatic added $3,420.
Though too many cars are billed as "all-new," the 996 truly was. For starters, it updated the classic Porsche 911 look with cleaner, more-flowing lower body lines and a larger windshield tilted back from 60 degrees to a more-rakish 55. Door vent windows, roof drip rails, and similar Sixties design relics were banished. A "faster" coupe roofline sloped down from a gentle peak above the front seats before again tapering inward at the rear. The back window was larger, too, as were the side windows, and all glass was now flush with the body.
Cabrios also got more glass, including small rear-quarter windows -- a first for Porsche 911 convertibles. These moved as part of a new-design top that echoed the coupe's roofline when raised. In another first, the top lowered via a compact Z-fold mechanism into a well behind the cockpit; a metal cover concealed it except at the forward end, where a hard outer surface was deliberately left exposed.
It was a literal neat design and a far cry from the bulky on-body top stacks of previous 911 Cabrios. Operation, of course, was fully automatic and took just 20 seconds up or down. No less convenient, the top could be operated with the key from the driver's door lock or, on European models, from the keyfob for the remote locking system.
The soft top's rear window was plastic, which Consumer Guide thought "inexcusable at this price level," but U.S.-bound Cabrios came with a detachable aluminum roof that weighed only 65 pounds and included a heated glass backlight.
All models wore trimmer, higher-set sterns with a deeper bumper and reshaped wraparound taillamps. Carrera engine lids housed a movable vent/spoiler, as before. In all, the 996 styling package represented a subtle yet striking change.
It also artfully belied a rather striking size increase. Though height was unchanged at 51.8 inches (for coupes), the 996 stood 7.3 inches longer and 1.2 inches wider than the 993 (at 174.5 and 69.5, respectively) on a wheelbase stretched 3.2 inches (to 92.6). These gains translated directly to the cabin, which added seven inches of total legroom, five cubic feet in front-seat volume, and 2.3 cubic feet of cargo space behind the rear seats (the 993 had none). Coupled with a slightly larger front trunk, total cargo volume went from 10.5 to 11.7 cubic feet.
Despite the upsizing, Porsche said 996s weighed more than 100 pounds less than comparable 993s. Cabrios scaled just 165 pounds more than comparable coupes. C4s were 121 pounds heavier than their rear-drive counterparts. Reflecting the smoother styling, both body styles claimed a slicker drag coefficient of 0.30, down from 0.33.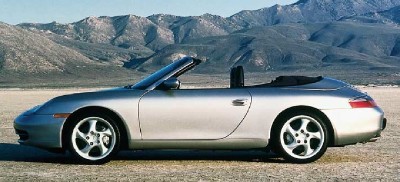 "Y2K" Carreras like this cabriolet were visually unchanged from the '99 editions.
Check out the complete story of Porsche cars, including these fabulous models:

For Porsche prices and reviews from the auto editors of Consumer Guide, see:

Porsche new cars
Porsche used cars
2007 Porsche 911
1999-2006 Porsche 911
1995-1998 Porsche 911