The Carrera 4 was an auspicious debut for the 964-series, but most Porsche 911 buyers still wanted good old rear-wheel drive -- and the friendlier price that went with it. Price escalation was definitely hurting Porsche sales by 1990, the inevitable result of relatively high production costs and a still-weaking dollar. Managers were only too aware of the situation and had begun looking for ways to build cars at lower cost without compromising quality or innovation.
The 964s had classic 911 looks. Here, a '90 C2 cabrio, C2 Targa, and C4 coupe.
But those measures would take time to implement, which implied U.S. sales would fall even further. Sure enough, calendar-1991 volume dropped by more than 50 percent to just 4,388 units, of which the Porsche 911 family accounted for nearly three-fourths. The worldwide picture was just as serious, Zuffenhausen's total production for the period declining from just more than 32,000 units to about 27,500, with Porsche 911s again accounting for the vast majority.
There was nothing to do but work toward greater efficiency while pressing on as best it could. Porsche did precisely that with the expected rear-drive version of the 964-series, which arrived in the U.S. as a 1990 model. Logically badged Carrera 2, it boasted most of the improvements introduced with the all-wheel drive C4, including its 247-bhp 3.6-liter engine. It also came with dual airbags, the result of Porsche's commitment to standardize those passive restraints for all of its U.S. models -- the first company to do so.
As expected, the C2 weighed some 220 pounds less than the C4 and was thus slightly faster to 60 mph. While Porsche modestly claimed respective 0-60 coupe acceleration of 5.5 seconds vs. 5.7, Road & Track managed 5.4 seconds with a C2 in heavier Targa trim, and Car and Driver's coupe needed a mere 4.8.
Those times were achieved with the usual five-speed manual gearbox, but there was something else new for the Carrera 2: Tiptronic, the Porsche 911's first fully automatic transmission. Evolved from the "PDK" gearbox of the championship-winning 962 Group CGT racer (PDK for Porsche Doppelkupplung -- "double clutch"), Tiptronic was a four-speed torque-converter transmission with electronic controls linked to those of the Motronic engine-management system.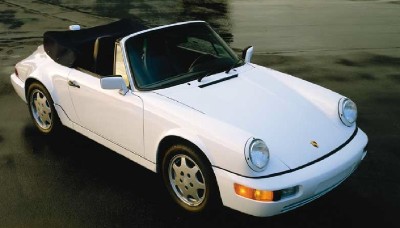 The '90 Carrera 2 was stouter of structure and more forgiving in hard cornering.
What set it apart from ordinary automatics were the sensors it utilized to monitor wheel slip (from the standard ABS system), as well as throttle angle, vehicle speed, engine revs, and longitudinal and lateral acceleration. The gear selector was equally unique: a two-plane affair with a conventional P-R-N-D-3-2-1 quadrant to the left and a separate "M" (manual) gate to the right, accessible from Drive by pushing the lever across a slot. Once in "tip" mode, the driver nudged the stick ahead toward "+" to shift up one gear, as on a motorcycle; moving back toward "-" selected the next lower ratio.
Well, it worked that way most of the time. With all its sensors, Tiptronic might upshift early to maintain stability under power in, say, a slippery corner. In other situations, such as a tight turn taken on light throttle, it might delay a change for the same reason. That was in full-automatic mode, where five "program maps" constantly adjusted shift points to match driving style (from leisurely to sporty, Porsche said). Of course, like other automatics, this one wouldn't select a lower gear if it meant overrevving the engine.
For economy, Tiptronic was programmed to start in second gear -- no sweat with the torquey 3.6 engine -- unless the driver tromped on the gas; it would also "default" to second gear in "tip" mode if the driver forgot to change down on coming to a stop. A pair of indicators in the speedometer face showed which gear was active in either shift mode.
Road & Track found Tiptronic quite efficient in several ways, largely because "Porsche's torque converter locks up above 40 mph and barely unlocks during shifts...This is reflected in [our observed] fuel economy, 17.5 mpg, just a sip more than our 5-speed Carrera's 18.0 mpg. It's also borne out by top speed (159 versus 162 mph). Perhaps the only significant difference is in acceleration (0-60 in 6.9 sec. versus the stickshift's 5.4)."
So was Tiptronic "the best of all worlds? Not to a Porsche purist," concluded R&T. "But to an urban dweller who spends a lot of time in traffic, or to an enthusiast/non-enthusiast couple that prefer to share the car, Porsche's [new] automatic may be just what Dr. Porsche ordered." It was certainly light years ahead of the old Sportomatic.
European Carrera Cup racing began in 1990 as a special series for C2s only.
Check out the complete story of Porsche cars, including these fabulous models:

For Porsche prices and reviews from the auto editors of Consumer Guide, see:

Porsche new cars
Porsche used cars
2007 Porsche 911
1999-2006 Porsche 911
1995-1998 Porsche 911
Advertisement