1988 Porsche 911 Carrera and 930 Turbo
Unlike some automakers, Porsche doesn't take kindly to outsiders tinkering with its design or engineering work -- especially when it comes to the 911, the very soul of the company. Nevertheless, the Porsche 930/911 Turbo ranked as one of the most admired cars on the planet, so it was only natural that "aftermarket" accessory houses would market add-on "styling kits" for turning ordinary 911s into Turbo lookalikes, with whale-tails, bulged fenders and all the rest.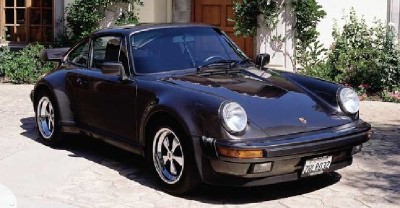 This 1988 slant-nose 930S was priced at close to $71,000 before options.
There was similar cribbing of the hidden-headlamp "slant nose" devised for the racing 935. Porsche's decision to end those ripoffs had prompted the Turbo Look option. For 1987, the company followed up with a new option, the "Turbo slant-nose modification," stupefyingly priced at nearly $24,000.
Available for any Turbo or the Carrera coupe, the Turbo slant-nose package delivered a new front "clip" comprising the now-familiar Flachbau ("flat profile") nose with flip-up headlamps surmounted by washboard louvers, plus wide 935-type back wheelarches with grilled, forward-facing rectangular air scoops and extended rocker panels reminiscent of running boards. It all came from Zuffenhausen's new Sonderwunsch ("special wish") department, a sort of in-house customizing operation.
Outspoken journalist Brock Yates drove a Slant Nose Turbo Cabriolet for Car and Driver. Its sticker read a breathtaking $106,254, though at least that included a newly optional power top -- available for all 1987 Cabrios -- and $500 in gas-guzzler tax (a recent Washington invention). It was a record price for a recent Porsche, and yet the 911 remained enormously compelling.
"We don't mean to imply that, in Turbo Cabriolet Slant Nose form, the 911 is any more reasonable than it ever was," Yates wrote. "Nor do we deny that it is a very old warhorse -- and yet it never seems to age like a normal car. Annual refinements, visual tricks, and new permutations keep the 911 in a class of one. A hundred-grand window sticker by no means guarantees perfection, but it does assure you of the most potent dose ever of the Porsche essence: fearsome speed and thoroughbred sounds in a back-road dance partner that you will never forget."
For 1988, the Slant Nose Modification was made a separate model called Porsche 930S, again available for all body styles. Otherwise, that model year was fairly quiet for the Porsche 911 line.
A new "Soft Look" leather option arrived, and three-point rear seatbelts replaced lap belts on all models. Carreras moved several items from optional to standard status: headlight washers, heavy-duty windshield cleaning, central locking, and cruise control, which was now electronic instead of pneumatic.
But wait: There was more. The Porsche 911 was technically 25 years old in 1988 (dating from the 1963 Frankfurt premiere), and Porsche celebrated the milestone by building 300 U.S. Carreras with a Silver Anniversary package.
As a commemorative it was quite tame, comprising diamond-blue metallic paint (with matching wheels) and a silver-blue leather interior with Ferry Porsche's facsimile signature writ large on the headrests. At least prices weren't too bad: $45,000 as a coupe, about $47,500 for the Targa version, $52,000 in Cabrio form.
More intriguing was the new Club Sport option for 1988 Carrera coupes. Looking much like the early-Seventies RS/RSR, it turned the normal Porsche 911 into a virtual ready-made racer for production-class events, yet was completely street-legal. The normal Carrera's foglights, air-conditioning, sound insulation, undercoating, power seats, and even the back seats were exchanged for fortified shocks, front and rear spoilers, manual sports seats, and an engine with hollow-stem valves, reprogrammed electronics, and a correspondingly higher rev limit (6,840 rpm). Apparently expecting Club Sports to be used and abused, Porsche didn't offer them with its normal 10-year rust warranty, but it didn't matter.
Despite its "stripper" mien, the CS cost the same $45,895 as a standard Carrera coupe, which may explain why only 50 were sold worldwide. But Porsche was just testing the waters, and there would be similar Club Sport 911s in the future, drawing a small but enthusiastic group of "weekend racer" buyers.
Meantime, a new Porsche fired car lovers' imaginations the way the first 911 Turbo had. Called 959, it was basically a roadgoing rally racer based loosely on the evergeeen 911. Just 230 were built, all in 1987-88.
The 959 was a stunning achievement even by Porsche standards, with levels of performance and technical sophistication that would greatly influence future Porsche 911 developments. The first of those wasn't long in coming. In fact, it appeared only a few months after the last 959s were built, in 1989.
The Porsche 930S would exit the U.S. Market after 1988.
Check out the complete story of Porsche cars, including these fabulous models:

For Porsche prices and reviews from the auto editors of Consumer Guide, see:

Porsche new cars
Porsche used cars
2007 Porsche 911
1999-2006 Porsche 911
1995-1998 Porsche 911
Advertisement