Designated Type 901, the Porsche 911 greeted the world at the Frankfurt Automobile Show in September 1963. Porsche allowed that it was being shown early; production wouldn't begin before the summer of '64. Road & Track's John R. Bond reported "there were so many rumors circulating they were forced to show it."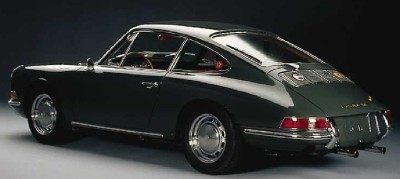 The Porsche 911 was unveiled at the 1963 Frankfurt Motor Show.
The new design and the 901 designation weren't linked. The Porsche organization has never been strictly sequential in assigning project numbers and has skipped quite a few; "901" was chosen simply to suggest a new direction.
And, of course, it didn't last. Peugeot claimed a "right" to three-digit model numbers with middle zeros and threatened to prevent a "901" from being sold in France, so "911" badges were substituted before sales began. (Zuffenhausen got the last laugh by giving middle-zero numbers to a half-dozen of its competition cars, including the beautiful 904 GTS.)
As Ferry specified, the Porsche 911 had a split fold-down rear seatback for greater cargo/passenger-carrying versatility. And despite having a more streamlined tail than the T-7, it still offered enough rear room for one adult or two small children.
Yet for all its newness, R&T's John Bond felt the chrome-yellow Frankfurt show car was "not as much different from the 356 as it appears in the photos...The big difference is the elimination of the broad-beam hip effect that results in a trimmer, narrower look and a roofline that, in [overhead] view, no longer tucks in at the rear. The net result of these appearance changes is a car 2.7-in. narrower overall, and more head, shoulder, and leg room for rear-seat passengers."
Though another all-independent concept, the Porsche 911 suspension broke new ground for Porsche with front MacPherson struts on single transverse A-arms connecting to longitudinal torsion bars. Rear suspension comprised transverse torsion bars and semi-trailing arms, a logical progression from swing axles.
After its inaugural test in 1965, R&T judged the Porsche 911 "neutral in its behavior and perfectly controllable throughout the whole speed range and even on atrocious road surfaces. True, the suspension is on the firm (not to say harsh) side, but for a high-performance car like this, it appears a small price to pay."
Steering design also parted company with the past, as ZF rack-and-pinion steering ousted the Volkswagen-based worm-gear mechanism, one of the last remnants of the old Porsche/VW kinship. The new system was not only more direct, with virtually no play at the wheel, but light, full of feel, and virtually shock-free (thanks, as usual, to a hydraulic damper).
Porsche also took pains to provide effective heating, ever a challenge with air-cooled engines. Air was drawn from the cooling fan to a heat box, then fed to the cockpit via underdash and dashtop vents.
Still optional was a gasoline heater with an electric fan to force more air into the heater boxes, but it was rarely needed once the car was warmed up and moving. Interior ventilation improved with the addition of extractor slots above the backlight to speed cockpit flow-through.
But the big attraction was the new 1991-cc flat-six, designated 901/01. Developed by Ferdinand Piech, Ferry's nephew, and Hans Tomala, it was quite oversquare (bore and stroke: 80 × 66 mm/3.15 × 2.60 inches). With twin triple-choke Solex 40 PI carburetors and 9:1:1 compression, rated output was 130 DIN horsepower European (148 SAE gross) at 6,100 rpm and 140 pound-feet of torque at 4,200 rpm.
Unlike previous Porsche fours, the 901 six employed a single overhead camshaft per cylinder bank. Each operated two valves per cylinder (arranged in V-formation) via rocker arms and was driven by a pair of roller chains instead of the complex train of bevel gears used on Porsche 356 Carrera engines.
Enhancing the greater inherent smoothness of the "boxer" six was a six-throw, forged-steel crankshaft with no fewer than eight main bearings. A countershaft mounted beneath carried impulses to twin chain sprockets at the crank's rear end, each sprocket driving a camshaft.
Ahead of the countershaft were two oil pumps: a large scavenger for circulating oil between the dry sump and a separate, remote reservoir, and a smaller pump for maintaining oil pressure. An oil cooler was also specified, reflecting Porsche's passion for proper lubrication as one aid to overall engine cooling. The factory said that oil temperature should never exceed 130 degrees, and no tester ever recalled that it did, which was only to be expected from a system developed in the literal heat of competition.
Also per Porsche practice, the Porsche 911 engine had a cast-aluminum crankcase and separate cylinders with hemispherical combustion chambers of cross-flow design. Cylinder construction was rather exotic for 1963, comprising aluminum-silicon alloy with a thin aluminum layer chemically etched away from the bores to leave silicon crystals as the pistons' working surface. The design had the advantage of providing microscopic "valleys" that ensured constant surface oiling. For strength, the pistons were forged aluminum, and the con rods were forged steel.
The rest of the Porsche 911 drivetrain was fairly familiar. A Fichtel & Sachs single dry-plate clutch transferred power to a fully synchronized Porsche transaxle, initially with five forward ratios and a racing-style shift pattern with first to the left and down (below reverse), out of the basic "H." Initial rolling stock comprised 4.5-inch-wide, 15-inch-diameter steel disc wheels shod with surprisingly modest 165-15 radial tires.
"Butzi" Porsche designed the classic body style of the Porsche 911.
Check out the complete story of Porsche cars, including these fabulous models:

For Porsche prices and reviews from the auto editors of Consumer Guide, see:

Porsche new cars
Porsche used cars
2007 Porsche 911
1999-2006 Porsche 911
1995-1998 Porsche 911
Advertisement