Porsche's big event of 1954 arrived in September: the charming, sporty Speedster. It was still another bit of marketing magic from Max Hoffman, who, despite his experience with the '52 America, didn't think U.S. demand for roadsters was quite so limited -- and that an inexpensive model should be a permanent part of the Porsche line.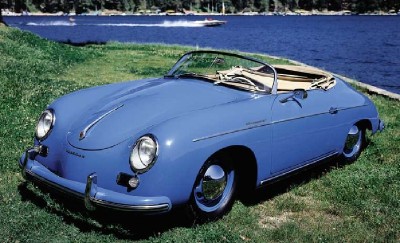 The Porsche Speedster was another rakish Porsche inspired by Max Hoffman.
The Speedster was actually evolved from the Glaser-built America, and even had the same Type number (540), but was designed by Reutter for minimum production cost. For example, it used the regular cabriolet body but had none of its accoutrements. Like the America, the Speedster arrived with only a simple canvas top and side curtains instead of a built-in padded top and roll-up door windows, though its windshield was cut about 3 1/2 inches shorter for extra raffishness.
The cockpit was as Spartan as a Triumph TR2's. Seats were simple buckets with fixed backrests. Instrumentation was limited to speedo, tach, and temperature gauge; technically, the tach and heater were extras, but it was hard to find a car without them, so they were effectively "mandatory options" that pushed the typical delivered price over $3,000. But Hoffman realized his target base price of $2,995 POE (Port of Entry) New York.

Exterior appearance was standard Porsche from the waist down save the aesthetically pleasing, nearly full-length bodyside chrome strips that ran neatly through the door handles. Still, the Speedster was invariably likened to an inverted bathtub, and it looked a bit bizarre buttoned up.

The Porsche Speedster featured the strongest engine Porsche had, the 1500.
Not surprisingly, the 1500 Normal engine was standard for the Speedster, but the Super spec was available for about $500 more. Speedsters weren't immediately sold in Europe but were well received in the United States. After an exploratory 200-unit run for 1954, the factory increased output. By the time the last one was delivered in 1958, the total exceeded 4,900.
Visually, the 1954 and '55 Speedsters were quite similar, the differences confined mainly to gauges, bonnet handle, and emblems. Like all 356s since the first, they rolled on 16-inch-diameter wheels and tires.

The Speedster seemed born to race and was certainly quick enough for it. The base model weighed nearly 200 pounds less than a 1500N coupe and was thus about a second faster in the 0-60 mph sprint, though superior aerodynamics let the coupe pull away after about 80 mph. The 1500S version was commensurately faster but could not catch its coupe counterpart at the top end. Comparing Super and Normal Speedsters, respective 0-60 mph times were 10 and 14 seconds; figures for the standing quarter-mile were 17.5 seconds at 100 mph versus 19 seconds at 95 mph.

Of course, being Porsches, the Speedsters did race, and with distinction. John von Neumann, Porsche's West-Coast counterpart to Max Hoffman, started running them in SCCA events in November 1954, when his 1500S finished eighth overall in a six-hour enduro at Torrey Pines, near San Diego, and won its class the following day. In 1955, Bengt Sonderstrom drove one to win the national SCCA F-Production championship.

Walt Woron waxed enthusiastic after testing a Speedster for the July 1955 issue of Motor Trend: "Its size, power, easy shift and steering make it fun to drive...The brakes are extremely good...they get you out of situations where you may have delayed too long...For a sports car, and especially such a small one, the Porsche Speedster has a very smooth ride...There's absolutely no wallowing when it comes out of a dip..."

Like most drivers, Woron felt slightly claustrophobic in the Speedster. "With the top up...you have to jackknife in; the top is extremely low [overall height was a mere 48 inches] and if you're over six feet, your head is going to touch. It doesn't leave much room between the top and doors for seeing out; and with the side curtains on, you may as well be content with just looking forward."

Though rudimentary next to the cabrio roof, the Speedster top was high-tech next to the Erector-set affairs of British contemporaries. "Putting up the soft top is absurdly easy," said Woron. "You reach behind you, grab the top's forward bow, pull forward so that it reaches the windshield and snap the two locks in place." He also noted that Reutter had managed to sneak a little padding between the top's inner and outer layers, an advance unknown in darkest Coventry.

Summing up the Speedster's appeal, Woron rhetorically asked, "Where else are you going to get a sports car that has the performance, the ride and the workmanship of this one? Sure, it lacks certain features like roll-up windows, but if...you drive for the fun of driving, you'll love this one."

This 356A Speedster shows the evolution of this classic Porsche body type.
Check out the complete story of Porsche cars, including these fabulous models:
For more information on Porsche and other exciting cars, see:
Consumer Guide Porsche new car prices and reviews

Consumer Guide Porsche used car prices and reviews

Consumer Guide Premium performance car prices and reviews

Ferrari: Learn about hundreds of road and racing Ferraris.
Muscle Cars: Check out 1960s and '70s American muscle cars.