If the Porsche 1100/1300 could perform well while sipping tiny amounts of fuel, why not a 1500? Porsche began work on it in mid-1950 once 1,500cc became the upper displacement limit for several racing classes. Moreover, it seemed an ideal size for a small, light sports car like the Porsche 356.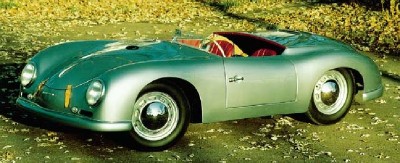 This unique Porsche 356 used the Porsche 1500 engine that powered later 356s.
Since the 1100 had been bored to get 1,300cc, it was logical to lengthen stroke to achieve 1,500. The Hirth company of Stuttgart devised a connecting rod compact enough to allow a 10-mm increase (to 74), giving 1,488cc. Hirth also supplied a new crankshaft with roller bearings, which reduced friction but soon had Max Hoffman and others complaining about durability. Prolonged low-rpm running or delayed oil changes most always led to early crank failure. Avoiding it was as easy as reading the owner's manual -- which, of course, not everyone did. Interestingly, the 1488-cc engine began the practice of "keeping the revs up" that many Porschephiles (especially 911 owners) happily perpetuate, even though it's long been unnecessary.

Initially, the 1500 used the small twin carbs and developed 55 horsepower (DIN European) at 4,500 rpm. However, only 66 of these Type 502 engines were built before Porsche switched to a Type 547 derivative with Solex 40BPI instruments and 60 horsepower (the smaller carbs could be fitted if desired). The original Solex 32s reflected caution on Porsche's part rather than engineering error. The company felt the gearbox might not be up to the extra power, but the new all-synchro transmission ended that concern.

A squad of 356s, 1100s, and 1500s, went to Monthlery, France's huge banked oval track for some speed-record attempts in September 1951. All performed brilliantly. The 1100s set three new marks, averaging over 100 mph for 500 miles, 1,000 kilometers, and six hours. The 1500s, including a mildly modified car from Volkswagen dealer Walter Glockner, broke no fewer than 14 records. The factory car raised official averages to over 97 mph for 3,000, 4,000, and 5,000 kilometers; 2,000, 3,000, and 4,000 miles; and 24 and 48 hours. It also averaged 95.75 mph for 10,000 kilometers and 94.6 mph for 72 hours. The "Glockler," a streamlined roadster, ran 500 and 1,000 kilometers and the six hours at 114-116 mph, breaking three more records. The 72-hour mark came despite a disabled top gear that forced drivers to run in third at 90 mph with the engine whirling at a busy 4,500 rpm. It was a tremendous performance that conclusively proved the 356's mettle.
A modified Porsche 356 coupe after an impressive showing at Le Mans.
Ferdinand Porsche once said it makes no difference where a car's engine is located, so long as it's light. The 1500 unit weighed a mere 160 pounds, while early 356s rarely exceeded 1,750 pounds at the curb. Fore/aft weight balance was around 780/970 pounds, but this wasn't the drawback it might seem. In unofficial tests conducted by an unnamed Southern California aircraft company, the 356 body generated 175 pounds of front aerodynamic downforce that effectively equalized weight distribution.
Balance of another kind impressed editor Dick von Osten of
America's Auto
magazine during a test of a Porsche 356/1500: "The top-speed runs were made with two different drivers on a level, measured quarter-mile at sea level. I expected to clock slightly over 100 mph, [but I] reached that figure with no apparent effort and kept on going. [We] both managed to hit the maximum speed of 111.1 mph on both an east and west run. Five mph were probably added to the top speed by the perfect wheel balance, a typical detail of this car: all Porsches come from the factory with the wheels and tires in a perfect state of dynamic and static balance. Dr. Porsche once said that ...wheel balance can add or subtract 500 engine rpm at top speed." (Incidentally von Osten's reported maximum speed was 15 mph above the factory claim and indicative of the conservatism that marks official Porsche performance figures even today).
Despite the more-powerful engine, fuel economy was hardly affected. Von Osten covered 329 miles (75 in city traffic) on one tankful, including top speed, acceleration, and braking tests, plus a 70-75 mph highway run. All this required just 11 gallons of gas for an overall average of close to 33 mpg. With figures like these, you wonder if we've learned all that much in the last 45 years.
Significantly, von Osten was also taken with his test Porsche's "unmistakable quality. From the gentle 'click' of the door to its smooth paint, from the handling ease to the engine's performance, the Porsche reflects genius in design and pride in craftsmanship... Although it is not a low-priced car (approximately $4,284 for the coupe and $4,560 for the convertible), it is a car to which every owner can point with pride."

Even in these early days, the 356 reflected the Porsches' belief in the perfectibility of a given design -- provided it was good to begin with. By mid-1952 all 356s wore a one-piece windshield (albeit with a vertical central bend), perforated disc wheels, and deeper bodywork beneath the bumpers. A large 6,000-rpm tachometer replaced the clock, and both it and the speedo were newly hooded for better legibility.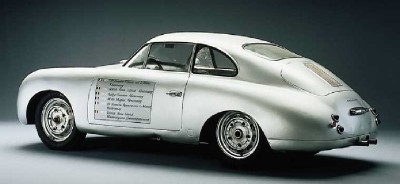 A modified 356 coupe set distance and speed records in Montlhery, France.
Check out the complete story of Porsche cars, including these fabulous models:
For more information on Porsche and other exciting cars, see:
Consumer Guide Porsche new car prices and reviews

Consumer Guide Porsche used car prices and reviews

Consumer Guide Premium performance car prices and reviews

Ferrari: Learn about hundreds of road and racing Ferraris.
Muscle Cars: Check out 1960s and '70s American muscle cars.