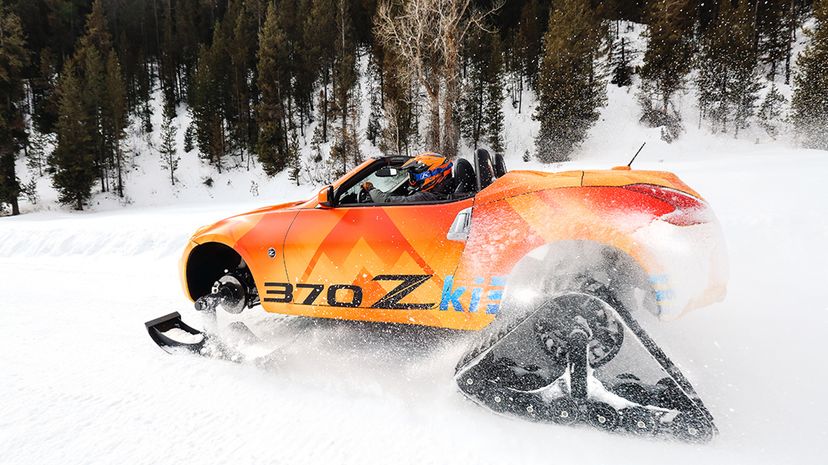 Nissan got into the winter sports spirit with a specially constructed, one-off 370Z Roadster snowmobile dubbed the "370Zki," pronounced 370-Ski.
Nissan
Fake snow and a mountainous backdrop hinted that Nissan might be unveiling something totally off-the-wall at the 2018 Chicago Auto Show, the nation's largest. And the automaker did not disappoint.
Its Nissan 370Zki concept one-off Roadster "snowmobile"— it's pronounced "370-ski" — made its debut and it's every snowmobiler's wildest dreams — on steroids. "We created this in celebration of the Z," says Kevin Raftery, Nissan Truck and SUV/CUV communications specialist, in recognition of the Nissan Z's nearly 50 years of racing heritage. Raftery was also quick to confirm that this concept car really does deliver on its promises. "Given that this is Chicago, and there's a lot of snow in Chicago, we brainstormed a few different things we could do to celebrate that and have some fun with it."
Nissan has a hefty lineup of off-road-ready trucks and SUVs, so that was the only reason we could think that the automaker would design a snowmobile out of a convertible sports car — to have fun with it — and because they can.
The 370Zki is combination 370Z Roadster convertible, powered by the factory-spec 332-horsepower V-6 engine with a 7-speed automatic transmission and rear-wheel drive. Skis replace the front wheels, while 4-foot Dominator Tracks provide traction in the rear — both of which are from American Track Truck. A graphics body wrap gives the exterior its rugged look and bold color scheme, and the yellow headlights were inspired by — what else — ski goggles.
How Nissan Built the 370Zki
The entire drivetrain of a factory stock 370Z Roadster was removed

A custom lift kit added 3 inches (7.6 centimeters) of ground clearance

Custom mounts were fabricated to support rear suspension springs and custom spacers to mount the snow tracks to the wheel hubs

Rear wheel wells, brake lines and exhaust were modified or rerouted for clearance

The front suspension was modified for height, and adaptors and spacers were added so the front skis could properly rotate

The engine and transmission were custom mounted and a skid plate was added to protect the front underbelly
Before the 370Zki arrived in Chicago, Raftery and his team trailered it to Jackson Hole, Wyoming, and spent a perfect 30-degree Fahrenheit (-1-degree Celsius), sunny day driving through the Grand Tetons. The team drove most of the day with the top down, though they donned snow suits and helmets that matched the car.
Raftery says he doesn't know what his top speed was but says "It was scooting pretty good. Where we were, it was about a quarter-mile-long stretch. A bunch of packed snow, we went back and forth all day on it, had a blast," Raftery says. "When you're driving, it gets going pretty fast, and the snow starts kicking up. It comes into the vehicle a little bit but that kind of adds to the fun of it. Just make sure you dress correctly for it."
Solid advice, though sadly, most of us will never get to drive the Nissan 370Zki, or anything quite like it.