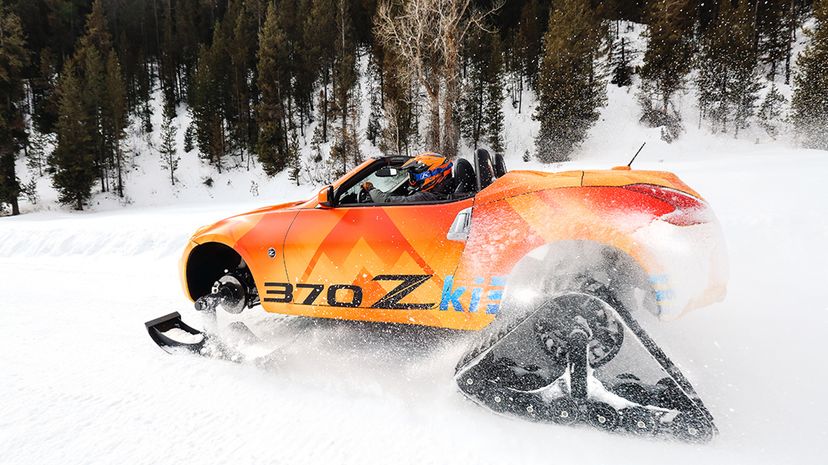 Fake snow and a mountainous backdrop hinted that Nissan might be unveiling something totally off-the-wall at the 2018 Chicago Auto Show, the nation's largest. And the automaker did not disappoint.
Its Nissan 370Zki concept one-off Roadster "snowmobile"— it's pronounced "370-ski" — made its debut and it's every snowmobiler's wildest dreams — on steroids. "We created this in celebration of the Z," says Kevin Raftery, Nissan Truck and SUV/CUV communications specialist, in recognition of the Nissan Z's nearly 50 years of racing heritage. Raftery was also quick to confirm that this concept car really does deliver on its promises. "Given that this is Chicago, and there's a lot of snow in Chicago, we brainstormed a few different things we could do to celebrate that and have some fun with it."
Nissan has a hefty lineup of off-road-ready trucks and SUVs, so that was the only reason we could think that the automaker would design a snowmobile out of a convertible sports car — to have fun with it — and because they can.
The 370Zki is combination 370Z Roadster convertible, powered by the factory-spec 332-horsepower V-6 engine with a 7-speed automatic transmission and rear-wheel drive. Skis replace the front wheels, while 4-foot Dominator Tracks provide traction in the rear — both of which are from American Track Truck. A graphics body wrap gives the exterior its rugged look and bold color scheme, and the yellow headlights were inspired by — what else — ski goggles.