The Nissan 300ZX and it's turbo brother were a much-needed breath of fresh air. By 1989, Nissan's proud Z-car felt like a disco-age holdover, and the competition wasn't much better. Mazda's RX-7 Turbo had 200 hp and an identity crisis. The 232-hp Toyota Supra Turbo weighed more than a Cadillac Eldorado. Porsche charged $42,000 for a 944 S2 with a 208-hp four-cylinder, and only big discounts could move the 250-hp Corvette.
Into this fricassee blew the 1990 Nissan 300ZX, quickly recognized as the benchmark it was. When the 222-hp base model was followed in a few months by the 300-hp Turbo, the birth of the modern, affordable, high-tech sports car was complete.
"A near flawless mix of form, function, and class," raved Car and Driver. A one-year evaluation led David E. Davis Jr. of Automobile to call the Turbo "as good a high-performance coupe as any company has ever built in any country at any price."
Against the '89 model, the 1990 Z-car had a five-inch-longer wheelbase, but its body -- a fluid shape jointly drawn by Nissan's Japan and California studios -- was shorter, wider, and lower. A modest rear spoiler, under-grille cooling slots, and a "Twin Turbo" decal subtly differentiated the two-seat Turbo from the base coupe and 2+2. All used an iron-block, aluminum-head 3.0-liter V-6 with state-of-the-art dual cams and variable-valve timing.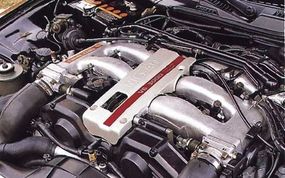 The 3-liter, twincam V-6 gave the Nissan 300ZX Turbo a healthy turn of speed to match its slick exterior.
To each cylinder bank the Turbo added an oil-cooled turbocharger and an intercooler for lag-free thrust right to the 7000-rpm rev limiter. It also had Nissan's Super HICAS (High Capacity Actively controlled Steering), which turned the rear wheels to provide remarkable transitional stability and surgical steering response. Steering assist was vehicle-speed-dependent, and the driver could adjust the all-independent suspension between touring and sport damping. Balancing this gadgetry was a cockpit of disarming simplicity and comfort, marred only by a frustrating automatic climate system that reset itself each time the car was started.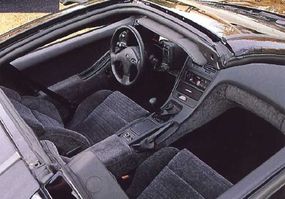 The interior of the Nissan 300ZX Turbo was the pinnacle of style and simplicity.
At $33,000 to start, the '90 Nissan 300ZX Turbo was a terrific performance value, and the car changed only in detail over the years. By 1996, however, the escalating yen had shoved the base price to $43,979, and the bloom was off. The market shifted -- to sport-utility vehicles, to lower-tech roadsters, to sport sedans. Nissan didn't import the ZX for '97, and the death of the modern, affordable, high-tech sports car was complete.
To learn more about Nissan and other sports cars, see:
How Ferrari Works

How the Ford Mustang Works