MINI Advertising and Awards
MINI innovation doesn't stop with extensive car customization. The marketing campaign behind the MINI Cooper spans television spots, a Web-based series and even personalized LED billboards.
The 2007 television spots in both American and the United Kingdom appeared in letterboxed, cinematic format. Several American ads showcased the MINI Cooper's speed and handling, ending with the slogan, "Let's Motor." A series of humorous ads in the United Kingdom were called "MINI Adventures" and featured MINI Coopers in short films, including a Martian invasion, a zombie attack and a jewel thief's escape.
In February 2007, a Web-based series called "Hammer & Coop" debuted. The series was directed by Todd Phillips and consists of six episodes following the exploits of Hammer, played by Bryan Callen, and Coop, an intelligent, talking 2007 MINI Cooper. Mixing elements of "Starsky and Hutch" and "Knight Rider," this clever series gently spoofs movies and television series from the 1970s while showing off the 2007 MINI Cooper's capabilities.
Another new marketing initiative is aimed at current MINI Cooper owners. In four cities, BMW placed MINI Motorboards. These LED display billboards can display personalized messages to MINI drivers as they approach. MINI Cooper owners who want to participate answer questions about themselves and their driving habits on an online survey. Once registered, owners will receive an electronic key fob that they can attach to their keychain. The fob communicates electronically with Motorboards using Radio Frequency Identification (RFID) technology. The Motorboard then displays a message customized for that particular owner. Messages may refer to the owner's occupation, driving habits or MINI ownership in general. The program launched on January 29, 2007 in Chicago, Miami, New York City and San Francisco.
For a little car, the MINI packs a real punch when it comes to critical acclaim. Some of the awards the MINI has earned so far include:
2001 Car of the Year - Auto Express Magazine

2002 to 2006 Most Appealing Compact Car - J.D. Powers & Associates APEAL

2003 North American Car of the Year

2004 Editor's All-Star Award for Best Small Car - Auto Magazine

2006 Best Brand - Kelley Bluebook "2006 Best Resale Value Awards"

2007 Most Wanted Coupe Under $30,000 - Edmunds.com Editors
The MINI line seems to foster creativity at all levels, from the manufacturer to the owner behind the wheel. Future models of the MINI may include an all-wheel-drive coupe model and a wagon model called the MINI Clubman.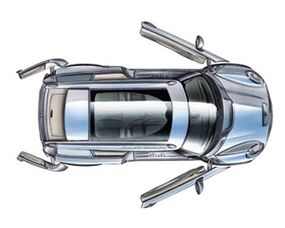 A concept drawing of the MINI Cooper Clubman
Photo © 2002
BMW AG
, München, Deutschland. All rights reserved.
Check out the links below for more information about the MINI and related topics.
Related HowStuffWorks Articles
More Great Links
Sources
MINI USA http://www.miniusa.com

The Unofficial Austin Rover Web Resource http://www.austin-rover.co.uk/index.htm?timelinef.htm

Out Motoring http://www.outmotoring.com/index.html