It's a MINI World After All
The MINI Cooper has inspired a diverse population of enthusiasts, from Hollywood wheelers and dealers to middle-class college students. Across the world you'll find numerous clubs and organizations for MINI Cooper owners. Just about every region of the United States has its own MINI club. A good resource to locate one near you is North American Motoring, an online community that hosts MINI news, discussions and articles.
Every year there are several events and meets where owners can socialize, show off their beloved vehicles, look at outlandishly modified MINI Coopers, exchange tips for tuning cars and even race their supercharged MINI Coopers. A few of the larger events include:
MINIs on the Dragon, the largest MINI event in the United States. MINI drivers gather in North Carolina on US highway 129, known as "The Tail of the Dragon." The highway has 318 curves in 11 miles.
A MINI Vacation in Vegas (AMVIV) features a banquet, a drive through Death Valley, a cruise down the Las Vegas Strip, a drive through the Valley of Fire State Park and the first round of the North American MINI Cooper Challenge race.
MINI Meet West and MINI Meet East are two events that change locations each year. In 2007, MINI Meet West will be in Hood River, Oregon from July 10 to 12. MINI Meet East will be in Alcoa, Tennessee from June 28 to July 1.
The MINI Cooper appears in several films. You may have watched a MINI Cooper speed through a subway system in "The Italian Job," or watched as Austin Powers' dad tooled around in a MINI with a unique Union Jack paint job. The unique look of the MINI seems to appeal to filmmakers.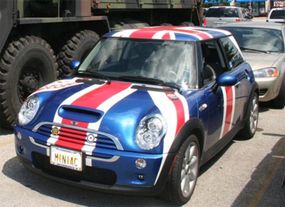 The "Austin Powers" MINI Cooper
Public domain image/photographer Kuminiac
When the MINI Cooper isn't tearing around corners on the silver screen, it's joining celebrities' fleets of cars. Ever since the days of the original Mini line, celebrities have embraced this quirky car. Some famous MINI (and Mini) drivers include:
The Beatles (each member owned his own Mini)

Steve McQueen

Clint Eastwood

Paul Newman

Charlotte Church

Jennifer Love Hewitt

Sharon Osbourne
In the next section, we'll look at MINI Cooper advertising and awards it has received.