Tom McMullen became one of the most important figures in the history of hot rodding and his flamed McMullen Deuce roadsters have always symbolized the hobby's unabashed soul.
McMullen started hot rodding as a teenager in the late 1950s, became a wiring specialist in the mid 1960s, and founded a publishing company in the late '60s.
Tom McMullen bought his first hot rod, a 1932 highboy roadster, in 1958. Equipped with a 283-cid Chevy small block and a two-barrel carb, the car performed well, but Tom wanted more.
By 1962, the car was a unique combination of power and style. The small block, now 301 cubic inches, featured a GMC 4-71 blower. A Halibrand quick change and a parachute resided out back, and a pressurized Moon tank sat between the front frame horns.
Bold flames, laid out by Ed Roth and sprayed on by McMullen, combined with Roth-applied pinstriping to give the car an in-your-face look that appealed to youngsters when it appeared on the April 1963 cover of Hot Rod magazine.
McMullen opened a street rod wiring company at about this time. Lackluster business prompted him to do freelance magazine articles using his Deuce as the guinea pig.
He added a Chevy 327 and raced the car at the local dragstrips and El Mirage, where it set an A/Street Roadster record of 167 mph in 1964.
Next, Tom installed a wild Ford 427 wedge that made the car too hairy for street use. After starting his next business (building custom parts for Harley-Davidson motorcycles), he lost interest in the hot rod and eventually sold it in 1969.
McMullen founded Street Rodder magazine in 1972, and built a new Deuce in 1976 as a magazine project car. Dubbed "The Ultimate Roadster," the hot rod used state-of-the-art 1970s technology, but lacked the trademark Moon tank and parachute.
A genuine steel roadster, this car featured digital gauges, a credit card ignition, full independent suspension, and a 350-cid Chevy small-block V-8 with dry-sump oiling and Moser DOHC heads. Tom sold this car in the early 1980s.
McMullen built his third Deuce in 1991, again for Street Rodder. This one, built using aftermarket frame rails and a fiberglass body, captured the look of the original McMullen Deuce as it appeared in 1964. McMullen drove his final Deuce until he was killed in a plane crash in 1995.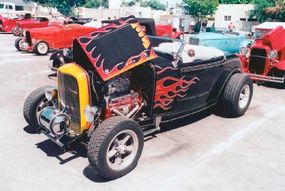 Another version of McMullen's Deuce was built in 1997 to commemorate the 25th anniversary of Street Rodder. The maga­zine staff aimed to capture the spirit of the original, although they built it using a fiberglass body and an aftermarket frame instead of a real steel Deuce.
The original Deuce passed through many owners until it reached the hands of Jorge Zaragoza in 2002. Zaragoza had Roy Brizio Street Rods in San Francisco restore the car to the way it appeared when it was on the cover of the April 1963 Hot Rod.
The restoration took about a year, and the McMullen Deuce is as good, if not better than, ever.