The McGee/Scritchfield Deuce came to be by accident. When Bob McGee returned home from the military in 1946, he discovered that the hot rod he had left with his friend Bob Binyon for safe keeping had been totaled. Binyon fell asleep at the wheel and wrecked McGee's car in an orange grove.
But Binyon endeavored to make it up to McGee, and he began by collect­ing the parts to create a replacement. McGee used those parts to create one of the most important cars in hot rod history.
Hot Rod Image Gallery
Few hot rods have remained in the limelight as long as the McGee/Scritchfield roadster. While McGee was attending USC on a football scholarship, it became the first Deuce highboy to grace the cover of Hot Rod magazine, appearing on the October 1948 issue.
On Sept. 19 of that year, it was the first hot rod to receive a "green cross for safety" window sticker when the SCTA was formally accepted into the National Safety Council.
McGee sold the Deuce in 1955 to Dick Hirschberg who installed a Corvette motor and painted it yellow. In 1956, Hirsch­berg traded it straight up to Dick Scritchfield, a founding member of the L.A. Roadsters club and NHRA ­employee, for a 1948 Lincoln Continental.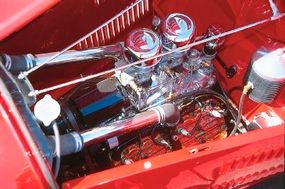 With a 350-cid small-block
Chevy
engine and T-10four-speed transmission, the famed McGee/ScritchfieldDeuce set a167.212 mph at Bonneville in 1971.
In Scritchfield's hands, the car made many movie and tele­vision appearances, and inspired the L.A. Roadsters club logo. In the early 1960s, Scritchfield had Bill Kaegle apply one of the first metal­flake paint jobs for an article in Hot Rod magazine.
In 1971, with a tunnel-ram-equipped 350-cid small-block Chevy and a T-10 four-speed transmission, the car ran 167.212 mph at Bonne­ville, setting a C/Roadster record that would stand until 1979.
Scritchfield owned the car until 1989. The Deuce briefly passed through two more owners before collector Bruce Meyer acquired it and had the So-Cal Speed Shop restore it to the original Bob McGee configuration. This meant installing a flathead equipped with Federal-Mogul ­copper heads.
The roadster's first public appearance after the restoration was at the 50th Grand National Roadster Show in 1999. It was also a prize winner at that year's Pebble Beach Concours d'Elegance, a testament to the quality of the So-Cal Speed Shop's work and McGee's cutting-edge look.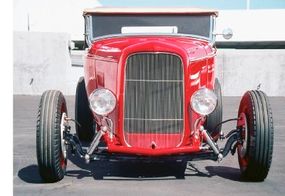 The McGee/Scritchfield Deuce has a distinctive,cutting-edge look that is still often imitated byhot rodders today.
Though continually upgraded and modified over the years, the McGee/Scritchfield roadster has always been identifiable by its distinctive stance, extended decklid, hidden door hinges, and shortened front frame horns with molded and V'd spreader bar.
McGee performed many of these modifications himself. They were unique for their day, and are often imitated by rodders more than 50 years later.
To learn more about custom cars and hot rods, see: