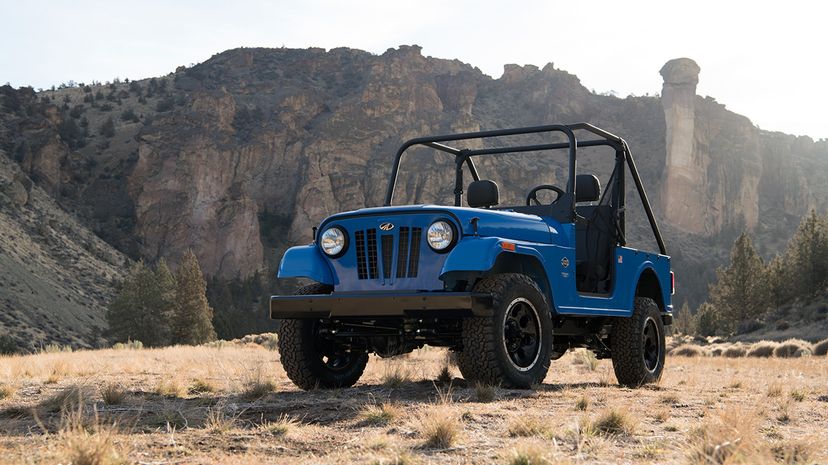 Here's something cool for all of you Jeep lovers out there. In early March 2018, Mahindra Automotive North America launched the Roxor, a side-by-side (two-seater) off-road vehicle. The Roxor is small, and it has no windshield or safety equipment, so it isn't street legal. It's made strictly for fun.
Mahindra is the Mumbai, India-based brand that focuses on industrial and powersports vehicles and has little name recognition in the United States. So why should anyone care? And what does the Roxor have to do with Jeep?
"Mahindra got its start in 1947 manufacturing military vehicles, under a license from Willys [the company to first trademark and produce Jeep]. They were simple, rugged, and purpose-built vehicles that took soldiers wherever they needed to go, no matter the roads (or lack of)," Rich Ansell, vice president of marketing and media relations for Mahindra, says via email. "We believe this DNA will resonate with people that want vehicles that can work hard and play hard."
Here's another way to put it. In the early days of Jeep, the vehicles were built under license by a number of different companies, and Mahindra was one of the first to get in on it, way back in 1947. Today the Jeep name is currently owned by Fiat Chrysler Automotive, but prior to that, thanks to various mergers and acquisitions, the Jeep name has been owned by Willys, Kaiser, American Motors, Renault, Chrysler, Daimler and the Cerberus group. Mahindra has maintained agreements with all of those companies to build licensed Jeep copies since 1947. Now it's building its first one in the United States — the Roxor.
The Roxor was designed specifically for the U.S. but is based on the Mahindra Thar, which is a Jeep that Mahindra builds under license for Asian markets. Its industrial-grade construction, with a steel body on a boxed steel frame, makes it stronger than competing vehicles and more like an old-school SUV than anything on the road today. Specifically, it bears a strong resemblance to a Jeep CJ-7, and a Mahindra engineer told Jalopnik that there are some interchangeable parts while other components are evolved versions of the original Jeep designs.
The power is sourced from Mahindra's industrial offerings: a turbodiesel four-cylinder engine paired to a 5-speed manual transmission, yielding 62 horsepower and a top speed of 45 mph (72 kph).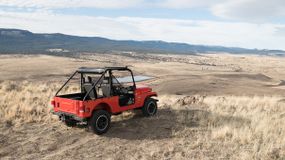 While Mahindra vehicles in other markets use an exact copy of Jeep's trademark seven-slot grill, the Roxor uses a different design. And Mahindra keeps tight-lipped on this subject.
"At this time we have no comment about discussions with Jeep, other than that Mahindra complied with all applicable agreements," Ansell says. "[The Roxor grill] is consistent in character with the grills we have on other vehicles in our portfolio."
Mahindra plans to build out a network of 300 dealers and is considering other vehicles (including a postal truck) if the Roxor is a success. The Roxor starts at $15,499 and will be customizable with a range of off-roading and work-oriented dealer accessories.