How Does the Elise Compare?
How does a car like the Elise stand up to its counterparts in the world of high-performance cars? By losing weight -- trimming away the extras and keeping the Elise under 2,000 pounds (900 kg).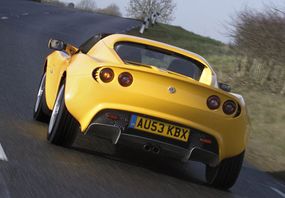 If all this talk of being "light" and "fast" seems kind of vague, let's put it into perspective. The 2004 Porsche Carrera GT boasts over 600 hp, but it weighs in at about 3,200 lbs (1,450 kg). That's more than a half-ton heavier than the Elise. Even an Enzo Ferrari, with 650 hp, is a heavyweight at 3,200 lbs (Motor Trend, Oct. 2004). In a straight-line run, that horsepower would put the Elise to shame in terms of top speed. But on a tight, twisting road course, the $40,000 Elise could outperform cars that cost hundreds of thousands of dollars more.
The stock U.S. Elise has a curb weight of 1,984 lbs (900 kg), a few pounds more than the European Elise. This is due mainly to the addition of air bags and other features needed to pass U.S. federal safety standards. The Elise Sport package drops 20 lbs. (9 kg) from the stock weight, while the Touring package adds 15 pounds (7 kg).