Limousine Manufacturers
While the limo isn't a specific model of car, several car companies created vehicles that are well-suited for limousine service. Early luxury cars included vehicles from LeBaron, Fleetwood, Willoughby, Derham and Fisher. Early Cadillacs also saw use as limousines. You could hire out practically any luxury automobile with a driver and call it a limousine.
Bentley built 20 specialized Arnage limousines, making them one of the most rare limo models in the world. Bentley allowed those who purchased one of the limousines practically limitless options to customize their car. Their choices ranged from the color of the interior and exterior to custom-made drinks cabinets and their choice of electronic gadgetry. Bentley is more of an exception to the rule, though -- most car companies don't even come close to offering that kind of customization.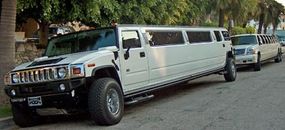 Conversion shops can turn exotic cars like Humvees into stretch limousines.
The Lincoln Town Car is still a very popular choice for luxury car limos. These cars are famous for having a roomy interior and a smooth ride, and so are often used by limousine services. Conversion companies frequently choose the Lincoln Town Car when building stretch limousines.
Many limousine companies also offer services using a Cadillac or Mercedes-Benz. These manufacturers have built a reputation on comfort and style. For many years, Cadillac was the only domestic car company producing limousines -- events during the Great Depression and World War II severely impacted the limousine industry, and Cadillac was the only domestic company able to survive in that market.
Many limousine services also use classic automobiles. You can find limo companies offering customers a chance to ride in a luxurious Rolls-Royce in almost every major city. Rolls-Royce built cars with elegant and mysterious names like the Silver Cloud, the Phantom and the Wraith. Some of these models even left the driver's compartment uncovered, harkening back to the days of horse-drawn coaches.
Most people think of amazing stretch limousines with lavish interiors when they talk about limos. Enterprising limousine companies have capitalized on that image by converting everything from Lincoln Navigator SUVs to MINI Coopers to Lamborghinis in an effort to entice customers and please fickle celebrities. Some go to even further extremes and use vehicles never meant for the street.
In the next section, we'll look at the conversion process to turn an ordinary car into a stretch limo.