LaSalle Cars of the 1930s
The fast-deepening Depression forced Cadillac to adopt costcutting measures for 1931-33. As a result, the 1931 Series 345A gained the senior line's 95-bhp 353-cid V-8, while that year's Cadillac Eights were put on the LaSalle chassis. Power improved to 115 for 1932-33. Model choices remained broadly the same for '31, then reduced for the 345B- and C-series of 1932-33, when seven-passenger sedans were upgraded to a 136-inch chassis and standard models were demoted to a 130-inch platform.
LaSalle prices were also reduced in 1931-33 -- down to $2200-$2800. Though that was about $500 below Cadillac Eights, the latter evidently looked like better buys, for they matched LaSalle in sales and actually beat the junior line in '31. LaSalle volume was well down anyway, dropping from 10,000 to just under 3400 for '32; the 1933 total was scarcely better.
Seeking to turn things around, Cadillac issued an all-new 1934 Series 350 with a look exclusive to LaSalle. Prices were again slashed, this time to $1000 under the senior Eights. Models were also slashed, leaving just a coupe, four-door sedan, club sedan, and convertible coupe. All rode a trim 119-inch wheelbase shared with Oldsmobile, as were basic bodyshells. Still cutting costs, Cadillac replaced LaSalle's V-8 with a 240.3-cid Olds L-head straight eight, albeit with Cadillac-supplied aluminum pistons and other changes. Still, horse­power withered to 95. But "Knee-Action" independent front suspension was a new talking point, and a first at GM (shared with Olds). Stylewise, the transitional 1933 look gave way to full streamlining, highlighted by a rounded grille and curious portholes on the hood sides.
This design/price formula persisted for two more years, but it didn't work well enough and sales remained well below those of rival junior editions. Still, LaSalle improved from just under 7200 for 1934 to over 8600 for the eight-model 1935 range, then to 13,000 for 1936, when offerings were again trimmed to four. Prices for '36 were the lowest ever: $1175 for the two-passenger coupe, $1255 for the convertible coupe. Interim changes included a 105-bhp 248 option for '35 that was made standard for '36, plus the phasing-in of "trunkback" sedans to replace outmoded trunkless styles. All LaSalles were designated Series 50 from 1935 to '39.
Cadillac tried a new formula for 1937, making LaSalles much like its 1936 Series 60 -- predictable perhaps, given the high success of that low-priced senior line. Power came from the same new 125-bhp 322 "monobloc" V-8, and deftly revised styling on a unique 124-inch wheelbase made LaSalles arguably more attractive than that year's Caddys. Buyers responded, and LaSalle sales reached a record 32,000 for the model year. Few major changes occurred for 1938, but a four-door sedan with a sliding-steel "Sunshine Turret Roof" joined the existing two-and four-door sedans, convertible sedan, and rumble-seat coupe and convertible. Sadly, a short but sharp recession shrank sales by half, to the chagrin of GM accountants. LaSalle was floundering, yet its cars were still bargains at 1938 prices ranging from $1300 to $1900.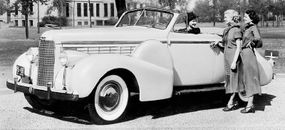 All LaSalles were designated Series 50 from 1935 to 1939.This 1938 model featured a soft top and classic LaSalle rounded grille.
But Cadillac was determined, so LaSalle was completely reworked for 1939. The V-8 was untouched, but a new midrange GM B-body brought a smart new shape with greater glass area and no running boards (except on convertibles, where they were optional). Wheelbase, which was shared with senior Oldsmobiles, was trimmed to 120 inches (as for '36). Despite all this, output was disappointing once more: only about 21,000 for the model year.
For more on defunct American cars, see: