The Kolmos Sedan is a hot rod with an interesting story. After Boyd Coddington delivered Bob Kolmos' Deuce Phaeton in 1985, wife Sharon realized she needed to replace her car. When Bob asked her if she'd rather have a new car or a hot rod, she replied like any red-blooded American would; she chose the hot rod. She had, after all, fallen in love with the hobby by participating in rod runs with her husband.
Sharon and Bob hired "Fat" Jack Robinson to build her hot rod. From the start, Sharon made all of the stylistic decisions that would shape the car. She chose a chopped, channeled, and fenderless 1932 Ford Tudor body, as well as elements such as the color, wheels, and interior decor.
The body of this fine smoothie sedan was done by Ralph Kirby. It is quite radical and involved, yet subtle. Some of the modifications included chopping the top about three inches, removing the rain gutters, rounding the door edges, and grafting in a Mercedes-Benz roof complete with an electric sunroof.
Scott Knight made a three-piece aluminum hood three inches longer than stock. A Dan Fink grille insert fit to the shortened grille shell completed the front end, and six inches were removed from the rear quarter panels to prevent the fenderless car from looking tail heavy. Sharon chose a stylish and understated two-tone paint scheme for the body, combining 1986 Cadillac Firemist Charcoal with dove gray separated by red and silver stripes.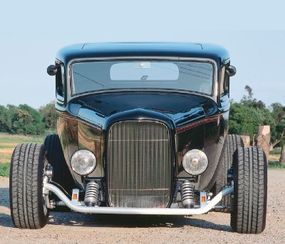 Sharon tapped friend John Buttera to fabricate the dropped front axle and suspension -- a coil-over, four-bar arrangement installed ahead of the frame rather than underneath it. A Ford nine-inch rear end fit with a false quick-change housing and a four-link provided the rear geometry.
Planning to drive her rod regularly like her husband, Sharon also picked a reliable powerplant. Robinson dressed up the Chevy 350-cid crate motor with valve covers and a matching air cleaner that he made from billet aluminum. He routed the V-8's 300 horsepower through a smooth-shifting Turbo 350 automatic.
Sharon opted for a comfortable interior, too. Robinson installed a pair of narrowed Recaro bucket seats stitched in light-gray leather, a gauge insert mounted in front of the driver seat instead of the middle of the dash, and an Emerson Fittipaldi steering wheel of Sharon's choosing. Amenities included air conditioning, a power sunroof, and electric windows. Sharon keeps the windows down and the A/C ­off to better appre­ciate the road.­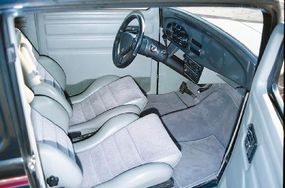 The car was completed in 1987, and Sharon has enjoyed the hot rodding experience ever since. "In a hot rod, it would be good enough to just be a passenger," says Sharon. "But driving is ­really where it's at."