In the 70 or so years since Ford released its 1934 models, hot rodders have reinterpreted those designs in a multitude of ways. Jimmy "Shine" Falschlehner has found a new and ­creative way to combine old parts with this "unfinished" '34 Ford pickup.
Jimmy is a rod builder of the highest degree. Employed as a metal man and fabricator by the So-Cal Speed Shop, Jimmy used the facilities there to build this car after hours. Starting in 1997 with a '34 Ford pickup cab and bed, he bobbed a set of '34 Ford frame rails front and rear, adding an 18-degree kick-up at the back. Jimmy set up a suicide-style front suspension, and added handmade steering arms, So-Cal hairpin radius rods, and customized tube shocks.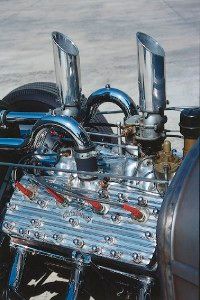 In keeping with the pickup's retro flavor, Jimmy opted for a 1949 Ford flathead engine bored to 254 cid. Engine builder Mike Gilbert assembled the flathead, installing a pair of Stromberg 97 carbs and a set of uncorked zoomie headers fashioned by Jimmy.
The flattie routes its power through a '39 Ford transmission and a modified '41 torque tube to a '40 Ford banjo rear end with 3.25:1 Richmond gears and '37 Ford wishbones. Jimmy originally mounted a set of wire wheels, but then opted for something totally unique. Jimmy made a set of Firestone bias plies with spoked wheels by welding 1932 Studebaker President spokes to custom-made outer rims and '35 Ford wire wheel centers.
The true beauty of this pickup is in the raw metalwork. Jimmy refurbished the stock pickup body, modify­ing it along the way, and incorporated reproduction and hand-fabricated components. The grille shell is a modi­fied '34 Ford truck unit.
The top sports a five-inch chop and the cab has been channeled six inches. Thus far, Jimmy has opted to forego paint, sticking with bare metal that may be more appealing than any paint color. He fights nature by applying WD-40 with a ScotchBrite pad frequently.­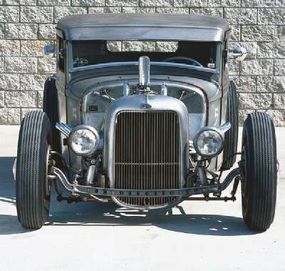 The bare-metal theme continues in the bed and interior. The pickup bed houses a B-52 hydraulic tank that acts as the fuel tank and a battery cover pirated from a '50 Ford pickup. Inside, the modified '40 Ford dash is accompanied by early aircraft seats and more handmade panels that sport the same bare-metal look.
A tribute to the past, this '34 pickup is also an affirmation of the present. Still unfinished (Jimmy may or may not ever add paint), the pickup shows that today's rodders have a reverence for the past, the ability to build great cars, and an eye for unique and inspiring design.