Ted McMullen, creator of the Instant T hot rod, was learning welding and chassis fabrication on drag cars when Norm Grabowski and Tommy Ivo were introducing the hot rod world to the infamous T-bucket in the late 1950s.
As the T-bucket gained more and more popularity, ­McMullen decided he could build affordable hot rod chassis, kits, and even turnkey rods. With that concept in mind, McMullen opened U.S. Speed Sport Mfg. in 1962.
All previous T-bucket bodies were custom-made from Ford parts, but now U.S. Speed Sport aimed to offer production-line-style bodies and chassis that could be purchased ready to run or adapted to any combination of engine, transmission, rear end, or any other component the buyer desired.
Hot Rod Image Gallery 
The Instant T was the first complete hot rod the shop built and the car McMullen used for his floor model. The 96-inch wheel­base, box-rail chassis was jig-welded to be geometri­cally true. The jig also ensured that every chassis the shop built would be the same.
The body, a fiberglass unit designed by Wayne Hartmann and based on a 1923 Ford roadster pickup, is the same one U.S. Speed Sport used for its customer cars.
Baubles weren't part of the equation. To maintain simple, clean lines, Ted McMullen and employee Dick Fletcher used the windshield and front and rear lamps from a 1915 Model T.
The engine of choice was a Corvette 283-cid V-8 breathing through an Offenhauser intake manifold with three two-­barrel carbs. The wheels of choice were Halibrands in back and chromed steelies up front. Upholstery by Ed Martinez and candy-tangerine paint completed the rod.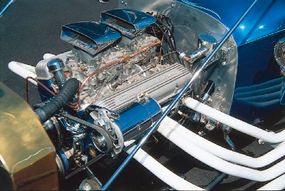 The Instant T hot rod's engineof choice was the Corvette 283-cid V-8.
When finished, the hot rod was featured in several period magazines, and Hot Rod Parts Illustrated dubbed it the Instant T. A flood of inquiries followed the magazine exposure, and soon shops everywhere were offering fiberglass T-bucket kits.
Just as Norm Grabowski had introduced the T-bucket, U.S. Speed Sport can be credited with offering the first fiberglass turnkey and kit-car "Fad Ts."
Fletcher was to be the original owner, but he left the shop before he could work off the cost of building the car. So, Ted McMullen kept it, modified a few details, and used it as a dragstrip push car.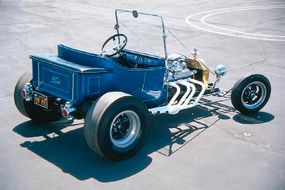 The Instant T was later given five-spokewheels and a candy blue paint job.
Publications International, Ltd.
He exchanged the three two-barrel carburetors for dual quads, put on a set of five-spoke wheels with slicks, and had it repainted candy blue. The Instant T sat in McMullen's shop from 1967 to 1995, when Jim Travis offered to restore it.
Ted McMullen has since passed away, but not before he saw the Instant T placed in the Petersen Automotive Museum in Los Angeles as a living piece of hot rod aftermarket history.
To learn more about custom cars and hot rods, see: