In 1952, Norm Grabowski, who had just been discharged from the service, set out to build a hot rod. What he ended up building was the now iconic Grabowski T.
He bought a 1931 Ford Model A V-8, but swapped the A body for a shortened 1922 T touring body to which he added a radically shortened Model A pickup bed. He further modified the car by mounting the front axle forward of the front crossmember, suicide-style.
This type of car, soon to be known as the "T-bucket," would emerge as one of the most popular in hot rodding history.
For the right stance, Norm removed 20 inches from the rear of the frame, then Z'ed the rear rails using the removed ­sections. He extended the front of the frame five inches, installed the steering column in a nearly vertical position, and channeled the body six inches over the frame.
For motivation, he installed a 1952 Cadillac V-8 with a GMC 3-71 supercharger. Final touches included a black paint job, red rolled-and-pleated upholstery by Tony Nancy, and false rails to cover the highly cobbled frame.
A movie executive spotted the hot rod when it was at Valley Custom for chassis work and asked to rent it for his studio. It appeared in a few movies and television shows in 1955 and 1956.
After an actor damaged it, Norm decided that if his hot rod was going to appear in movies, he would be the only one to drive it. And so began Norm's career as a Hollywood stunt driver and bit player.
Ever the tinkerer, Norm made several changes using studio money to offset the cost. He repainted the body 1956 Dodge Royal Blue with flames and pinstriping by Dean Jeffries, swapped the blower for four Stromberg 97s on a Horne ­manifold, added the skull shift knob, and had a top made so he wouldn't be recognized as the stunt driver.
In this dress, the Grabowski T became a television star on 77 Sunset Strip. Set in Dino's Lodge on Sunset Boulevard, the show centered on valet/detective Gerald Lloyd "Kookie" Kookson, played by Ed Byrnes. Kookie combed his hair a lot, apprehended criminals, and drove Grabowski's hot rod.
Between its Hollywood career and a photo in the April 29, 1957, issue of Life magazine, the Grabowski T became a symbol of the public's growing acceptance of hot rodding. It also helped spawn a fiberglass-body aftermarket for rodders who wanted ­similar cars.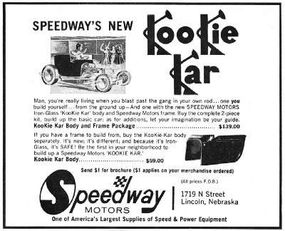 Norm sold the hot rod in 1959 to show-car enthusiast Jim Skonzakis, who modified it twice, the last time to a radical and controversial guise. The Grabowski T still exists, but not in its most influential configuration.
Fortunately, Franco "Von Franco" Costanza built a highly accurate replica of the car as it appeared on 77 Sunset Strip. That car, now owned by John LaBelle, is the best living tribute to one of hot rodding's most important and iconic cars.