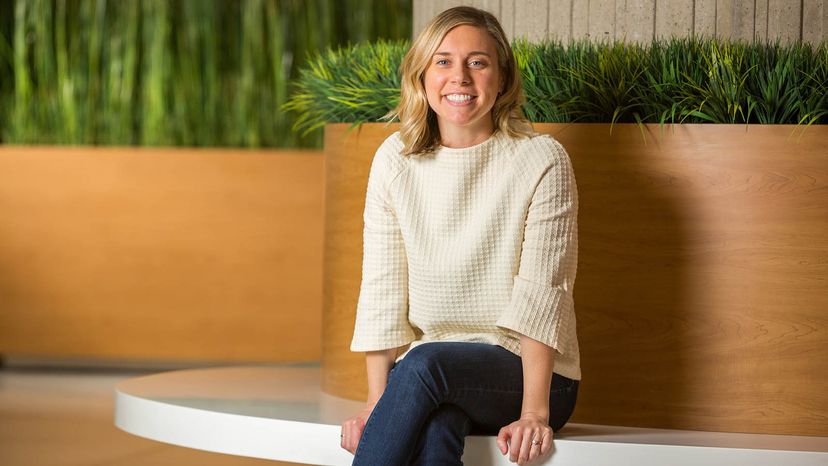 General Motors manager of EV charging and infrastructure Kelly Helfrich is responsible figuring out why people don't buy electric vehicles, and then changing their minds.
Jeffrey Sauger/Jeffrey Sauger for General Motor
Whether you've jumped on board with electric cars or you're still beholden to the gas pump, the car market, and driving as we know it, is evolving for the better. Much of that is because of the efforts of people like Kelly Helfrich. She is an electric vehicle grid integration and strategy manager at General Motors. Part of her job is to determine why people don't buy electric cars (EVs) and then come up with ways to change their thinking.
The Chevrolet Bolt, a small electric hatchback that can go for 259 miles (416 kilometers) on a full charge, is one car currently benefiting from Helfrich's efforts. But much of her team's work focuses on improving the experience of owning an electric car, something that will benefit future owners of electric General Motors vehicles, even cars we don't yet know about.
In other words, Helfrich is shaping the future of driving and car ownership. We talked to her about what it's like to be a female working on changing the minds of future car buyers.
Changing Minds About EVs
"The reason I joined GM was because it had been so out front and public about its renewed focus and vision to become an all-electric vehicle company and that really excited me," Helfrich says. "Another reason I joined GM is because I think [GM chairperson and CEO] Mary Barra is awesome, and I think she's a great example of a humble leader and clearly she's brilliant. But I think she really represents the humility I look up to and the fact that she's the first woman CEO in this field is a huge deal. That [was] a huge motivator for me."
After joining General Motors, Helfrich was with Maven, GM's car-sharing service, which was discontinued in April 2020. Her main role there was to get rideshare drivers interested in the Bolt, the first affordable, long-range EV on the market. Now she's one of a few women determining ways to improve how EVs interact with the electrical grid.
That means she works to find how EVs can be charged at times when power is most plentiful and costs less, and eventually, even how to feed extra power back to the grid. Everything she does helps benefit the environment and will also make EVs easier and more affordable for their owners.
Helfrich has spent about four years at GM, and she's become a pro at explaining why more car shoppers should give EVs a chance. Market research shows that cost, range (how far an EV can go) and charging are the three factors that make people hesitant to buy them, and it's Helfrich's job to make the charging issue a nonissue.
"People tend to think of charging an EV like a gasoline vehicle where you have to go somewhere to charge it and see times quoted like 'This car takes 30 minutes at a public fast charger to get X number of miles of range,'" she explains. "But the reality is, 80 to 90 percent of people's charging activity is done at home or at work."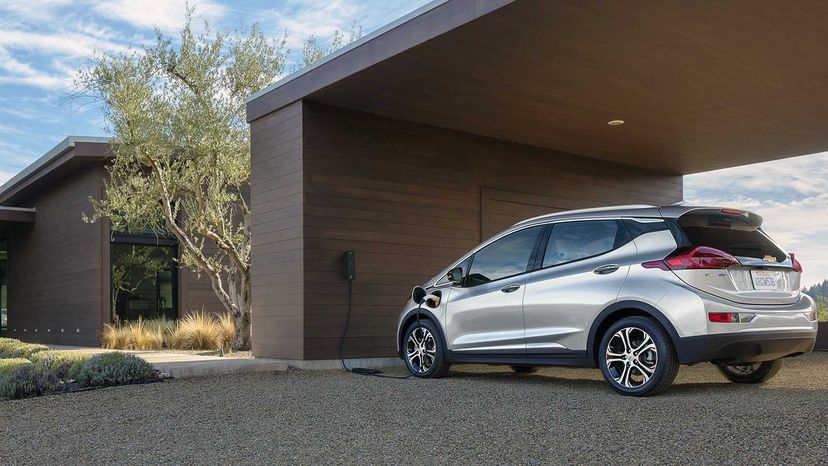 Helfrich wants people to rethink charging EVs and think of it more like charging a cellphone. You just plug it in and leave it.
General Motors
Getting EVs to Talk to the Electrical Grid
Helfrich likes to say, however, charging an EV really takes about five seconds because that's all it takes to the owner to plug it in. "Charging an EV is basically like charging your cellphone," she says. "People have no idea at what point throughout the night their cellphone becomes fully charged. They just know that in the morning when they wake up, it's going to be at 100 percent."
But she says, there are many people out there that still haven't even sat behind the wheel of an EV, so it's also her team's job to work on that demographic, too. "The adoption rates for EVs are definitely increasing significantly but there are still a lot of people who have never driven an electric vehicle," she says. "So our team's job is to close that education awareness gap and make sure people are comfortable with the driving experience that comes with an EV and that they know that the charging piece is easy and taken care of."
Speaking of cell phones, Helfrich also works on projects like the myChevrolet mobile app. It's not exclusive to the Bolt, but does include features specific to the electric car, including a setting that allows owners to schedule their charging for when electric rates are at their lowest — typically overnight. It's also integrated with public charging networks so drivers can locate them on the go and pay directly from the app.
But one of its coolest features is the Energy Assist setting. It allows drivers to create routes for road trips — complete with charging stops along the way — so they can optimize their car's energy.
"I know as an EV driver that's taken many road trips, the worst thing you can experience is relying on a public DC fast station and not knowing if it's under maintenance before you get there," Helfrich says, "so we've solved that."
Helfrich and her team do a lot of cool stuff behind the scenes, as well, to ensure EVs are operating at peak potential. They work with OnStar to understand when EV owners charge their cars most often and then discuss that data with utilities companies to determine ways to use power more efficiently.
For example, a utility that collects power from a wind farm might collaborate with GM so that Bolt owners in that area who opt in to charging at the most efficient times via the app will automatically charge when that wind power becomes available. That saves the utility from using energy to store that wind power, so it's a win-win for the car owner and the utility.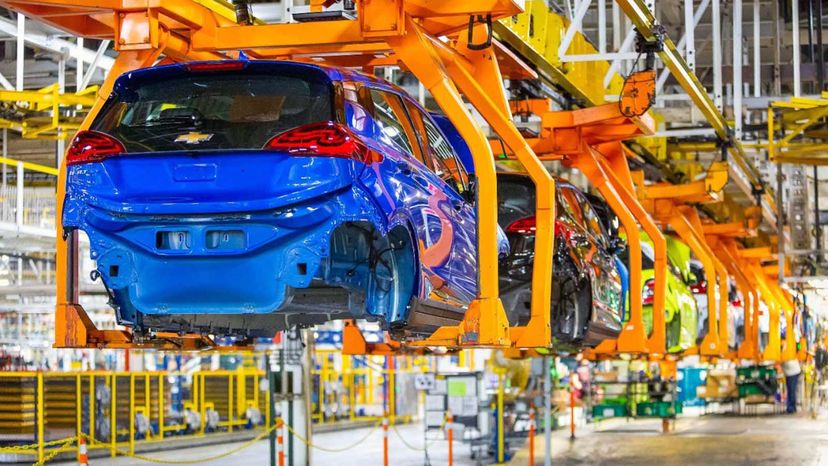 The Chevrolet Bolt EV is assembled at the General Motors Orion plant in Orion Township, Michigan.
Jeffrey Sauger/Jeffrey Sauger for Chevrolet
The Future of EVs
In the future, Helfrich says, EVs will even be able to share their excess power back to the grid, further optimizing their ability to use renewable energy resources as often as possible.
Helfrich's been in her current role since around the beginning of 2020, and, like everything going on this year, her job is changing in ways she never expected.
"[The coronavirus] pandemic has changed everything. I can't tell you what will happen in the long term because of course, but for the short term, less people are driving, and so there's less charging to manage," Helfrich says. She notes that GM hasn't done market research on the topic, but suggests, "I do think that in some ways this pandemic has made people perhaps more willing to consider EVs, especially in some of these cities where early on, they were noticing how much better the air quality was because people weren't driving."
This story is part of Covering Climate Now, a global journalism collaboration strengthening coverage of the climate story.