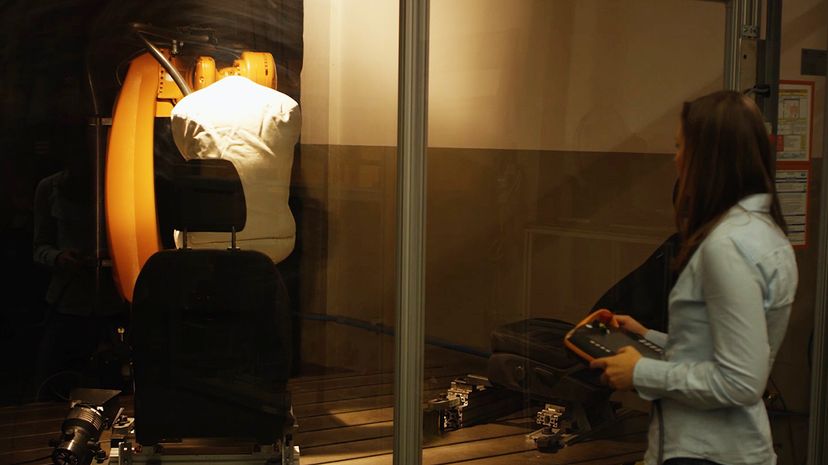 As much as humankind collectively frets about robots taking our jobs, it's hard to imagine anyone wanting to swap places with Ford's Robutt. The Robutt (nicknamed by Ford engineers) is hardly a new concept; robotic butts are innovative ways for testing chairs and car seats, and they save human beings a lot of time and a lot of sitting. If you've ever been to an Ikea, you've probably seen their version of a chair testing machine.
Of course, the Ford Robutt version is quite different from Ikea's, and the duties the Robutt performs at the carmaker's European headquarters in Germany are specific to the Ford Fiesta, and based on the dimensions of "an average large man." But it's able to enter and exit the car just like a person would, and sit and rise from the car's seat 25,000 times, simulating a decade of use in just three weeks.
According to Sam Schembari, a spokesperson for Ford, the company is well-acquainted with the Robutt, even though it arrived in Europe only recently.
"Ford already uses the 'Robutt' in America," Schembari says via email. "It is used to test seats in all of our vehicles. We have been using them in the U.S. since roughly 2006."
This type of robotic product testing is known as "bench testing," and it is a common stage in the development process for all kinds of consumer products. Robots are useful because they can be programmed to exact specifications, they can collect data, and they can precisely repeat the same motions, which is necessary to ensure that the products being tested are held to high standards. Then, when testing is complete, the robot can be reprogrammed to start on the next product, instead of developing a new test process from scratch for each new product. That saves companies time and money.
Ford's Robutt, for instance, was designed by durability engineers at Ford headquarters, and consists of a stuffed torso (sort of like a crash test dummy) that moves on a mechanical arm. Before the Robutt, Ford used pneumatic cylinders for testing. The cylinders moved up and down for a certain period of time testing the durability of the seats' fabric and interior. However, pneumatic cylinders can't accurately replicate the way a person moves in a car seat, like the way they slide into the seat or put pressure on the side bolsters while they drive.
Ford engineers call this a "perch pattern." They determined perch patterns from pressure-sensitive seat covers that illustrated how much weight drivers applied to different parts of the seat. Then the Robutt could be programmed to "behave" the way most drivers do.
Ford estimates that, over the course of owning a vehicle for 10 years, drivers sit behind the wheel about 25,000 times, which is how the Robutt's test cycle was decided. The results help engineers decide where and how to make changes to the seat's design.
Automakers aren't the only companies to use robotic testing to mimic human butts, either. In 2014, The Verge reported that Samsung and Apple used robots to simulate humans sitting on their smartphones.
And as we've already mentioned, Swedish furniture retailer Ikea uses robots to test its chair designs. The huge retailer even installed the robots in its stores to demonstrate how they work, which is by applying pressure to the seat to test for durability over time, though Lars Almblad, test laboratory manager at Ikea of Sweden, tells us via email that the stores will be removing them next year because they're outdated. "The robots on display were initially the same as what was used in test environment," Almblad says. "However, today they don't have all the features that the 'real' test machines have. What is good to know is that what you see in display is just one test of many performed on a chair during the product development."
As for the Robutt, it has accomplished its goals with the European Ford Fiesta and is now being tasked with testing Ford's entire European lineup, in addition to its ongoing duties in the United States.