The elegant angular lines and airy greenhouse of the 365 GT4 2+2 marked a new design direction for Ferrari. Unveiled at 1972's Paris Auto Show, this square-cut new four-seater looked much different than the Ferrari 365 GTC/4. Moreover, it was stretched over a longer wheelbase -- 106.3 inches (2700mm) versus 98.4 (2500) -- and had a wider track, allowing it to have proper rear seats.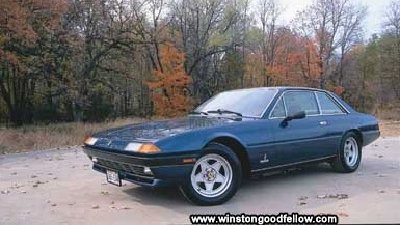 The 1984 Ferrari 400i featured fuel injection. See more Ferrari images.
But otherwise, it was nearly identical to the Ferrari 365 GTC/4 under the skin. Both had independent suspension front and rear with self-leveling units in back, power-assisted disc brakes, power steering, and a robust tubular chassis. The GTC/4's 4.4-liter 320 horsepower V-12 and five-speed transmission also carried over untouched. But because of America's new smog and safety regulations, the car was never imported into the United States.
A revised version appeared at Paris in 1976. Called the 400 GT, its V-12 displaced 4.8-liters. But the most important mechanical change was the gearbox: This was the first Ferrari available with a factory-installed automatic transmission. Ferrari adapted General Motors' state-of-the-art three-speed Turbo-Hydramatic for use with the V-12 and created the Ferrari 400i Automatic. It was a very popular move for owners.
Externally, the Ferrari five-speed-manual 400 GT and the Ferrari 400i Automatic were nearly identical to the Ferrari 365, save taillights reduced in number from six to four and the addition of a small front spoiler. The interior, however, was substantially revised, with new seats and more leather trim, making it much more luxurious.
The Ferrari 400i would soldier on into the mid 1980s. The main revision came in late 1979 with introduction of fuel injection. The Ferrari 400i (for injection) was offered with both the five-speed and automatic. Fuel injection spread to the rest of the Ferrari lineup within a year.
The 1986 Ferrari 412 replaced the Ferrari 400i.
The Ferrari 412 replaced the Ferrari 400i in 1985. Unveiled at the Geneva Auto Show, it was at the time the only Ferrari imported into the U.S. by the factory. Displacement grew slightly to 4.9-liters, and the body received minor detail changes, with bumpers now painted the same color as the car. The last Ferrari 412s were made in 1989, a demonstration of the lasting elegance of the car's shape.
An interesting side note to the 412 story is the factory- sanctioned convertible built in 1986. It was manufactured by Scaglietti as an experiment in carbon-fiber body panels. This was Sergio Scaglietti's last design for Ferrari before retiring. Because of the outstanding performance made possible by its lightweight construction the great coachbuilder lovingly called the convertible "a bomb!"
Learn about these other great Ferrari Road Cars:
For more fantastic Ferrari information, check out:
Advertisement