The seminal Ferrari 166 MM "Barchetta" that made its debut at 1948's Turin Auto Show was the model that gave Ferrari a "face."
While every early Ferrari blurred the line between street use and competition -- most were, in fact, outright race cars -- the 166 MM was the first Ferrari offered with equipment tailored to both needs. It also was the first Ferrari with styling that identified it as a Ferrari.

The Ferrari 166 MM forged Ferrari's racecar identity. See more Ferrari pictures.
"Ferrari was a very clever man," said Carlo Felice Bianchi Anderloni, who designed the Barchetta. "He knew if several [Ferraris] were at 1949's Mille Miglia, all looking identical, people would begin to recognize him as a true constructor."
The "Barchetta" name was applied by Italy's most-prominent automotive journalist, Giovanni Canestrini, who concluded the car looked like a "little boat," and used the Italian term for that -- barchetta.
Road or racing, the Barchetta's body was built at Carrozzeria Touring, Anderloni's firm in Milan. It used Touring's patented Superleggera (super light) construction system in which the intricate frame of small thin tubes that supported the lightweight aluminum body was welded to the tubular chassis.
All Barchettas employed a front suspension of wishbones and transverse leaf springs. The rear had a rigid axle, semielliptic leaf springs, and an antiroll bar. Brakes were large drums with fins for cooling.
The Ferrari 166 MM's all-alloy V-12 displaced 1995cc, had a compression ratio of 10:1, and was crowned by three 32 DCF Weber carburetors. Ferrari claimed 140 horsepower at 6600 rpm, plenty for a machine with a factory-quoted weight of just 1,430 lbs.
It is no exaggeration to say the racing success of these early Barchettas helped secure Ferrari's future as a sports-car maker.
Nine Ferraris were entered in 1949's Mille Miglia. Four were Barchettas with Touring bodywork. One, chassis 0008 M, finished first overall, driven by Clemente Biondetti. A companion, chassis 0010 M, finished second overall.
Less than two months later, Barchetta 0008 M, driven by Ferrari's friend and future American importer, Luigi Chinetti, finished first overall in the 24 Hours of Le Mans, the world's most-important endurance-racing event. Chinetti capped that performance with a first overall in the 24-hours of Spa Francorchamps.
Touring also made a Ferrari 166 berlinetta, a closed two-seater that used much of the same design language found on the Barchetta. "We had a lot of experience turning a coupe into spider or a cabriolet into a coupe," Anderloni remembered. "So a Ferrari berlinetta was natural for us to try."
Dubbed the tipo "Le Mans" by Touring, the Ferrari 166 berlinetta appeared at 1950's Geneva Motor Show. Within two months, the model would win the Mille Miglia. The barchetta that won 1949's event came in second.
In 1951, Touring's barchetta and berlinetta bodies were used on two new models, the Ferrari 212 Export and 340 America. In general, these Ferraris had the same chassis as the 166, save a longer wheelbase and wider track. And they had larger, more powerful engines.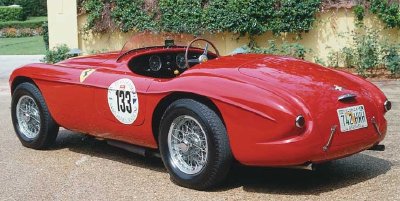 The Ferrari 212 Export was similar to the 166 MM, but with a larger engine.
The Export's V-12 was a 2562cc derivative of the Ferrari 166 MM's Colombo V-12. The Ferrari 340 America used a 4.1-liter version of the Aurelio Lampredi designed 4.5-liter V-12 found in Ferrari's 375 F1 cars.
With the Ferrari 212 and 340 America, other coachbuilders supplanted Carrozzeria Touring as Ferrari's preferred designer and body maker. Indeed, every Ferrari on display at the 1952 Geneva Motor Show was clad in bodywork by Ghia, an honorable old coachbuilder rescued after World War II by Mario Felice Boano.
Ferrari's fortunes were also being shaped by Vignale, a relative newcomer founded in 1946 by Alfredo Vignale and under the creative control of prolific stylist Giovanni Michelotti.
Vignale made a wonderful variety of spyders and berlinettas on both the Ferrari 212 Export and 340 America chassis. The most significant was the one-off Ferrari 340 America berlinetta (chassis 0082 A). It won the 1951 Mille Miglia.
Learn about these other great Ferrari Sports Racing Cars:

For more fantastic Ferrari information, check out:
Advertisement