By the late 1970s, some hot rodders had enough money to infuse their cars with truly exotic DNA. The Deucari was born in '79, when Brian Burnett, the son of '50s and '60s Hot Rod magazine cutaway illustrator Rex Burnett, became the first to put a Ferrari powerplant in a traditional hot rod.
Brian, a Ferrari dealer in Los Gatos, California, always wanted to build something different. He jumped at the chance when a Ferrari 365 GT 2+2 engine became available. The all-aluminum overhead cam V-12 had done time in William Harrah's "Jerrari," a Ferrari-powered Jeep Wagoneer. The 320-horsepower 268-cid engine in hand, Brian commissioned Dick "Magoo" Megugorac to build a Deuce roadster.
Installing the Ferrari engine meant Magoo had to extend the front of the frame four inches. The hood of the Wescott fiberglass body required a similar extension. To harness the V-12 power, Magoo chose a Muncie four-speed transmission and a Halibrand quick-change rear end.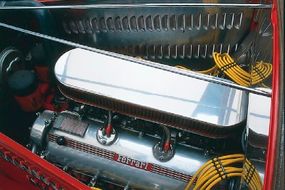 He stuck with a Ferrari theme throughout the project, outfitting the car with Borrani wire wheels, a Connolly leather interior, and Ferrari red paint. To maintain a sleek flow from front to rear, Magoo added a DuVall windshield and a lift-off aluminum top with a '37 Cord rear window.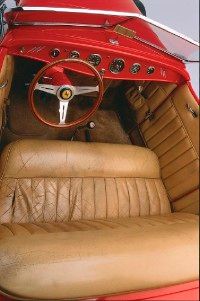 With or without the top, the finished highboy's proportions were well-received. The proof came when the "Deucari" won the America's Most Beautiful Roadster award at the 1979 Grand National Roadster Show.
The Deucari proved to be more than just a show queen. Brian drove it to the 1980 Street Rod Nationals in Memphis. He also took it for a few passes down the dragstrip, turning a best E.T. of 13.01 seconds at 105 mph.
Current owner Ed Hegarty swapped the Muncie for a Doug Nash five-speed. Like Burnett, he drives the car extensively. While no longer perfect thanks to its road duty, the Deucari is still beautiful. It's also fast, and it's driven, too -- like a hot rod should be.
To learn more about custom cars and hot rods, see: