With a brilliant new chassis and futuristic styling, the second generation of Corvettes, starting with the 1963 Corvette Sting Ray, turned up the heat. Improved each year through 1967, the Sting Ray is considered by many the most desirable Corvette of all. Take a look at the highlights of the C2 below.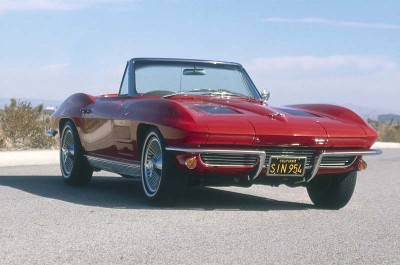 The Corvette Sting Ray bowed for 1963 with the previous year's engines
in a stunning all-new package with a trimmer 98-inch wheelbase
and first-time all-independent suspension.
Corvette Sting Rays became ferocious with the mid-1965 debut of a big-block
V-8 option, the 396 Turbo Jet. It delivered 425 bhp and a thumping
415 pound-feet of torque, and reduced 0-60 to well under six seconds.
Front-fender "gills," single backup lamp above the license plate, and central
handbrake identified the last-of-the-line 1967 Corvette Sting Rays.
Learn more about the Corvettes in this generation:
Looking for more information on Corvettes and other cars? See:
Advertisement