Consumer Guide's Impressions of the Chevrolet Trax concept
The Chevrolet Trax concept could turn out to be a baby brother for Chevrolet's smallest car, the Aveo. But it aims tobe a lot hipper than that old-school sedan and hatchback.
What We Know About the Chevrolet Trax
Trax is one of three new General Motors "global" concept vehicles unveiled at the 2007 New York Auto Show to test the public's reaction to a new class of Chevrolets. All three are tiny cars, smaller than anything Chevy has sold in the U.S., and our take is that the wagonlike Trax is the best bet to make it into production, maybe as a 2010 offering. The other two, the Groove two-door hatchback and the Beat four-door hatch, are tall and narrow and even more unorthodox looking than the Trax.
GM emphasizes that these were created by from its design studios in South Korea, a hotbed of minicar design and home to Daewoo, which supplies the Aveo and would furnish the Trax, too. Trax is a tall four-door wagon with a 1.0-liter three-cylinder engine. It looks like a micro SUV, which Chevy thinks will enhance its sporty-lifestyle appeal. In fact, Chevy says Trax aims at "active urban city dwellers who like to go off-road on the weekends." To that end, Trax could offer both front- and all-wheel drive, though it doens't have elevated ground clearance.
Few other concret details were available, but Chevy's set up a special U.S. website (voteforchevrolet.com) for "voters" to pick their favorite of these three global concepts. GM is testing these waters at a good time. Though U.S. minicar sales are still modest, the class shows signs of growth. The Aveo is doing surprisingly well, and rivals Honda Fit, Nissan Versa and Toyota Yaris are also catching on as budget-friendly fuel misers-no surprise with today's steep gas prices.
GM has looked at all this-and its balance sheet-and decided it will need more wee wheels at the ready if more Americans decide to buy small(er). Besides, competition is heating up. Ford has already announced plans to market a "B-Class" car in the U.S., likely a retooled version of the redesigned Mazda 2 unveiled a few months ago. And it can't be coincidence that the GM concepts appear just as DaimlerChrysler is preparing for the U.S. launch of its Smart ForTwo microcar, the heretofore Europe-only runabout that's developed a cult following here. Speaking of cults, let's not forget the Mini Cooper, still a solid hit with young, hip urbanites and a solid moneymaker for BMW.
But there's another reason why Trax is doing The Big Apple. It's a likely preview of a redesigned Matiz, a front-wheel-drive, 1.0-liter three-cylinder mini-hatchback sold in many overseas markets under the Chevrolet and Daewoo labels. That makes it a very important product for GM's global business. You may not be aware, but Chevrolet has lately become GM's worldwide "value" brand, with GMDAT the assigned source for all GM vehicles smaller than the Chevrolet Cobalt. That includes U.S. products like the 2008 Saturn Vue, a South Korean effort that is sold in Europe as the near-identical Opel Antara and entry-level Chevrolet Captiva.
In short, Trax suggests GM is thinking globally about minicars, especially for developing countries, and could act locally if or when U.S. market conditions dictate.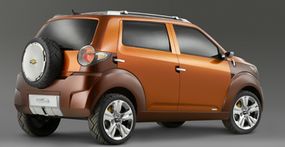 A Notable Feature of the Chevrolet Trax
The Trax concept augments its front-wheel-drive powertrain with a small electric motor that would be used to drive the rear wheels, creating an as-needed all-wheel-drive system.
Buying Advice for the Chevrolet Trax
Be patient. You can't buy the Trax concept, but a less-extreme production version might show up at your local Chevy dealer in a few years -- if enough U.S. buyers show enough interest.
Chevrolet Trax Release Date: A production version wouldlikely bow during 2009, but U.S. sale is not planned-at least for now.
First Test Drive: No U.S. media previews are scheduled.
Chevrolet Trax Prices: n/a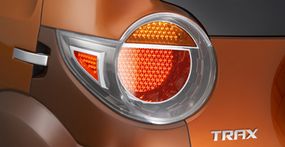 For more inside information on hundreds of new cars of today and tomorrow, check out:
The 2007 New York Auto Show: The Auto Editors of Consumer Guide bring you the latest news, opinion, pictures, and prices on all the new cars introduced at the 2007 New York Auto Show.

Consumer Guide New Car Reviews and Prices: Road test results, photos, specifications, and prices for hundreds of new cars, trucks, minivans, and SUVs from the Auto Editors of Consumer Guide.

2007 Chevrolet Aveo: Read Consumer Guide's full report, including ratings, prices, specifications, and fuel economy.

Subcompact cars: Here's Consumer Guide's roundup of all the subcompact cars on sale today.

Fuel-economy leaders: The EPA admits its fuel economy numbers are estimates. Ours are real. Here are the fuel-economy leaders as determined in Consumer Guide tests.

Future Cars: Step into the automotive showroom of tomorrow with reviews, analysis, pictures, prices, and preliminary specifications on scores of 2008, 2009, and 2010 new cars.