The convertible option was available
on the base (shown) or Z28 Camaro.
The 1995 Chevrolet Camaro gained some powertrain options, along with minor cosmetic alterations. Base models got an optional V-6 that could be ordered in place of the standard 160-
horsepower
3.4 liter.
It was similar to the Series II 3.8-liter V-6s that could be found in several of GM's large front-drive models, here tuned to produce 200 horsepower. Whereas the 3.4 came standard with a five-speed manual and offered a four-speed automatic as an option, the 3.8 came only with the automatic.
Z28s returned with their 275-horsepower 5.7-liter V-8, available with the CAGS (Computer-Aided Gear Selection) six-speed manual or four-speed automatic. After being announced for 1994 but never offered, traction control finally made the options list in '95.
Available on Z28s only, it was the same Acceleration Slip Regulation (ASR) system that had been standard on Corvettes since '92, and could likewise be turned off by a dashboard switch should tire spin be desired.
Appearance-wise, Z28s and base coupes with optional T-tops got a black-painted roof, though body-colored roof and mirrors were now a no-charge option. Base models also gained optional chrome wheel covers late in the model year.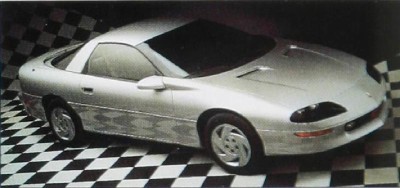 The base Camaro did not get the
traction control system available on the Z28.
1995 Chevrolet Camaro Facts
| | | | |
| --- | --- | --- | --- |
| Model | Weight range (lbs.) | Price range (new) | Number built |
| Camaro | 3,251-3,480 | $14,250-$23,095 | NA |
For more picture-packed articles about Chevys and other great cars, see:

Classic Cars: Learn about more than 400 of the world's finest classic and collectible automobiles.
Muscle Cars: Look back at tire-smoking Chevys and scores of other machines from the golden age of American high performance.
Sports Cars: Discover the pleasure of sports motoring at its purest in these captivating articles on the best sports cars from around the world.
Consumer Guide Automotive: Here's your source for news, reviews, prices, fuel-economy, and safety information on today's cars, minivans, SUVs, and pickups.
All Chevrolet Camaros: From the original 1967 to the last-of-a-breed 2002 model, learn all about one of America's favorite sporty cars.
Advertisement