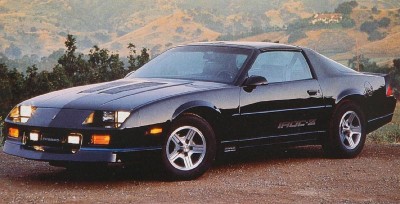 The IROC-Z was again the top of the line
for the 1989 Chevrolet Camaro.
The 1989 Chevrolet Camaro base model was renamed RS, giving it a sportier moniker if not a sportier demeanor. And because Camaros had become popular with thieves, topping the charts in some years, the
Corvette
's Pass-Key theft-deterrent system became standard for 1989.
Powertrain offerings stayed the same as in '88. Standard on the RS coupe was the good ol' 2.8-liter V-6 still belting out 135 horsepower. Standard on the RS convertible and optional on the coupe was again a 170-horsepower 5.0-liter V-8.
That same engine was standard on the IROC-Z as well, but the IROC also offered two optional V-8s: a port-fuel-injected 5.0-liter with 220 horsepower and a 5.7-liter with 230 horsepower. All could be mated to either a five-speed manual or four-speed automatic except the last, which came only with the automatic.
Though little had changed, the cost of a Camaro went up by $500-$930, meaning that the price of entry now stood at $11,495. Surprisingly, that didn't hurt sales, which grew from 1988's disappointing 96,275 to a slightly less depressing 110,739.
But the Camaro was now being soundly whipped by the rival Mustang (which was out-selling it by about two to one), and a more modern replacement was a good four years away.
Base RS Camaros had the familiar
punishing ride and poor visibility.
1989 Chevrolet Camaro Facts
| | | | |
| --- | --- | --- | --- |
| Model | Weight range (lbs.) | Price range (new) | Number built |
| Camaro | 3,082-3,285 | $11,495-$18,945 | 110,739 |
For more picture-packed articles about Chevys and other great cars, see:

Classic Cars: Learn about more than 400 of the world's finest classic and collectible automobiles.
Muscle Cars: Look back at tire-smoking Chevys and scores of other machines from the golden age of American high performance.
Sports Cars: Discover the pleasure of sports motoring at its purest in these captivating articles on the best sports cars from around the world.
Consumer Guide Automotive: Here's your source for news, reviews, prices, fuel-economy, and safety information on today's cars, minivans, SUVs, and pickups.
All Chevrolet Camaros: From the original 1967 to the last-of-a-breed 2002 model, learn all about one of America's favorite sporty cars.