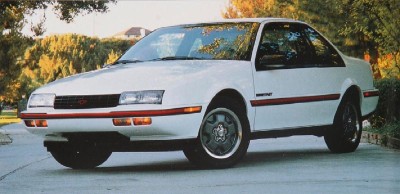 Buyers ponied up nearly $12,700 for the 1989 Beretta GT.


The 1989 Chevrolet Beretta did not start out as a strong seller for Chevy. Since Beretta shared its mechanical components with the Corsica sedan, Chevy usually counted the two cars together when figuring sales totals. Taken in that context, the duo ended up leading the production race for 1989 with over 400,000 built, barely edging out Ford's Taurus.
But at the beginning of the model year, there was precious little to boast about. The base Beretta got dressed up with exterior appointments taken from the previous year's GT, and the GT itself became a regular model rather than an option package. The main differences between the base and GT were that the latter included firmer suspension, split folding rear seatback, custom cloth trim, overhead console, 15-inch styled steel wheels (in place of the base model's 14-inch steel wheels), and, of course, the 130-horsepower 2.8-liter V-6. The base model came with a 90-horsepower 2.0-liter four but offered the V-6 as an option. Either engine could be mated to a five-speed manual transmission or three-speed automatic.
Prices were up somewhat, the base model rising by $440 to $10,575, while the GT listed at $12,685 -- about $800 more than the year before, though it included some extra equipment. Considering the sales totals, however, the increases were apparently of little concern to buyers.

The base-model 1989 Beretta's inline-four was inadequate,
driving many buyers to the optional 2.8-liter V-6.
1989 Chevrolet Beretta Facts
| | | | |
| --- | --- | --- | --- |
| Model | Weight range (lbs.) | Price range (new) | Number built |
| Beretta | 2,631-2,727 | $10,575-$12,685 | 190,055 |
For more picture-packed articles about Chevys and other great cars, see:

Classic Cars: Learn about more than 400 of the world's finest classic and collectible automobiles.
Muscle Cars: Look back at tire-smoking Chevys and scores of other machines from the golden age of American high performance.
Sports Cars: Discover the pleasure of sports motoring at its purest in these captivating articles on the best sports cars from around the world.
Consumer Guide Automotive: Here's your source for news, reviews, prices, fuel-economy and safety information on today's cars, minivans, SUVs, and pickups.
Consumer Guide Used Car Search: In the market for a used Chevy or virtually any other pre-owned vehicle? Check out these reports, which include safety recalls and trouble spots.