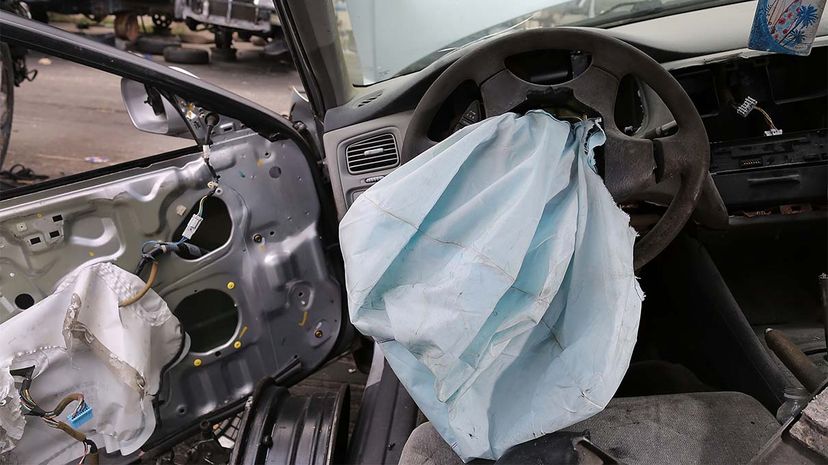 Automotive recalls are steadily on the rise, and federal statistics estimate that about 30 percent of them go without being repaired. Recalls such as the widespread Takata airbag recall regularly make the news, and automotive website Jalopnik recently investigated the story of a recalled Ford Escape that caught on fire even though it wasn't running, burning up an entire cargo ship.
How many ticking time bombs are on the road? The 30 percent statistic "is an accurate approximation," according to a spokesperson for the National Highway Traffic Safety Administration (NHTSA) who asked not to be identified, and there were more than 53 million recalls in 2016 alone, the most on record for a single year. That adds up to a lot of affected vehicles, and although some recalls are fairly minor, others carry serious consequences if they go unfixed. While nobody will hunt you down for ignoring a recall notice, car companies don't put them out without good reason and typically that good reason involves the safety of you, your passengers and the other people on the road. Let's take a look at how so many vehicle recalls slip through the cracks.
Automakers note that it can be difficult to track down the current owner of a vehicle, which was the case in the cargo ship fire, since ownership records are often outdated. Even when automakers successfully get in touch with the owners of affected vehicles, recalls still often go unfixed. The hazards of ignoring a recall, of course, depend on the reason for the recall, and it is important that consumers realize that an automaker wouldn't issue a recall unless it posed an actual safety threat. The NHTSA says via email that some consumers simply don't "understand the importance or urgency to do the repair that might save their lives or those of their loved ones."
Here are some of the other reasons that people neglect or decline to participate in recalls:
Having to call and make an appointment

Lack of time to take car in

Not having a car while the car is being repaired

Concern that the dealer might pressure the owner to pay for other repairs

Not knowing how long the repair will take to complete
The Takata airbag recall, which involves serious injury or death if the airbags in certain vehicles are deployed, is an excellent example of several of these points. This recall, which has grown in scope since it was first announced in 2013, now affects 42 million vehicles across 19 brands. Due to the widespread nature of the recall, parts for many of the vehicles are on back order, and in some cases, won't be available for years. Dealerships may offer loaner vehicles when the cars are actually being repaired, but many consumers feel they have no choice but to continue driving an affected vehicle while waiting for an appointment.
There are collaborative solutions that could work to identify and fix recall issues that are outstanding because a vehicle owner either hasn't received a recall notice or has simply chosen to ignore it. For example, before issuing an insurance policy renewal or a driver's license renewal, insurance companies and state DMVs could check for outstanding recalls on the vehicles registered to that account. If there is a problem, the policy or license renewal would be denied until the recall issues are fixed.
According to the Detroit Free Press, Maryland is the first and only state to introduce a recall notification system tied to vehicle registration. The program was rolled out this April and does not prevent vehicle owners from registering a recalled vehicle. Kentucky and Florida are also working on programs to be rolled out at some point in the future. However, a representative from the state of Michigan suggested that the responsibility for notification falls solely on the automakers and the state has no plans to participate in such a program.
There are other ways to reach affected vehicle owners, too.
"Media has played a [key role in] letting consumers know of new recalls and the importance of them," said the NHTSA spokesperson. "Automakers are doing house calls to find the urgent cars that need repair."
Even if automakers and suppliers are to blame for the recalls, the responsibility to comply ultimately falls to the consumer. The NHTSA website offers information on the recall process, news about recent recalls, a form for consumers to report problems with a vehicle, and a way to look for recalls on any vehicle by VIN, year, make and model.
It's important for owners of recalled vehicles to realize and remember that an unattended recall can have repercussions beyond just the driver and passengers in that vehicle. For example, a tire blowout can easily cause a crash among other vehicles on the road if drivers swerve to avoid hitting debris or the affected vehicle. The 2015 cargo ship fire caused by the recalled Ford Escape is an extreme case, to be sure, but it also could have been easily avoided.