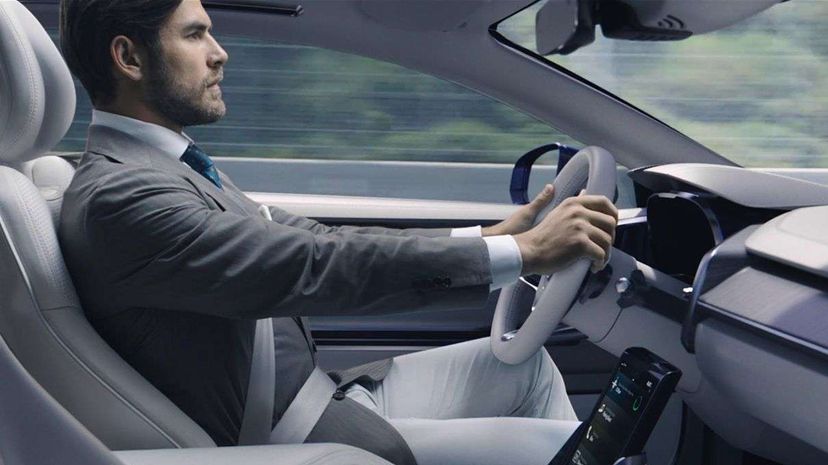 Film fanatics might remember "Death Proof," that Quentin Tarantino movie from 2007, where Rosario Dawson and friends escape a murderous Kurt Russell. There are a lot of muscle cars in that movie, none of which are death-proof, on screen or in real life.
Probably because none of them are Volvos.
As early as 2005 (two years before Kurt Russell's death-proof stunt car), Volvo was talking about using vehicle-to-vehicle communication and advanced safety systems to avoid accidents entirely.
"Tomorrow's cars will start to communicate with other road users. If we can do this so well that cars no longer collide and can avoid accidents involving other road users, we will be talking about a different kind of car than today," said Lex Kerssemekers, now CEO of Volvo's North American operations, in a press release.
By 2008, this idea had evolved to mean that no one would be killed or seriously injured in a Volvo vehicle by 2020. The company had sensors and warnings in place already that helped its reputation as being a safety-conscious car company, but they knew better technology was on the way.
"There is considerable safety potential in creating communication between cars and infrastructure. Two cars could for example warn each other of queues or slippery roads. Infrastructure sensors could warn the driver of people or animals crossing the road," said then head of safety at Volvo, Jan Ivarsson, in another press release.
After all, as Ivarsson pointed out, we don't expect airplanes to crash. Why should we expect anything less of our cars?
Now, the future is here. The technologies that Volvo was hinting at for the past decade are in our cars, with more coming very quickly. Volvo already uses an award-winning human-machine interface known as Sensus, to communicate with the driver. Messages and statuses are displayed in the center console and in a heads-up display (HUD), and the touch screen has infrared sensors so you can wear gloves while using it. (That's probably a really important point in Sweden.)
Volvo is also testing the IntelliSafe Auto Pilot on roads in its hometown of Gothenburg, Sweden, in 2017. If the vehicle is entering an area where Auto Pilot can be used safely, like a highway with lane markers, the car gives the driver a message and flashes the lights on the steering wheel paddles. Just flick both paddles at the same time, and the car takes over driving duties. When things get tricky, like you need to exit or traffic gets weird, Auto Pilot lets you know and gives you 60 seconds to get your attention back on the road before handing over control.
The systems seem to be working (or presumably will be when they're available) toward Volvo's 2020 goal. The Highway Loss Data Institute looked at the insurance claim data for 2011-2012 Volvo S60 sedans and 2010-2012 XC60 SUVs. The institute found that vehicles with the advanced safety technology, known as City Safety in those models, had fewer damage and injury claims than other vehicles without the technology built between 2009 and 2012.
For that matter, the Insurance Institute for Highway Safety points out that any vehicle by any manufacturer that is equipped with electronic stability control (ESC) has a 49 percent reduction in risk of a fatal single-vehicle crash and a 20 percent reduction in the risk of a fatal crash with multiple vehicles involved. While the data on the latest technologies is still coming in, the trend toward zero fatalities is on Volvo's side.