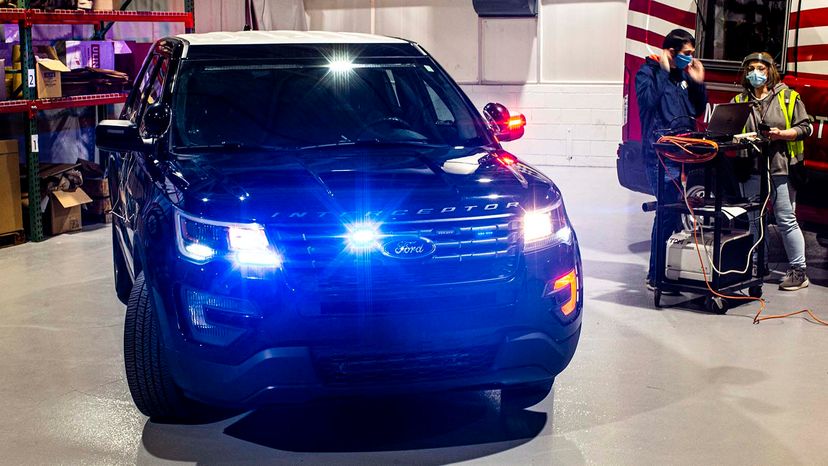 Nobody wants to get put into the back of a police SUV, no matter when it is, but especially during a global health pandemic. But at least if the SUV is a Ford, detainees may now be at a lower risk of catching coronavirus from the vehicle's previous occupants.
In May 2020, Ford announced new software that will enable the cabin of its Police Interceptor Utility vehicle to heat beyond 133 degrees Fahrenheit (56 degrees Celsius) for 15 minutes. This high temperature and duration can kill viruses on the vehicle's interior surfaces, particularly in areas that are hard to reach when cleaning involves simply applying products by hand.
The comes thanks to an update to Ford's software. When activated, the computer triggers the vehicle's engine and heat systems to work together. The software warms up the engine, and then turns on the cabin heat and fan systems, which pulls the engine heat into the car.
The system monitors the cabin temperature and automatically turns off when the entire passenger compartment reaches the optimal level, and that temperature is maintained for 15 minutes. The instrument cluster monitors progress, and the taillights and hazard lights flash to indicate the process is underway.
The Ohio State University researchers helped Ford determine the proper temperature and time period to kill viruses on vehicle interior surfaces, though Ford notes this isn't a standalone sanitation measure, and should be used to supplement Centers for Disease Control guidelines.
"Our studies with Ford Motor Company indicate that exposing coronaviruses to temperatures of 56 degrees Celsius, or 132.8 degrees Fahrenheit, for 15 minutes reduces the viral concentration by greater than 99 percent on interior surfaces and materials used inside Police Interceptor Utility vehicles," Jeff Jahnes and Jesse Kwiek, laboratory supervisors at The Ohio State University department of microbiology, said in a press statement.
The project began in March 2020, and the software has been tested on police vehicles in New York City, Los Angeles and cities in Michigan, Massachusetts, Ohio and Florida.
The sanitizing feature has debuted on the Ford Police Interceptor Utility — the law enforcement version of the Ford Explorer SUV. All 2013-2019 model year Police Interceptor Utility vehicles around the world can start using it as soon as the vehicle's software is updated by the fleet maintenance team. Ford is planning to make it available on other Ford police vehicles, but in an email, a Ford representative declined to discuss whether the automaker has considered more widespread uses of the feature, including for consumer use or for car services like Uber or Lyft.
"The software is available for police agencies and dealers today on 2013-2019 model year Police Interceptor Utility vehicles only," Elizabeth Kraft, commercial vehicle communications manager at Ford, says via email. "This is a majority of Ford police vehicles in-market today (over 176,000 sold since 2013) and we wanted to offer the software so officers could use it on these vehicles now in effort to help them fight pandemic conditions immediately."
Though Ford won't publicly speculate on how widespread the feature could be used in the future, it's a step in the right direction in overall vehicle cleanliness and safety. Even after the coronavirus pandemic is under control, it's fair to assume people will be looking for ways to keep their spaces — including their cars — cleaner and more sanitary than before.