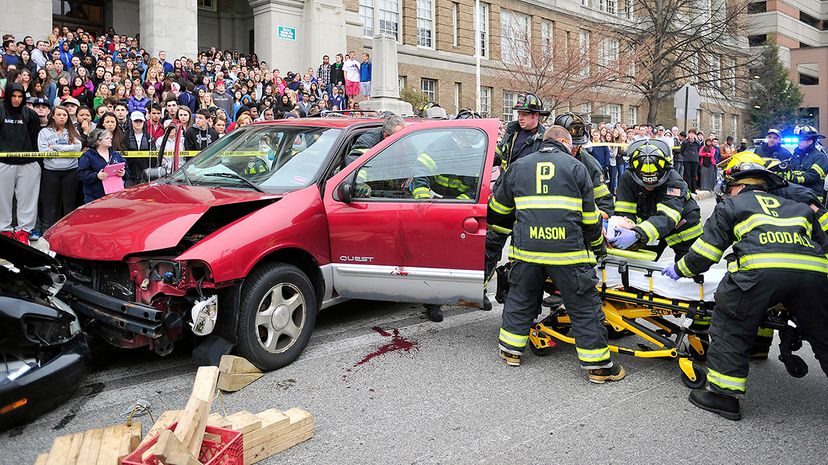 Portland High students watch firefighters remove someone from a simulated accident sponsored by Students Against Destructive Decisions. The simulation was designed to teach the teens about drinking, drugs, texting and other driving distractions.
Gordon Chibroski/Portland Press Herald via Getty Images
Memorial Day weekend means it's the start of summer in the U.S. But if you're the parent of a teenage driver, it also marks the beginning of what's been dubbed the "100 Deadliest Days." If that sounds ominous, it should.
That's because the period between Memorial Day and Labor Day is infamous for teen deaths due to car crashes. In fact, new data from the AAA Foundation for Traffic Safety focusing on teen crash data from 2010 to 2019 found that more than 7,000 people died in teen driving-related crashes during this 10-year period. That equates to more than seven people a day dying in crashes caused by teenagers between Memorial Day and Labor Day compared to six per day the rest of the year. In fact, AAA Foundation says teenagers ages 16-17 are more than three times as likely as adults to be involved in a deadly accident.
"There are more daily deaths in crashes involving teen drivers during the summer months than the rest of the year because teens tend to have more unstructured time behind the wheel," Jake Nelson, AAA's director of traffic safety advocacy and research, said in a press statement. "So what can be done? We can encourage teens to double down on staying focused when driving, buckling up for every ride, and driving within posted speed limits."
Teen Driving Issues
Teens are notoriously distracted drivers, which the AAA Foundation says accounts for six out of every 10 teen crashes. And teens don't seem to understand the gravity of the danger: 90 percent of them admitted in a joint study by Liberty Mutual and Students Against Destructive Decisions (SADD) to talking on a cellphone while driving, and 78 percent to texting while driving.
But it's not just texting that's the problem. Talking to passengers in the car or trying to do things while behind the wheel, like applying makeup or eating, is equally dangerous.
Also, seat belt use is lowest among teen drivers, according to the National Highway Traffic Safety Administration (NHTSA). In 2018, 45 percent of teen drivers who died were unbuckled. And their passengers tend to follow suit; when a teen driver involved in a fatal crash was unbuckled, nine out of 10 of the passengers who died were also not wearing seatbelts. But teens who do buckle up significantly reduce their risk of serious injury or death in a crash.
And then there's speeding. It's a major safety issue for new drivers. The NTHSA says in 2018, speed was a cause in 28 percent of fatal crashes involving teen drivers. Parents should address speeding behavior immediately, as evidence from driving studies show that teens speeding behavior only increases over time.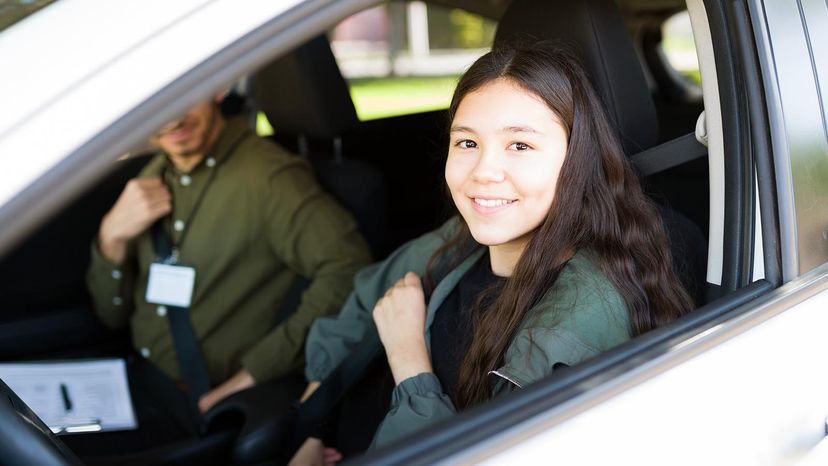 Unfortunately, teenage drivers are the least likely age group to wear their seatbelts.
antoniodiaz/Shutterstock
How Parents Can Help
So what's a parent to do to keep their teen safe during these 100 Deadliest Days? First, set a good example. That same Liberty Mutual study found that 59 percent of parents admitted to texting on their cell phones when driving, and 20 percent of parents even admitted to driving under the influence of alcohol.
Parents can also use technology to keep their teens safe. They can download numerous apps to their teens' cellphones to keep them from texting while driving. Other apps limit what teens can and can't do on their phones while their cars are moving. Some apps will even monitor a teen's driving habits (like speeding, phone use and acceleration) and provide the parent with a detailed report.
Other things experts suggest you do to keep your teen driver safe this summer:
Follow your state's Graduated Driver's Licensing law. States implemented graduated licensing in in the 1990s. The laws allow teens more driving privileges once they have more driving experience. The rules vary by state, but since they were implemented, the number of crashes involving 16- and 17-year-olds have decreased significantly.
Discuss drinking and driving. With summer comes drinking. And even though fewer teens are drinking and driving today than they were in 1991, one in 10 high school teens still drinks and drives. Set explicit rules and consequences if your teen is caught for a DUI, including jail time. But also let them know they can always call you for a ride no matter what.
Sign a teen driving contract. Spell out all the rules you expect of your teen driver (no cellphones, always wear a seat belt, never exceed the speed limit, etc.) and establish consequences if they break them. Insisting your teen be responsible for any fines or tickets they get for breaking driving laws.
Originally Published: May 26, 2017