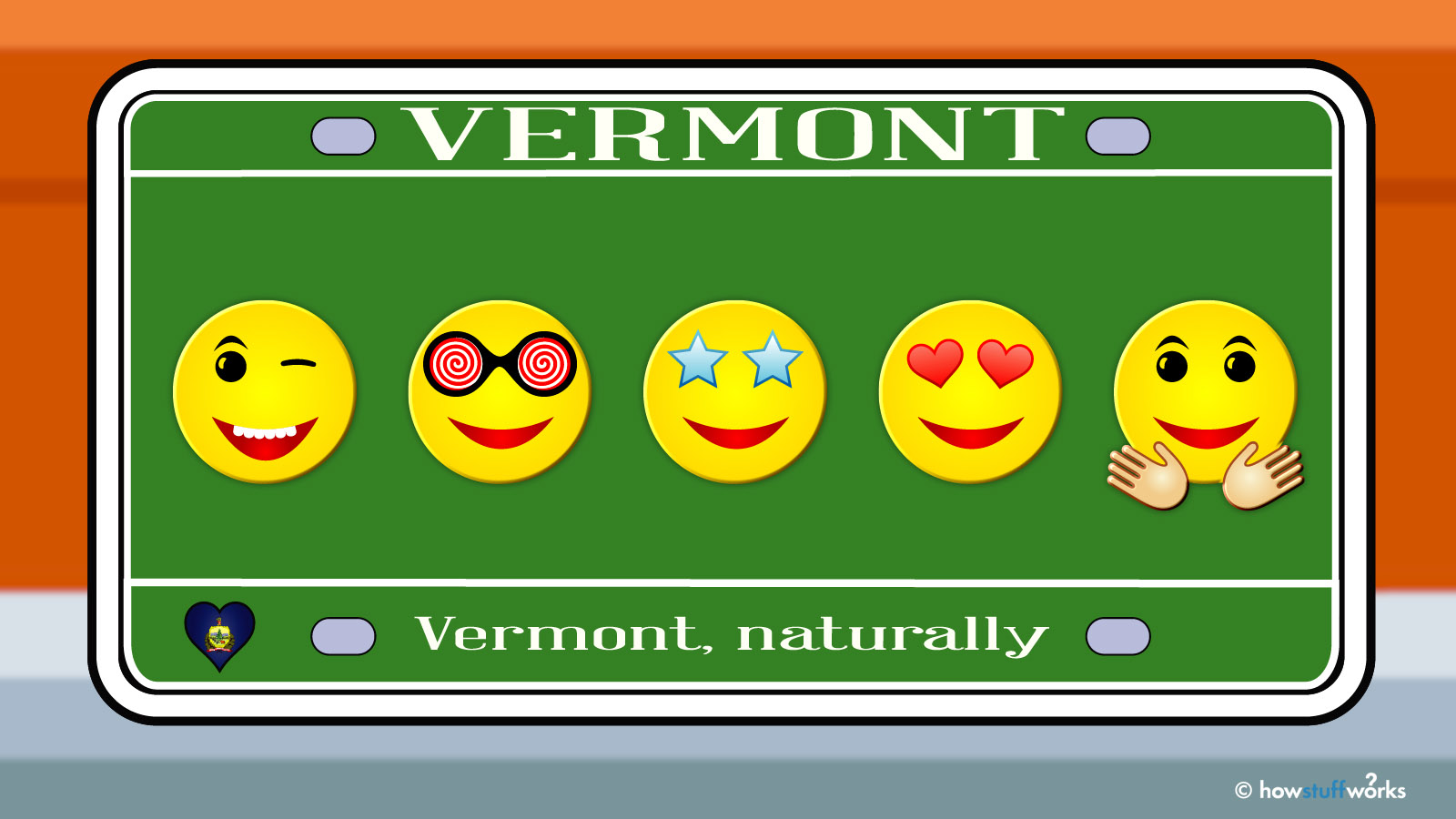 Up Next
Vermont has introduced a bill to allow motorists to include emojis on their license plates. HowStuffWorks is totally on board.
---
Author's Note: 10 Rules to Keep Your Teen Driver Safe
What I remember most about driving during my teen years are two things: those bloody videos of car crashes (you know, the ones where they focus more on shocking you with gore than educating about safe driving techniques), and the much more pleasant memory of spending six months as my father's chauffeur while I drove supervised with my learner's permit.
Related Articles
More Great Links
Sources
AAA. "Parent Overview Guide: Welcoming Your New Driver." (Oct. 26, 2013) http://www.ct.gov/dmv/lib/dmv/aaa_teendrivparent2013-final.pdf

Berg, Phil. "Own the Night: 10 Tips for Driving After Dark." Popular Mechanics. (Oct. 26, 2013) http://www.popularmechanics.com/cars/how-to/repair/10-safety-tips-for-driving-after-dark#slide-1

Bock, Robert. "Graduated drivers licensing programs reduce fatal teen crashes." National Institutes of Health. Nov. 4, 2011. (Oct. 26, 2013) http://www.nih.gov/news/health/nov2011/nichd-04.htm

Centers for Disease Control and Prevention, National Center for Injury Prevention and Control. "Distracted Driving." May 23, 2013. (Oct. 26, 2013) http://www.cdc.gov/motorvehiclesafety/distracted_driving/

Centers for Disease Control and Prevention, National Center for Injury Prevention and Control. "Teen Drivers: Fact Sheet." Oct. 2, 2012. (Oct. 26, 2013) http://www.cdc.gov/motorvehiclesafety/teen_drivers/teendrivers_factsheet.html

Centers for Disease Control and Prevention, National Center for Injury Prevention and Control. "Vital Signs: Teen Drinking and Driving." Oct. 2, 2012. (Oct. 26, 2013) http://www.cdc.gov/vitalsigns/TeenDrinkingAndDriving/index.html

Chen, Li-Hui; Baker, Susan P.; Braver, Elisa R.; and Guohua Li. "Carrying Passengers as a Risk Factor for Crashes Fatal to 16- and 17-Year-Old Drivers." The Journal of the American Medical Association. Vol. 283, no. 12. Pages 1578-1582. March 22, 2000. (Oct. 26, 2013) http://jama.jamanetwork.com/article.aspx?articleid=192524

Clarke, Warren. "Choosing a Safe Car for Your Teen Driver." Edmunds. May 24, 2012. (Oct. 26, 2013) http://www.edmunds.com/car-buying/choosing-a-safe-car-for-your-teen-driver.html

Consumer Reports. "Cars for teen drivers." Feb. 2012. (Oct. 26, 2013) http://www.consumerreports.org/cro/2012/01/cars-for-teen-drivers/index.htm

Curry, Allison E.; Mirman, Jessica H.; Kallan, Michael J.; Winston, Flaura K.; and Dennis R. Durbin. "Peer Passengers: How Do They Affect Teen Crashes?" Journal of Adolescent Health. Vol. 50, no. 6. Pages 588-594. June 2012. (Oct. 26, 2013) http://www.sciencedirect.com/science/article/pii/S1054139X11003600

Degutis, Linda. "5 Ways to Keep Teens Safe on the Road." Centers for Disease Control and Prevention -- CDC Injury Center: Director's View Blog. Oct. 19, 2012. (Oct. 26, 2013) http://blogs.cdc.gov/ncipc/2012/10/19/5-ways-to-keep-teens-safe-on-the-road/

Ferguson, Susan. "Speeding-Related Fatal Crashes Among teen Drivers and Opportunities for Reducing the Risks." Governors Highway Safety Administration (GHSA). 2013. (Oct. 26, 2013) http://www.ghsa.org/html/publications/pdf/sfteens_speed.pdf

Governors Highway Safety Administration (GHSA). "Graduated Drivers Licensing (GDL) Laws." October 2013. (Oct. 26, 2013) http://www.ghsa.org/html/stateinfo/laws/license_laws.html

Halsey III, Ashley. "Nighttime driving is biggest danger for teen drivers, study says." The Washington Post. May 6, 2010. (Oct. 26, 2013) http://www.washingtonpost.com/wp-dyn/content/article/2010/05/05/AR2010050505689.html

Halsey III, Ashley. "Teenage drivers with peer passengers at higher risk for fatal crashes, study finds." The Washington Post. Sept 26, 2013. (Oct. 26, 2013) http://articles.washingtonpost.com/2013-09-26/local/42411100_1_drivers-fatalities-teen-passengers

Holstein, Jared. "Top 10 Safe Vehicles for Less than $25,000." Car and Driver. August 2007. (Oct. 26, 2013) http://www.caranddriver.com/features/top-10-safe-vehicles-for-less-than-25000

Insurance Institute for Highway Safety -- Highway Loss Data Institute. "Beginning drivers and crash risk." (Oct. 26, 2013) http://www.iihs.org/iihs/brochures/beginning-teen-drivers

Lenhart, Amanda. "Teens, Smartphones & Texting." Pew Internet. March 19, 2012. (Oct. 26, 2013) http://www.pewinternet.org/Reports/2012/Teens-and-smartphones/Summary-of-findings.aspx?view=all

Macek, Kara. "Parents Urged to Leverage State GDL Programs to help Reduce Teen Crash Risk During National Teen Driver Safety Week." Governors Highway Safety Administration (GHSA). Oct. 17, 2013. (Oct. 26, 2013) http://www.ghsa.org/html/media/pressreleases/2013/20131017ntdsw.html

Mohn, Tanya. "The Mixed Bag of Driver Education." The New York Times. June 22, 2012. (Oct. 26, 2013) http://www.nytimes.com/2012/06/24/automobiles/the-mixed-bag-of-driver-education.html

National Conference of State Legislatures (NCSL). "Teen Drivers." March 2013. (Oct. 26, 2013) http://www.ncsl.org/research/transportation/teen-drivers-overview.aspx

National Highway Traffic Safety Administration (NHTSA). "Teen Drivers." (Oct. 26, 2013) http://www.nhtsa.gov/Driving+Safety/Teen+Drivers/

National Highway Traffic Safety Administration (NHTSA). "Teen Drivers - Parents & Teens." (Oct. 26, 2013) http://www.nhtsa.gov/Driving+Safety/Teen+Drivers/Teen+Drivers+Education/Teen+Drivers+-+Parents+&+Teens

National Highway Traffic Safety Administration (NHTSA) -- National Center for Statistics and Analysis. "Traffic Safety Facts: Alcohol-Impaired Driving." Dec. 2012. (Oct. 26, 2013) http://www-nrd.nhtsa.dot.gov/Pubs/811700.pdf

National Highway Traffic Safety Administration (NHTSA) -- National Center for Statistics and Analysis. "Traffic Safety Facts: Seat Belt Use in 2008--Demographic Results." Aug. 2009. (Oct. 26, 2013) http://www-nrd.nhtsa.dot.gov/Pubs/811183.PDF

National Safety Council. "Nighttime Driving Restrictions.' 2007. (Oct. 26, 2013) http://www.nsc.org/safety_road/TeenDriving/Documents/7-9500NighttimeDrivingRestrict.pdf

National Safety Council. "Seat Belts." (Oct. 26, 2013) http://www.nsc.org/safety_road/DriverSafety/Pages/SeatBelts.aspx

National Safety Council. "Seat Belts: Who's Wearing Them?" April 2009. (Oct. 26, 2013) http://www.nsc.org/safety_road/DriverSafety/Documents/Seat%20Belts%20Who%20Is%20Wearing%20Them.pdf

National Safety Council. "Teen Driving: What Parents Can Do." (Oct. 26, 2013) http://www.nsc.org/safety_road/TeenDriving/Pages/WhatParentsCanDo.aspx

Nelson, Gabe. "Accident prevention features to affect vehicle safety ratings?" Autoweek. April 8, 2013. (Oct. 26, 2013) http://www.autoweek.com/article/20130408/carnews/130409853

Ricks, Delthia. "Study: Texting whlie driving now leading cause of death for teen drivers." Newsday. May 8, 2013. (Oct. 26, 2013) http://www.newsday.com/news/nation/study-texting-while-driving-now-leading-cause-of-death-for-teen-drivers-1.5226036

Winston, FK; Kallan, MJ; Senserrick, TM; and MR Elliot. "Risk factors for death among older child and teenaged motor vehicle passengers." Archives of Pediatrics and Adolescent Medicine. Vol. 162, no. 3. Pages 253-260. March 2008. (Oct. 26, 2013) http://www.ncbi.nlm.nih.gov/pubmed/18316663